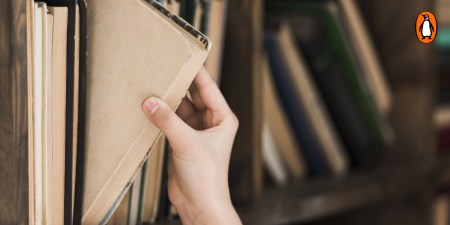 There are characters that brought us closer to ourselves, and stories that we didn't know we needed to read.
If you ever wondered which books left a mark on the people who work on (almost) all your favourite books, here's a list this World Book Day:
As a (trying) writer, a lot of the books I get attached to are those that bring me closer to the themes I want to write about. Arundhati Roy's fiction is rooted in the rawest socio-political fabric of India. This one is my pick because of the surprise element – I picked it up accidentally, not really braced for the enormity of the characters, themes, story of the book. It was cinematic and incredibly immersive, and left me with a hangover of sorts where I couldn't read anything new for about three months. I think her characters really blend fact and fiction; the way she writes about the pit, absolute rock bottom of human suffering shakes you to the core. Not to mention that this has some of the most powerful lines I have read: "…the fact that something so fragile, so unbearably tender had survived, had been allowed to exist, was a miracle."
This was one of the very few books that have made me bawl.
– Swara, Freelancer – Digital
To Kill a Mockingbird will never stop being a good book, and it will never stop inspiring people. This richly textured novel, woven from the strands of small-town life, lets readers walk in the shoes of one fully realized character after another. It's one of the most important books of our times, Atticus Finch's message should be heard in the midst of all the global conflicts that we hear of on the news every night.
Importantly, everyone who reads it can take something out of it which no one has before.
–Sanjeeta, Assistant Manager – Marketing & Digital
My favourite read and re-read is the The Shadow Lines. No matter how many times you read it, you find something new. What are the shadow lines? Are they around me? There are days when I actually feel like Tridib. That's the magic of this book.
I was in college when I first read it. I thought that my life was not perfect because I had just come out of a relationship and everything felt bad. But when I started reading this book, I started to think differently. This book helped me understand the importance of having multiple perspectives.
–Soumili, Senior Executive – Digital
Jane Eyre by Charlotte Brontë 
The book that I keep going back to again and again is Jane Eyre. It was the first classic I read and I really enjoyed reading about a simple, stubborn and intelligent woman who beat the odds stacked against her. Jane and Mr. Rochester ignited a passion for reading in me and I cannot thank this book enough for it!
I revisted the book in college and loved analyzing it's depths especially the character of Bertha Mason.
–Kadambari, Consultant – Digital
Nothing I say about The Boy, The Mole, The Fox and The Horse can ever explain how it feels like a warm hug on a cold night. You don't have to be feeling lost or down to find a ray of light in it. It's a book about friendship, love, kindness and hope, but it's not preachy at all. Everything in this book is so beautiful; the flow, the illustrations and the characters. It's a story I wish I had read a long time ago.
–Ananya, Consultant – Marketing & Digital