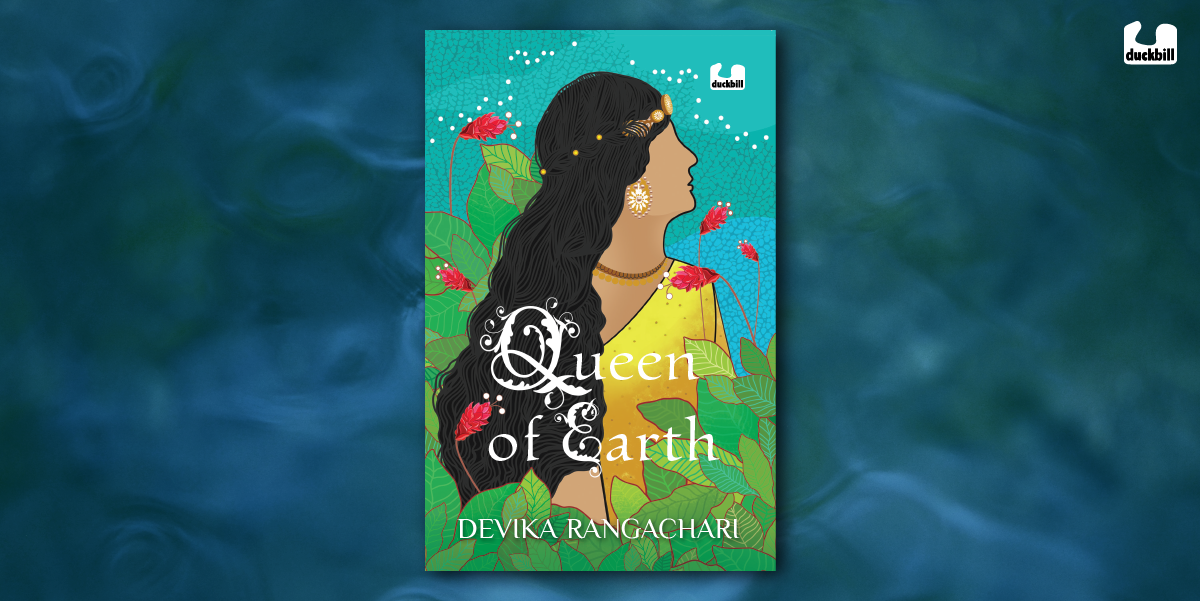 Prithvimahadevi's journey is uphill. Having been married off to her father's enemy in a peace-making gesture, she finds herself betrayed by those closest to her, and ends up alone in an unknown kingdom, alienated among people who are disdainful towards her. Yet her resolve only strengthens. Read an excerpt for a glimpse into Devika Rangachari's powerful protagonist:
A carriage sent by the Bhaumakara king waits for me in the palace courtyard. It is plain and square with none of the embellishments that my father's royal carriages routinely bear. Its horses, too, have clearly been selected more for their hardiness than their beauty.
It is hot and bright, and the entire court has assembled to see me off. The silence all around deafens me—this is a parting that signifies defeat and submission. And this is the silence of anger and grief.
The Bhaumakara attendants wait by the carriage, impassive.
I have already bid farewell in private to my father and brother. Yayati does not say much but clings to me as if he is remembering a time when we meant so much more to each other. The ties of blood are the strongest of all bonds, after all, and who are we to gainsay it?
'Will you come to see me soon?' I ask, my voice rough with unspilled tears.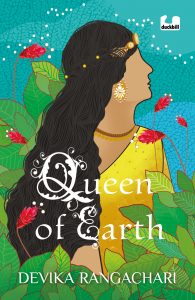 He nods but glances towards our father as if seeking permission from him. He is increasingly afraid to hold a single original thought or opinion in his head—and this is what has driven a wedge between us.
My father holds me close. 'Be well. And do not lose hope. I will make it worth your while.'
I am puzzled. What can he possibly mean? I search his face for an answer and open my mouth to frame a question. He silences me with a look.
I am drawn away into a round of weeping goodbyes with my attendants.
His words will eventually make sense to me but for now, I let them slip and walk towards the carriage, resolute. Whatever happens, I will face the future with courage and fortitude. I will be true to my name.
The journey is a nightmare. The carriage has been built more for service than comfort. The wood is hard and digs into my body and the entire frame jolts unbearably. I am repeatedly sick and seem incapable of holding down the smallest morsel of food or even a sip of water.
Both sets of attendants are distressed, mine and the ones that the Bhaumakaras have sent. They can do little to alleviate my discomfort.
I see nothing of the landscape we pass; my eyes are shut tight. I finally huddle down on the hard bench, insensible to the hours that pass, floating in and out of a state of consciousness.
I am dimly aware of someone—my aunt, by
the sound of her voice—coaxing me to suck a slice
of lemon that makes me retch all the more and of someone—her again—stroking my forehead and murmuring soothing words that ultimately lull me into a spell of blessed sleep.
When I eventually wake, it is with the knowledge that the worst has passed. I am weak but whole, and it is a relief to know this. My aunt is by my side, her face full of travel weariness and deep concern in the dim light of approaching darkness.
'Two days,' she says in response to my unspoken query. She shakes her head. 'You have never been this ill before. Perhaps you are not used to the rigours of travel. Or perhaps you have worried yourself into this state.'
A Bhaumakara soldier hastens by to tell us that we are nearing journey's end.
I look out at the unfamiliar landscape. I have seen nothing of the forests that we have travelled through to reach the coast, but we seem to have emerged from them into an area of tall trees brushing against the sky, palm and coconut by the look of them. A cool breeze blows in, reminding me that we are near the water. A river shimmers by and I can see the dim outlines of boats
on it. This must be the Vaitarani, I think. I know that Viraja nestles between the Mahanadi and the Vaitarani, and that the latter runs closer to the city. My spirits lift slightly and the wind eases the ache in my head.
I see the pallor on my face in the small jewelled mirror that my aunt hands me. There are lines of exhaustion around my eyes and I can taste the sour tang of sickness in my mouth. This is not a propitious time for my new family to view me, but it is not in my hands. Let them know how arduous the journey has been and how much I have endured just to meet their peremptory demands.
When the carriage eventually stops, my head swims. I close my eyes to steady myself.
***
Queen of Earth is a complex and beautiful story of a young woman who holds her own in the most hostile of circumstances.