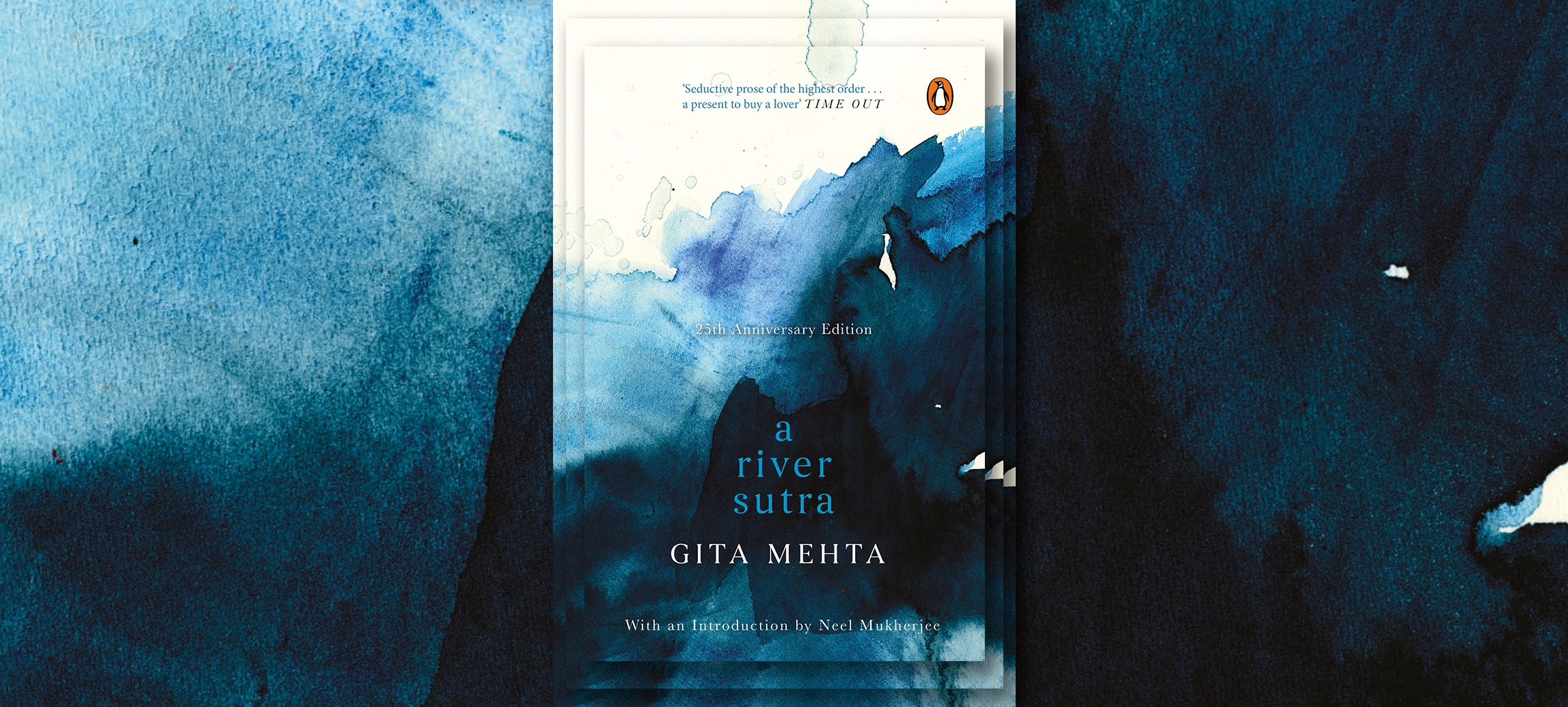 An elderly bureaucrat escapes the world to run a guest house on the banks of India's holiest river, the Narmada, only to find he has made the wrong choice. Too many lives converge here. Among those who disturb his tranquility are a privileged young executive bewitched by a mysterious lover; a novice Jain monk who has abandoned opulence for poverty; a heartbroken woman with a golden voice; an ascetic and the child he has saved from prostitution. Through their stories A River Sutra explores the fragile longings of the human heart and the sacred power of the river.
Here is an interesting excerpt from the book:
---
A River Sutra is a folder or portfolio crammed with stories and anecdotes—folklore, legends, myths, narrated stories proliferate throughout this slim novel. The frame is, on first acquaintance, simple. An unnamed middle-aged senior (and powerful) bureaucrat, tired of work, retires to run a government rest house on the banks of the Narmada. He thinks of this stage of his life as the vanaprastha, the ancient Indian tradition of retiring to a forest to live like a hermit and contemplate spiritual matters following the end of the phase of fulfilling worldly obligations.
In his walks around the beautiful setting—lovingly and evocatively depicted by Mehta—and in his life as the manager of a guest house, he comes in contact with a number of people who tell him stories. Mehta is ingenious about how these encounters come about so as to keep the connection with the frame as seamless and credible as possible.
There is a diamond trader who has become a Jain monk, renouncing extraordinary wealth for a life of extreme poverty and hardship. There is a music teacher who is given charge of a poor blind boy with an
ethereal voice and a preternatural musical talent. A courtesan comes our narrator's way while searching for her daughter, who has been abducted by the most infamous bandit in the Vindhyas.
Another chapter, which I can only call a story of erotic possession and subsequent exorcism, centres on a high-flying city executive who has a mysterious relationship with a tribal woman. There is the story of an ascetic, a Naga sanyasi, who saves a child from prostitution and brings her up in caves and jungles, teaching her how to become a traditional Narmada minstrel who sings of the great river.
This final story will be of particular relevance to the spiritual education of our narrator and will also contain a twist that will have a bearing on the novel's structure, particularly on the relationship between the frame and the inset tales. With the exception of this final story, most of the inset narratives have tragic, and often shocking, ends.
---
Through their stories A River Sutra explores the fragile longings of the human heart and the sacred power of the river.