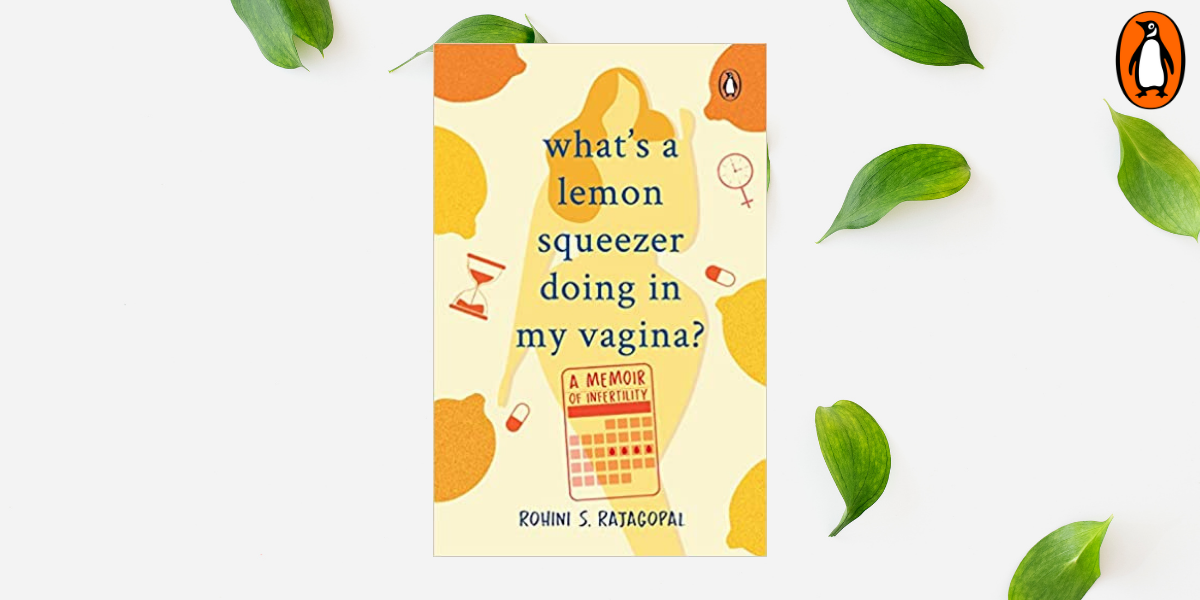 When Rohini married Ranjith and moved to the 'big city', they had already planned the next five years of their life: job, home, and then child. After three years of marriage and amidst increasing pressure from family, they decided to seek medical help to conceive. But they weren't prepared for what came next-not only in terms of the invasive, gruelling and deeply uncomfortable nature of infertility treatment but also the financial and emotional strain it would put on their marriage, and the gnawing shame and feeling of inadequacy that she would experience as a woman unable to bear a child.
What's a Lemon Squeezer Doing in My Vagina? is a witty, moving and intensely personal retelling of Rohini's five-year-long battle with infertility, capturing the indignities of medical procedures, the sting of prying questions from friends and strangers, the disproportionate burden of treatment on the woman, the everyday anxieties about wayward hormones, follicles and embryos and the overarching anxiety about the outcome of the treatment. It offers a no-holds-barred view of her circuitous and highly bumpy road to motherhood.It was 8 a.m. on a Saturday and the reception area was already packed with couples at various stages of treatment. As first-time visitors, we paid the registration fee and went into a consultation room. A bespectacled, presumably junior consultant motioned us to sit down and began inquiring into our condition, reading out queries from a four-page data sheet in her hand and filling it in as the Q&A progressed.
There were questions on our medical history, the nature of my menstrual cycle, our lifestyle, hereditary diseases and, of course, the most critical query: how long we had been trying to conceive. That probably did not tick all the boxes, so what followed was a point-by-point probing of our sex life.
'How often do you have intercourse?'
'Once or twice a week.'
'When was the last time you had intercourse?'
'Last Sunday.'
'Have you experienced any sexual dysfunction?'
'No.'
'Do you have any history of sexually transmitted diseases?'
'No.'
Our tone was flat and deadpan, betraying none of the unease we felt, as if it were routine to discuss the schedule and specifications of our sex life. Of course, only I spoke.
Ranjith leaned back in his chair, arms folded across his chest, and uttered a syllable or two when a question was specifically directed at him. He had come there only for me.
Once the patient history form was filled up the doctor said she would have to examine me and pointed to a bed in the same room. I knew what was coming and didn't look forward to it, but agreed obediently. Removing my shoes, I stepped on a two-rung stool and climbed onto the steel examination table while she drew a curtain around it.
'Please remove your pyjamas,' she ordered.
I loosened the knot of my salwar, pulled it down along with my underwear and lay down on my back. She wore her gloves, dipped her index and middle fingers in jelly and inserted them inside my vagina, feeling the contours of my insides in rough, rapid moves. I held my breath, interlocked my fingers tightly and focused unblinkingly on the ceiling.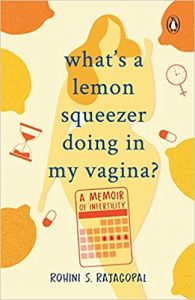 After a few seconds she noted, 'There is nothing anatomically wrong with your body.'
'Hmm,' I exhaled. The only thing I cared for was the departure of the groping fingers and restoration
of dignity to my half-naked self.
Back at the table, she handed us a printout that laid down the next steps. 'Please come back once you finish all the tests on this sheet,' she said. We nodded dutifully and stepped out of the room, our to-do list in hand. We chose the diagnostics lab first. There were twenty odd tests to strike off the list—from HIV to blood sugar to the various hormones that govern reproduction. The phlebotomist1 indicated a student chair and asked me to place my extended arm on the foldable writing pad. He drained several millilitres of my blood into colour-coded vials. I did not fear needles and breathed easily through the prick of skin and tightness of strap. It was certainly easier than offering access to the inner recesses of my vagina.
Once I was done, Ranjith sat on the same chair and went through the same motions. Next was sperm collection. A male technician handed Ranjith a small plastic container with a white label on it. He asked him to make use of a room at the opposite end of the corridor with the sign 'Sample Collection' outside. Ranjith hid the cup in his closed fist and walked into the room. As the door closed I caught a fleeting glimpse of its interiors—peeling walls and a broken chair. I sat on the bench, facing the closed door, trying to block all thoughts. After fifteen minutes he emerged.
The final stop was ultrasound. I was led into a room overpowered by medical equipment and asked to lie down on a long, narrow bed. My salwar and underwear rested on hooks in the bathroom. A chirpy radiologist photographed the insides of my uterus with the transducer, noting down measurements of my ovaries on paper. Once or twice she yelped in delight at the images that appeared on the screen.
'Excellent. A triple lining!' she said. I maintained my breathless silence, again fixated only on when the ultrasound probe would be withdrawn from my vagina.
As soon as Ranjith and I stepped into the clinic, it was as if an invisible wall had emerged to separate us—husband and wife—snapping the lines and wires of marital communication. We walked around the clinic like zombies, taking instructions, undoing zippers, lowering underwear, offering arms for needles . . . It was like a spontaneous, self-imposed blockade. We resisted processing the happenings around us. We resisted conversation. We resisted each other's eyes even, each feeling sickeningly guilty that the other had been dragged into such a distasteful setting.
We had come in expecting the privacy and safety of a cosy consultation room, but the fertility clinic turned out to be an open parade in which our self-respect and dignity were systematically poked, squeezed and drained out. It was only about one and a half hours later, when the stripping and skinning were complete, that we were ushered into the cabin of the doctor we had come to meet in the first place.