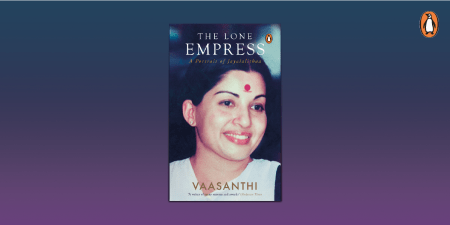 The Lone Empress is the journey of a proud Ammu to an indefatigable Rossappu Amma. Despite her immense popularity, she felt lonely and vulnerable in personal life after her mother – Veda (popularly known as Sandhya) and her mentor – MGR, passed away. The book tells the story of how a charismatic and talented woman steered through a male-dominated film industry, developed a loyal political fan base without the support of her party seniors, and stood her ground even when sentenced to four years in jail.
Here are a few excerpts that reveal some of the characteristics of her fiery personality.
She was an honour roll student
'Look closer, you will find J. Jayalalithaa's name printed in bold white letters, on the annual roll of honour, as the recipient of the Best Outgoing Student Rolling Shield for the year 1964. The school's Centenary Celebrations (2009) special souvenir carries a photo of a young Jayalalithaa in her school uniform proudly posing with the shield.' 
She was more than a pretty face
'The AIADMK's party conference was being organised on a huge scale and the town people thronged to hear the star speaker who to give her maiden political speech, one that she herself had prepared. MGR was present, too, drawing hordes of men and women, most of them film fans. The town square was a sea of humanity and the theme of Jayalalithaa's speech was, "Pennin perumai" (woman's greatness). The public, expecting only to see a pretty face, were in for a big surprise. Jayalalithaa's speech was fiery and impressive, an instant success. She had arrived, barely having left, as it were, the starting the block.' 
She honoured MGR at his death ceremony in her own way

'Jayalalithaa did not shed a tear. She did not wail. She stunned the onlookers and mourners by standing in vigil for two days – thirteen long hours on the first day and eight hours on the second. Because of her enormous will power, she was not exhausted physically, but she experienced the mental and physical torture from other sources. Several women from Janaki's side stood near her and began stamping on her feet and pinching her to drive her away. But she stood undaunted, swallowing the humiliation, her pride keeping her firmly where she has taken position.' 
Jail changed her
'She was in jail for twenty-eight days; and on coming out she appeared to have been hardened rather than chastened. It must have been a traumatic period for her, proud and used to sophistication, like a queen whose feet had never touched the earth and whose head had never felt the heat of the blazing sun. But the jail wardens were struck and deeply touched by the dignity with which she had conducted herself. She hardly spoke to any of them. She spent her time reading books. She later described in graphic detail how she had suffered in the bandicoot-infested jail.' 
Victory was her goal
'As long as she lived, victory was her goal. "V" was her symbol. "Naalai namathe", tomorrow is ours, was her mantra. Now, there is no tomorrow. The Supreme Court waited till her death to release the verdict. She remained "not guilty" till her last breath, innocent, fully acquitted of all charges. She dies in office as the chief minister. She was the victor even in death.' 
---
Grab a copy of The Lone Empress to read the dramatic turn of events and the struggles that made Jayalalithaa such a controversial figure.