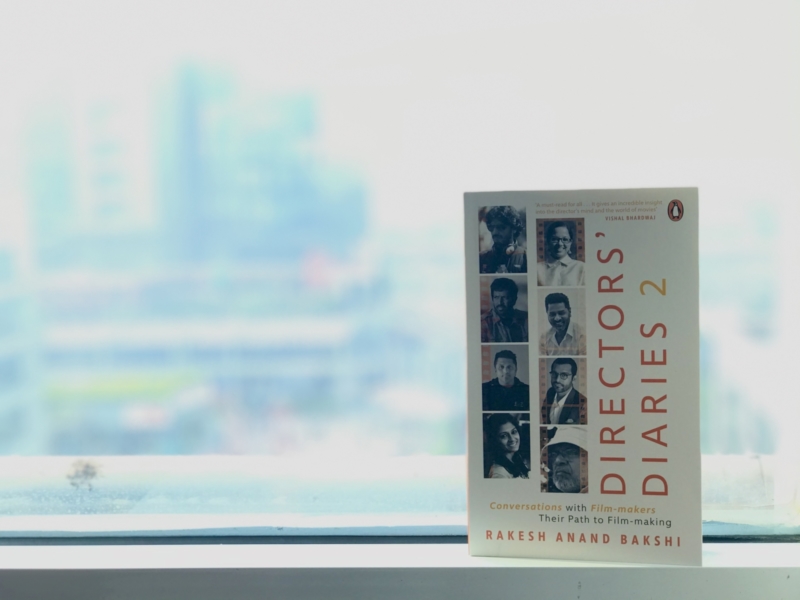 'One of the primary principles of directing is making choices, you have to make one about whether something is right or wrong, because there is no middle ground. As a director, you make a choice and then stick with it, all the way.'
Directors' Diaries 2 is an anthology by Rakesh Anand Bakshi that features the voices of some of India's greatest film makers – -Shyam Benegal, Tanuja Chandra, Kabir Khan, Abhishek Chaubey, Nandita Das, Shakun Batra, Prabhu Deva and Mohit Suri-as well as significant but often overlooked behind-the-scenes crew such as spot boy Salim Shaikh, make-up artist Vikram Gaikwad and sound designer Rakesh Ranjan.
The book gives a peek into the lives, souls and motivations of these icons and can be a truly wonderful resource for young film-makers.
Read an excerpt from the book below:
Kabir Khan
FILMOGRAPHY: Kabul Express (2006); New York (2009); Ek Tha Tiger (2012); Bajrangi Bhaijaan (2015); Phantom (2015); Tubelight (2017)
What made you script Kabul Express as your first feature film?
KK: After the 9/11 terror attack in New York, I found myself doing a lot of documentary work in and about Afghanistan. Eventually, I shot two or three documentaries in Afghanistan, as guerrilla short films. I had a huge number of real stories and anecdotes from my personal experiences in Afghanistan, which would churn in my conscious and subconscious mind, and I realized what I had experienced in Afghanistan would make a great story by itself. Thus inspired, I sat down one day to write the story of Kabul Express. In hindsight, it was easy to put it all down as a screenplay, because I basically just had to string together our experiences. I wrote the script within two or three months, which, I think, has been the fastest that I've written a script to date.
Considering your films may reflect socio-political themes, do you make them to raise questions or answers?
KK: Neither. Primarily, I just want to tell a story. But I do like to tell a story against a certain socio-political context, which has some sort of resonance, first within me, and then, in society. Having said that, my storytelling is neither agenda-driven nor thoughtdriven. But, yes, I think, I would like to say that I make films that raise some questions and may sometimes give a few answers that have not been heard before.
How did you get someone to produce Kabul Express?
KK: I was married by then and Mini was a VJ with MTV. So, she had a bit of an 'engagement' with Bollywood people; MTV VJs were celebrities back then. Mini knew some well-placed people and got me some important numbers of people I could pitch my script to. Jaideep Sahni, a screenplay writer who had written Khosla Ka Ghosla (2006), was a friend, and helped me procure the numbers of actors and producers. I started contacting them.
However, whoever I narrated the story of Kabul Express to reacted with, 'Wow! What a lovely story! But it is a very "different" film! Difficult to make.' They felt there was no market for such a film. I was clear that I would be able to shoot it in Kabul, because for me, Kabul was not a location, it was a character in my film; and I had already shot two documentaries there and survived. I was confident that I'd be able to pull off a feature film there.
Meanwhile, I never gave up on trying to cast well-known actors. I went to all kinds of producers and production houses— new, old, semi-old, semi-new, small, very small, medium, big, very big. But I never approached Yashraj Films, because conventional wisdom told me, 'Yashraj? To produce this kind of film? No way! Are you crazy!'
While I waited for producers to revert, I began to look for actors myself. I approached Arshad Warsi. Arshad's wife is my wife's friend so it wasn't that difficult to meet him. He read the script and was immediately on board. Then, I met John Abraham and he too agreed to be in the film. With these two in, I thought my chances of getting a producer would increase exponentially. However, I was proved wrong. I still could not convince anyone to make the film.
An executive producer friend of mine, without my knowledge, had given the script to Adi [Aditya Chopra of Yashraj Films], because, at that point, he was looking for films outside his comfort zone. This friend knew about it because he was working with Adi. I received a call out of the blue from Yashraj Films. The caller informed me that Aditya Chopra wanted to meet me. I thought it was a prank. I said, 'Yeah, yeah, sure. Like, hell! Adi Chopra would want to meet me, a first-time film-maker whose script is nowhere close to the kind of films Yashraj makes!' However, I eventually realized the caller was serious and was indeed calling me from Yashraj Films!
Within five minutes of that call, Jaideep Sahni called me. He had read my script long ago, because I had bounced it off him as a friend. He said Adi wanted to meet me because he had read my script and liked it. Later, I found out that when Adi had mentioned my script to Jaideep, he had replied that he already knew about it because he had read it long ago and liked it too, and had even suggested changes. Adi had then asked him about me and Jaideep had told him, 'Kabir's a friend and he is capable of directing this film.' And that's when Adi decided to meet me and his office called me.
It was a momentous feeling when I entered Yashraj Films' office to meet this mythical character, producer and director called Aditya Chopra. When I met him, he said, 'I have read your script, it really moved me and I want to produce it. When can we start?' And that was it! Adi stood by me like a rock, from day one.
Can you tell us how you usually direct an actor?
KK: Like I said, I believe in giving minimal directions on the first take. I just convey the context of the scene to them, tell them about the backdrop of the moment they are in at that point of the screenplay, where it's headed, and that's it. Once I give them that information, I wait to watch what the actor is going to give me in the very first take, or the rehearsal, building on whatever little I have told them. From that a few questions get answered. For example, are they on the same page as me? Have they gone somewhere else? Is the path they've taken more interesting than mine? Should I explore that zone, their intuition, their understanding of my scene? Or have they missed the mark completely? Then and only then do I start putting in or pulling out from their understanding and performance.
Frankly, I don't know whether it's a good thing or a bad thing, the way I function with my actors, and I do not know how others direct. It's worked for me so far, or so I feel.
---
Grab your copy of Directors' Diaries 2 today to discover how they were first drawn to the craft of film-making to how they got that elusive first break.