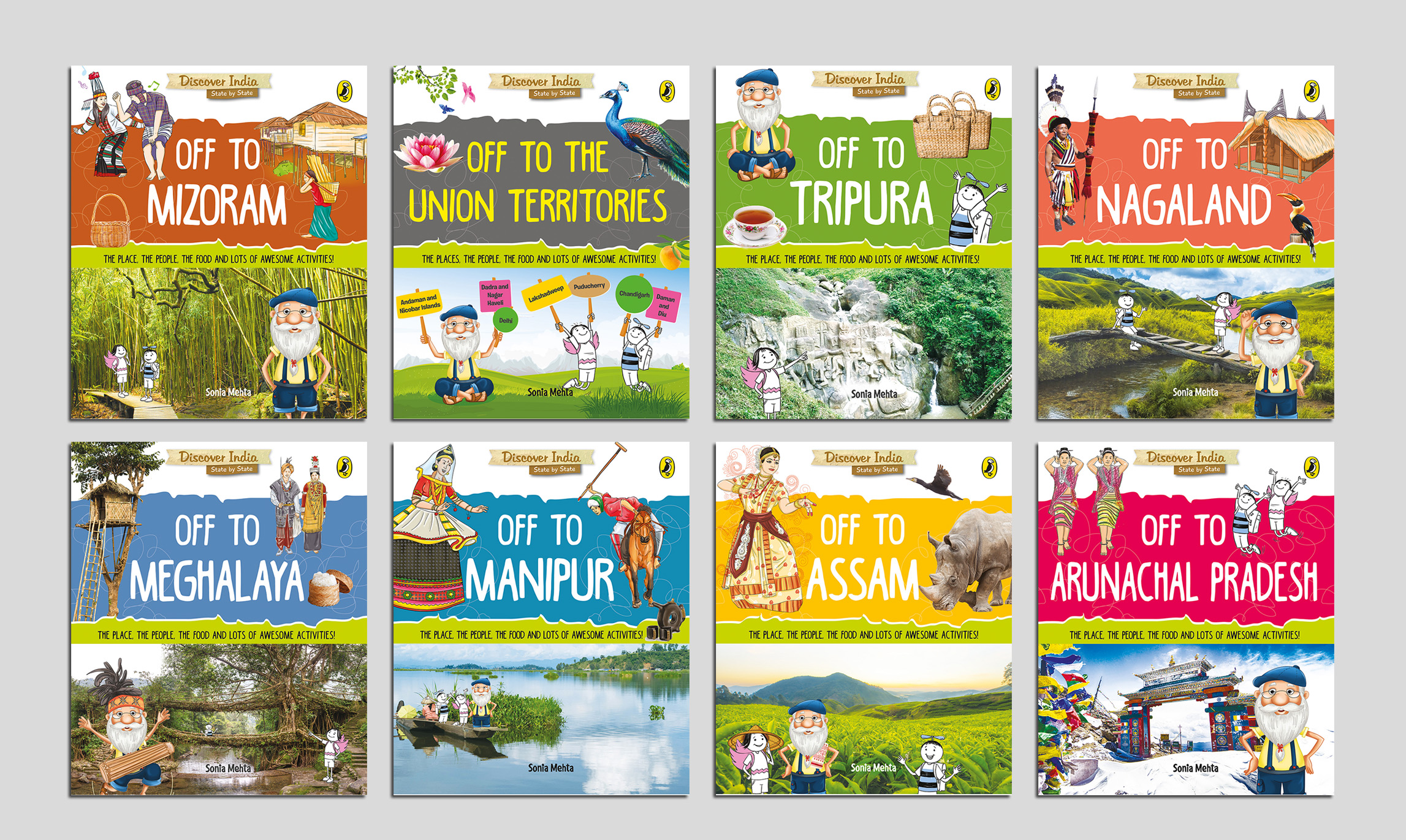 Sonia Mehta is a children's writer who believes that sparking off a child's imagination opens up a world of adventure. She has been writing for children for over two decades. Her body of work is wide-ranging-she created one of India's first dedicated children's newspaper sections; conceptualized the Cadbury Bournvita Quiz Contest for TV; and runs Quadrum Solutions, a content company she co-founded. She is the author behind the amazing Discover India series.
Here we ask her a few questions about her research in putting together this series:
What is unique about the Discover India books?
It was an amazing discovery for me when I realized there are no books at all, on the states of India. So that starting point itself became a major differentiator. Children's content has always been a focus and I also work on children's educational books. So it's all the more surprising that children in India today learn very little about India's states. Their history and geography books cover India in a very generic manner. While India is so, so rich in its culture, diversity, language, food… But children are not exposed to that part. So the fact that there is a separate book on every Indian state, covering all aspects from history, to geography, to food, to architecture, to clothes, to language, to culture, to famous people from the state… and even to folk tales, is what makes these books different.
That brings me to Daadu Dolma,  Mishki and Pushka. Daadu Dolma is the 'sutradhaar' of the entire series. We've tried to develop a character that's identifiable, lovable and fun. Mishki and Pushka are kids from another planet who are here to explore earth and India. The trio injects in a level of fun into the series that keeps it from being just an info book. That, I believe, makes this series unique.
The third thing I've tried to bring into the books is a level of interactivity. So the content is peppered with fun activities that engage the kids as they read. This blend of information and activity isn't evident in other books on India.
And finally, something that makes these books different is the visual aspect. We've tried to stimulate the child's imagination with colourful illustrations that help them visualize the nuances of every state.
Are you an avid traveller?
Oh yes! Very much so. I've always loved travelling, and as a child, because my father was in the Indian army, I grew up living in a different state every two years. Now, as an adult, and especially after writing these books, I've become even more aware of the wealth of culture we have in India. Our architecture was so advanced, as was our science. And I want as many children as possible to know this. And as far as my own travels go, I hope to see more and more of India.
What was the research process for each particular book like?
The research was a mix of travelling to as many of the states as possible coupled with intense online research. We also had local fact checkers in every state to make sure that I got the nuances of culture, language and food right. In every state, we were in touch with a local person, who guided us on prioritizing what to put in. You can't imagine how much there is to write about India. I could have done 100 books and still not scratched the surface. So it was a complex exercise, given the complexity and diversity of our states.
Out of all these regions, discovering which one was the most fun experience for you?
Pure fun was Goa. It could be because I am a Goan. And also, Goa is different from the other states in many ways. Bringing out that difference was fun. But I have to say, that writing about the seven sisters was a revelation. The north-eastern states have a vibe and culture all their own. The tribal colour and culture made that experience also unique.
What would you advise to parents who want to travel with younger kids?
My advice to parents is that nothing widens a child's horizons like reading and travel. Luckily we have so much to see and do in India. So before planning elaborate foreign trips, it's a great idea to expose them to India's diversity. While travelling, doing a little research on the place before you go there, and sharing it with the kids, is bound to enrich their experience. Showing them the books before the trip will help them recognize monuments and places – and also give them a context to all that they see.
---
The Discover India series will take you on a grand tour of every single one of our country's states.