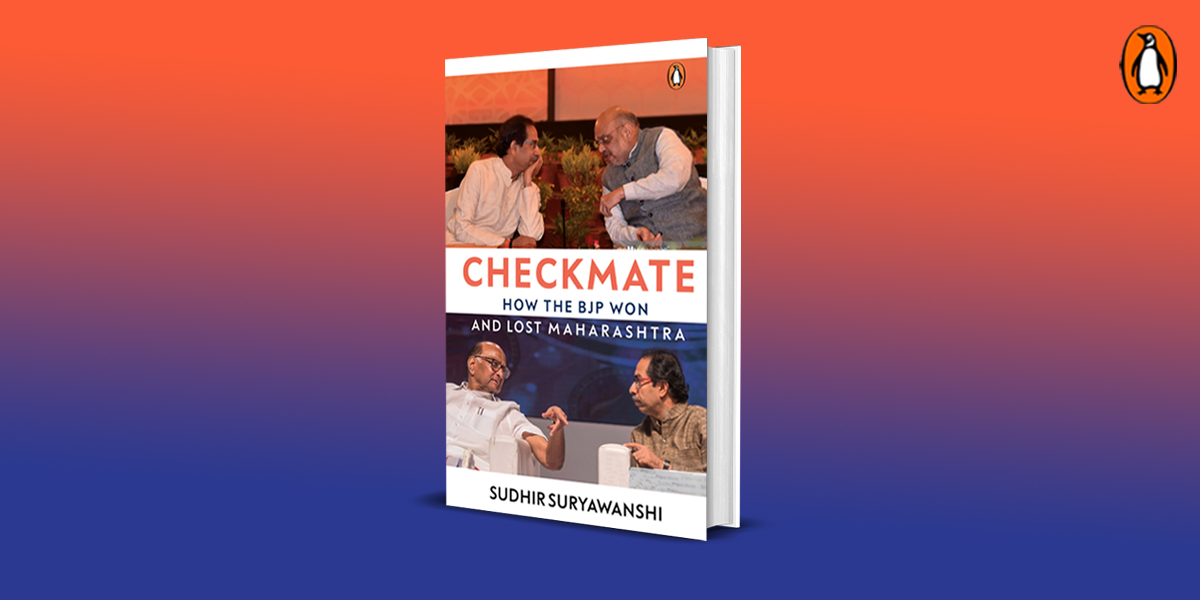 On 28 November 2019, Uddhav Thackeray, the Shiv Sena chief, was sworn in as the eighteenth chief minister of Maharashtra. This event marked the culmination of a high-voltage political drama that had the entire nation glued to their television sets for days on end. With no party being able to claim a majority in the assembly, President's Rule was imposed in the state. This book takes its readers through the twists and turns of the dramatic political crisis that unfolded as Maharashtra waited for its chief minister.
What really went on behind the scenes?
With access to inside sources and private conversations, this book reveals the hitherto untold story of this political drama, with a comprehensive overview of the state's politics in the last few decades.
Read below an excerpt from the book:
---
After leaving the Maha Vikas Aghadi meeting at the Nehru Centre (Worli) on 22 November 2019, Ajit Pawar arrived at his Churchgate residence. He again left the house at around 10.30 p.m. He asked his driver to stop on the way. He then asked the driver to return to his house with the car. Pawar stepped into another car and left for the western suburbs. Around the same time, Fadnavis also left his chief ministerial convoy and, in a different vehicle, arrived at the Hotel Sofitel in BKC, around midnight. Both leaders chose to avoid the public glare and media attention. They entered the five-star luxury hotel from a back door. It was an hour-long meeting. After hearing the name of Uddhav Thackeray as a possible candidate for the position of the chief minister of Maharashtra, Devendra Fadnavis panicked and informed Ajit Pawar that they had to take the oath the very next day, on 23 November 2019, at Raj Bhavan. Ajit Pawar asked him about President's Rule and other procedures and requested Fadnavis to not be in a hurry. Ajit Pawar told Fadnavis that Sharad Pawar had given the green signal but the final discussion was yet to happen. However, according to an NCP leader who spoke with the author, Fadnavis told him that discussions could take place later.According to Fadnavis, it was of utmost importance to take the oath as soon as possible and then resolve other pending matters.
Meanwhile, Ajit Pawar had come to know that his uncle was reluctant to align with the BJP. A person close to Ajit Pawar said to this author that while planning the formation of the government with the Shiv Sena and the Congress, the state NCP president Jayant Patil's name was finalized for the position of the deputy chief minister with the home portfolio. It was a big shock for Ajit Pawar. There seemed to be a plan afoot to systematically sideline Ajit Pawar, and to later bring in Supriya Sule as the chief minister of Maharashtra for the half term once Uddhav Thackeray's two and a half years were over . . . It seemed like the end of Ajit Pawar's career.
Perhaps, therefore, Ajit Pawar also panicked and decided to go ahead with what must have seemed to be his last resort—joining hands with the BJP despite his uncle's reluctance. …
Ajit Pawar and his close aide had called the thirty-eight NCP legislators in Mumbai and had asked them to assemble at Dhananjay Munde's bungalow in front of the Secretariat House (Mantralaya) at 12.30 a.m. Sunil Tatkare, Dhananjay Munde and Praful Patel had been kept in the loop. …While leaving their own constituencies, the NCP legislators started calling each other, mentioning that Ajit Pawar had called them for a meeting. It turned out that the other legislators who were not a part of the thirty-eight had no clue about this meeting in Mumbai. … Finally, out of thirty-eight, only fifteen NCP legislators reached Mumbai. This was perhaps the first signal that Ajit Pawar's coup would not be a cakewalk.
The NCP chief, Sharad Pawar, got wind of this development around 12.30 or 1 a.m. on 23 November. At Raj Bhavan, the engineers had asked the sound and microphone system operators to remain there only. This news spread and there were suspicions that something was up at Raj Bhavan. The NCP legislators who were directly in touch with Sharad Pawar informed him that Ajit Pawar had called them for a meeting. However, after speaking with Sharad Pawar, many of them decided not to attend the meeting. Pawar thus had an idea about his nephew's plans, but he remained doubtful about its success. Later, around 3 a.m., on Saturday, Pawar sought an update on how many legislators were siding with Ajit Pawar. He knew that if only these fifteen legislators went with his nephew that would not help him to form the government. The BJP had 105 seats and the support of fifteen independent legislators; it needed at least twenty-five to thirty legislators to cross the 145 mark. Ajit Pawar teaming up with the BJP would not only be a fiasco but he would also lose his credibility
As per his interview with ABP Majha, Sharad Pawar said that he went to bed late, around 3 a.m., at Silver Oak, hardly a fifteen-minute drive from Raj Bhavan. Around the same time, Devendra Fadnavis was getting ready to take the oath as chief minister of Maharashtra for a second time. As per a local television channel, around 4 a.m. in the morning, Fadnavis and his wife, Amruta Fadnavis organized a mirchi havan (a sacred ritual around a fire), which was performed by the priests from Nalkheda's Baglamukhi temple in Madhya Pradesh. Baglamukhi is a tantric deity in Hinduism. Fadnavis was told that this same havan was performed to save the Harish Rawat government in Uttarakhand. When the Rawat government lost the majority in the house, his brother Jagdish Rawat rushed to the Baglamukhi temple to perform the mirchi havan and, eventually, apparently, Rawat was able to save his government. Since then, this temple town had become famous among politicians and businessmen. The report of the channel stated that Fadnavis was convinced that if this mirchi havan was performed by him at Varsha Bungalow, his official residence in Mumbai, he would again be chief minister of Maharashtra. Earlier also, Fadnavis had conducted the same mirchi havan on several occasions to retain the chief minister's chair whenever it was in trouble. Once the havan was done, the tantriks were paid dakshina (donation) and they left for Madhya Pradesh; their return journey was coordinated by Prasad Lad.
It was time for Fadnavis to get ready for his second swearing-in ceremony at Raj Bhavan. Rather than choosing his favourite blue jacket, he had, as per the instructions of the tantrik, opted for the colour black to ward off evil spirits. Ajit Pawar, as leader of the NCP's legislative party, had with him two original copies of the signatures of the fifty-four NCP legislators, in Marathi and in English. A copy of the list was handed over to Maharashtra's chief secretary, Ajoy Mehta, who was waiting at Varsha Bungalow. As per an Indian Express report dated 2 December 2019, Mehta had been specially flown in from Delhi to expedite the Devendra Fadnavis–Ajit Pawar swearing-in ceremony on 23 November.
---
Get your copy of Checkmate here