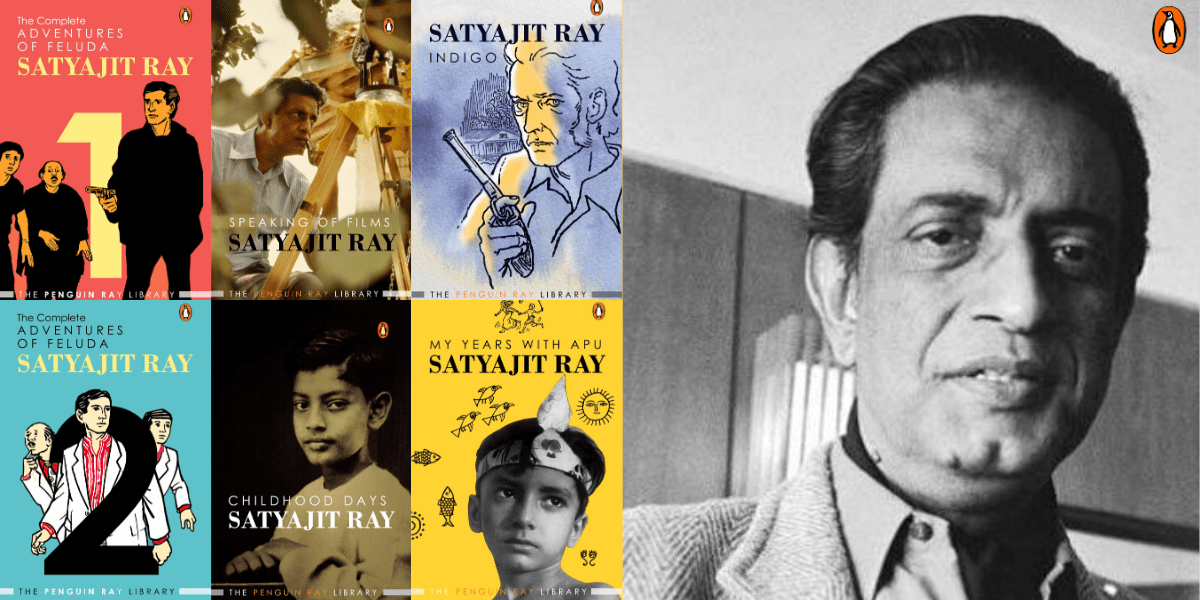 Penguin celebrated Satyajit Ray's 99th birth anniversary last weekend, and like every year, this one too came with a lot of nostalgia over his stories that have stayed with us.
Satyajit Ray took our cinema, literature and overall aesthetic expression to a new height. He was an ace designer, music composer, illustrator and a gifted writer. Generations of readers, young and old, have found themselves enamoured of Ray's characters and the world he created.
We bring you some gems from The Penguin Ray Library, an endeavour to capture the brilliance of this Renaissance man and our vision to disseminate his works to a wide spectrum of readership.
*
The Complete Adventures of Feluda Volume 1
This omnibus edition features the ever-popular adventures of Satyajit Ray's enduring creation, the professional sleuth Pradosh C. Mitter (Feluda). In his escapades, Feluda is accompanied by his cousin Topshe and the bumbling crime writer Lalmohan Ganguly (Jatayu). From Jaisalmer to Simla, from the Ellora Caves to Varanasi, the trio traverse fascinating locales to unravel one devious crime after another.
*
The Complete Adventures of Feluda Volume 2
The adventures don't stop with the first volume. This second omnibus volume holds more delights. Accompanied by his cousin Topshe and the bumbling crime writer Lalmohan Ganguly (Jatayu), Feluda travels from Puri to Kedarnath, from Kathmandu to London in his pursuit of culprits; he tracks down Napoleon's last letter, a forgotten painting by Tintoretto and a stolen manuscript.
*
Childhood Days
Childhood Days takes readers through legendary storyteller Satyajit Ray's early life, exploring the people who were around him during his childhood, the places he spent the early years of his life in and the man we now know as an artist, music composer, director and writer. It displays the lesser-known side of Ray -affectionate, tender and humorous, quite different from the serious, introverted man the world knew.
*
Indigo
Indigo brings together the supernatural, the peculiar and the inexplicable from Satyajit Ray, one of the best-loved writers of our times. There are tales here of dark horror, fantasy and adventure along with heart-warmingly funny stories about ordinary people in extraordinary situations.
*
Speaking Of Films
Speaking of Films brings together some of Ray's most memorable writings on film and film-making. With the masterly precision and clarity that characterize his films, Ray discusses a wide array of subjects: the challenges of working with rank amateurs, and the innovations in the face of technological, financial and logistical constraints. This seminal collection of essays on cinema retains the lucidity and simplicity that is a hallmark of Ray's writing, and gives an invaluable insight into the mind of a genius.
*
My Years with Apu
Here, the filmmaker tells the story behind the making of his three films, the 'Apu' trilogy. Completed shortly before his death, the memoir covers the key aspects of his career: his decision to give up a lucrative job in advertising in order to make his first film, early setbacks, a chronic shortage of funds, the guidance and support of directors such as Jean Renoir, his solutions to problems, and the acclaim for his films at home and abroad.
---
To celebrate more timeless stories by the author and filmmaker, drop into our ebook store!