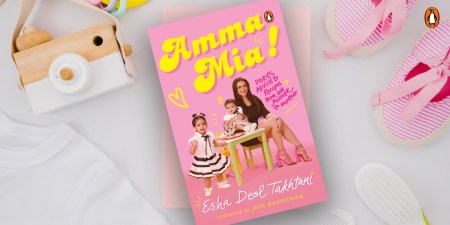 When can I introduce my baby to solid foods?
Becoming a new mother can be an exciting yet overwhelming time. No matter how prepared you are, there will always be many confusing moments, opinions and a whole lot of drama! And just like any other new mom, Esha Deol Takhtani was faced with many such questions soon after the birth of her two daughters-Radhya and Miraya.
Packed with advice, tips, stories and easy and delicious recipes for toddlers, Amma Mia reflects the personal journey of one woman's transformation into a mother. Informative and easy to follow, this book will help new mothers navigate the ups and downs of raising a healthy toddler and make their child fall in love with food.
Read a recipe from the book below:
Continental Potato Wrap
Ingredients
1 tbsp. cumin seeds
 ½ tbsp.  mustard seeds
1 small onion, chopped
1 tbsp. ginger–garlic paste
1 potato
 ½ tbsp. turmeric powder
½ tbsp. amchur powder
 ¼ tbsp. garam masala powder
 ½ cup of water
 ½ cup of flour, to which you may add ¼ tsp. salt
 1 tbsp. oil
Direction
In a pan add oil and sauté cumin seeds, mustard seeds, chopped onion and ginger–garlic paste. Fry well. Add the spices and mix well.

Add enough water and salt to the flour so it achieves the consistency of dosa batter.

Mix the potato in with the rest of the mixture till cooked.
In a non-stick pan, pour refined oil and spread the flour batter like you would to make a dosa. Fill the stuffing in the centre. Fold it properly and fry on a low flame. Your tasty breakfast is ready to be served.
For more tips and tricks, check out Amma Mia by Esha Deol Takhtani.