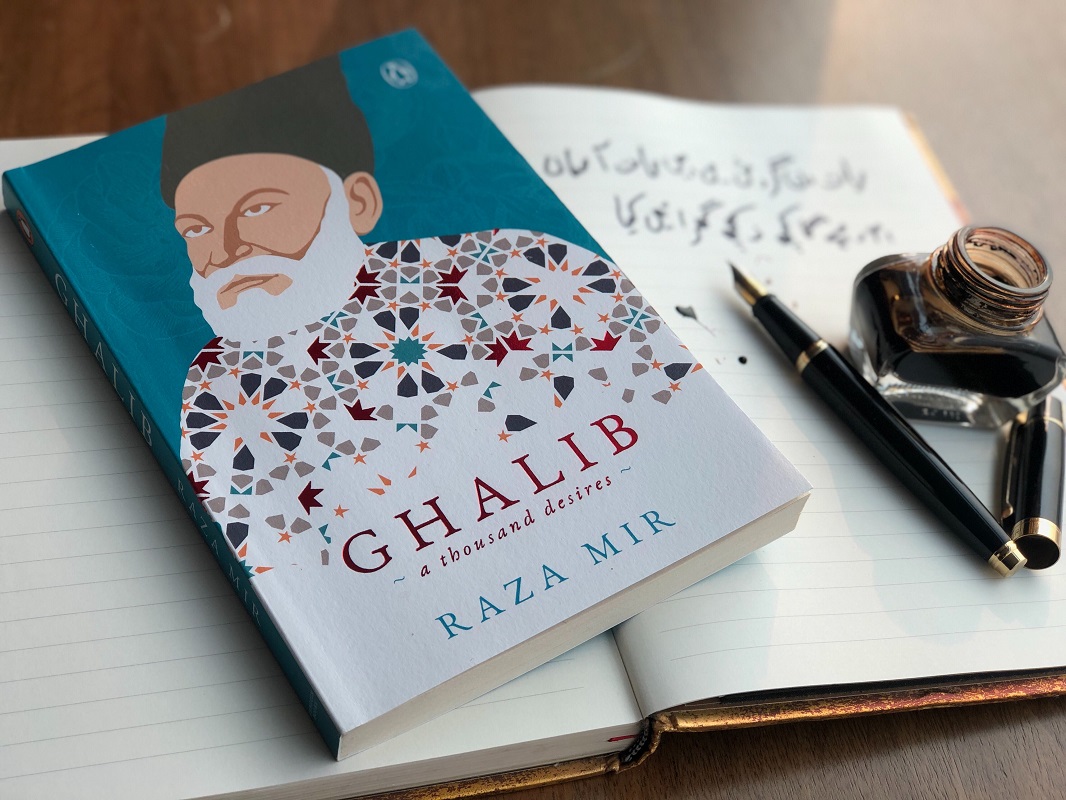 Fluid like the poetry the world loves him for, the inimitable Mirza Ghalib was anchored only in his craft. Reflecting the truth of his time, his words stand testimony to the turbulent world he inhabited. Despite the chaos of his own life, Ghalib's poetry burnt bright like a flame within him. His verses were rich with philosophical insights and spiritualism even as they were a comment on the politics of the time.
'Ghalib could write the most playful verses about mangoes and the most opaque poems about the nature of existence. Arguably, the Ghalib era symbolized the peak of Urdu sukhan, its literary expression.' writes Raza Mir in his perceptive account of Ghalib's life and work in Ghalib- A Thousand Desires.
Here are 7 verses by Ghalib that have stood the test of time
On Poetry
Revered all over for his exceptional turn of phrase, Mirza Ghalib was seen as the epitome of poetic skill. In a verse that may seem boastful, he takes the adulation rained on him and makes it his own-
HaiN aur bhi duniya meiN sukhanwar bahut achhe
Kahte haiN ke Ghalib ka hai andaaz-e bayaaN aur
There are many others in the world, poets truly great
  Rumour has it though, Ghalib's turn of phrase stands separate!
On Longing
Shadowed by adversity his whole life, Ghalib struggled to live the way he felt a poet of his stature deserved. In this verse he wonders about desires that remain unfulfilled-
HazaaroN khwaahisheN aisi ke har khwaahish pe dam nikle,
Bahut nikle mere armaan, lekin phir bhi kam nikle
Thousands of desires, and each one worth dying for
Many of my desires were fulfilled, but yet, I feel unrequited
On Love
As was customary at the time, Ghalib wrote on romance and the cruelty of forced separation from a lover-
Ji dhoondta hai phir vahi fursat ke raat din
Baithe raheN tasavvur-e jaanaaN kiye hue
The mind harks back to those days and nights of leisure
That were spent lost in thoughts of my love, with pleasure
On Illusion
Critical of the illusion of afterlife created by ritual-driven religion, Ghalib- a self-proclaimed Sufi- questions the idea of paradise-
Hum ko maaloom hai jannat ki haqeeqat lekin
Dil ke khush rakhne ko Ghalib ye khayaal achchha hai
We know the reality of paradise
Ghalib, let's admit, these are comforting lies
On God
The tumultuous period of history that Ghalib lived through raised existential questions. Bemoaning the limits of human agency when faced with the unrelenting boundaries of fate, he wrote-
Na tha kuch to khuda tha kuch na hota to khuda hota
Duboya mujh ko hone ne na hota maiN to kya hota
When there was nothing, there was god
Had there been nothing, god would be
The act of being was my undoing
What would have been had there been no me?
On the Beloved
At a grand mushaira in a haveli, among illustrious poets of the time, Ghalib presented a ghazal on the beauty of a beloved's curl of hair which brought him euphoric praise from the gathering
Aah ko chaahiye ek umr asar hone tak
Kaun jeeta hai teri zulf ke sar hone tak
For a sigh to be heard sometimes takes an age
Who survives while you with your stray curls engage?
On Preachers
Ghalib eagerly embraced the idea of equality and unity that could bring all religions on an equal footing. His disdain for religious orthodoxy is reflected in the scathing sarcasm directed at the clergy-
KahaaN maikhaane ka darwaaza Ghalib aur kahaaN waaiz
Par itna jaante hain, kal vo jaata tha ke hum nikle
Where the tavern door, and where the preacher, Ghalib?
But all I know is this; he was entering as I left
---
Ghalib's verses are layered with meaning, each with its own story to tell. Pointing out a common misconception, Raza Mir writes, 'A ghazal is not a slave to amatory sentiment; it can and often does break free of the shackles.' Ghalib's poetry brings together his experiences to make a symphony which enriches the song of this beloved bard.
For more about Ghalib, read Ghalib- A Thousand Desires.