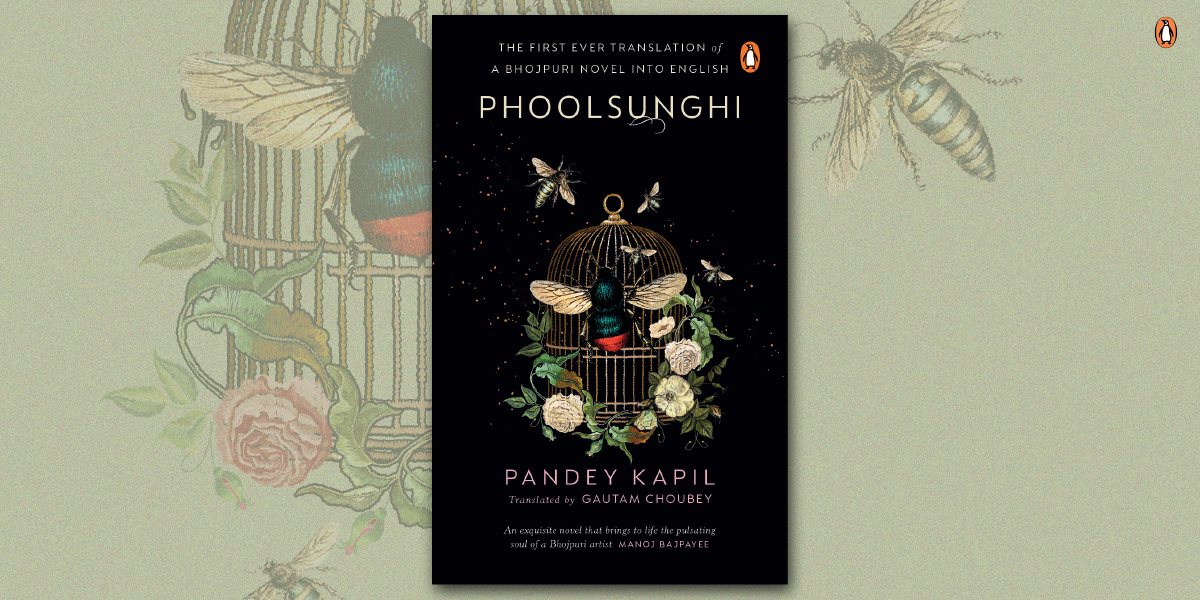 The first ever translation of a Bhojpuri novel into English, Phoolsunghi transports readers to a forgotten world filled with mujras and mehfils, court cases and counterfeit currency, and the crashing waves of the River Saryu. Today we have a chat with the translator, Gautam Chouby to get his take on working on the book, what this means for the community, the challenges he faced and more!
**
1. This is the first Bhojpuri to English translation—what does this mean for the community?
There are about 200 million Bhojpuri speakers in the world and the history of Bhojpuri literature in print in nearly 150 years old. The oral songs and the tradition of folk theatre are older still, dating, in a few instances, to the early 15th century. Yet, Bhojpuri literature has suffered neglect and anonymity. And Bhojpuri culture has been subjected to gross misinterpretation. This book—as is evident from the overwhelming response from readers, scholars and reviewers—has opened up the possibility of a fair reappraisal, connecting the language and its literature with readers everywhere. Since it cannot be adequately emphasised, I will simply say this: Bhojpuri people are thrilled.
2. What inspired you to work on this book?
Phoolsunghi is a sweet story of love, music, friendship and forgiveness that makes the finest traditions of Bhojpuri literature visible, in ways perhaps few other book could. It brings two of the best known Bhojpuri figure together: one is the subject of the novel, the other is its author. Besides Phoolsunghi also contests flawed discourses about the Bhojpuri world—notions which, at times, even people from within the region are reluctant to confront and address. At its very core, it is not a culture that glorifies violence and sexual misdemeanours; it is humane, sophisticated world with its own codes of honour and chivalry. It is a sweet world of melody, music and hard-working individuals.The novel brings these aspects to the fore. For example, it celebrates the miraculous rise of a courtesan in a culture that is often considered doggedly patriarchal.
Even though it was written during the days of Emergency and it depicts a colonial world in turmoil—that moves between Banaras to the west and Calcutta to the east—it celebrates gestures of reconciliation, forgiveness and assimilation. Its social alchemy allows the unlikeliest of camaraderies to flourish, in ways that might seem impossible today even in the most cosmopolitan of spaces, let alone Bihar. It is a world where courtesans, musicians, thugs, robbers, zamindars and British sahibs interact uninhibitedly, sharing life values and moral imperatives.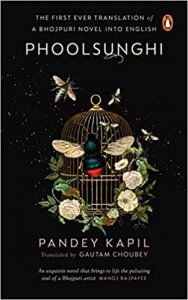 3. What were some of the challenges you faced on your journey?
I grew up speaking Bhojpuri with my mother and till a few years ago, believed that I knew the language pretty well. However, when I started reading its literature, I realised that Bhojpuri in print is somewhat different from the spoken form, as is perhaps the case with all other languages. To begin with, the visual impression of Bhojpuri words, although written in the script that I was all too familiar with, was a little disorienting; for me Devanagari and Hindi were interchangeable, and I could not fathom the script being mobilised by another language. Further, since there is no 'standardised' Bhojpuri, there are multiple registers within the language, causing words to have different meanings across different spaces and regions. The proverbial wisdom about language variation in India—'kos kos pe badle pani, char kos pe bani' (water tastes different every mile, language sounds different, every four) is true of this case, too. This pushed me to connect with Bhojpuri scholars, writers and people in my village. In a sense, a larger community of Bhojpuri enthusiasts came together for this book.
4. What was your first interaction with Bhojpuri?
I grew up in a Bhojpuri-speaking literary family: my maternal grandfather, Chandradhar Pandey, was a well-known Bhojpuri writer. Understandably, I was somewhat familiar with figures like Mahendra Misir, Bhikhari Thakur, Rameshawar Singh Kashyap, and to some extent, even Pandey Kapil. Besides, the fascinating story of Mahendra Misir and Dhelabai—filled with mujra, music, dacoity, sahibs, zamindars, crime, compassion, court-cases and a Devdas-like central character—is a local legend and a much-harvested theme, explored across three other novels. However, it was only in late 2017, having completed my Ph.D. from the English Department at Delhi University that I turned to Bhojpuri. That too at the behest of a senior colleague. A year later, when I finally Phoolsunghi, I was quite smitten by the story and moved by the sentiments it invokes, in ways I hadn't experienced earlier; I came to realise the emotive force of feelings expressed in one's mother tongue. After this chance discovery of a literary gem, and based on my family's very personal relationship with Bhojpuri literature, I felt duty-bound to share it with the world at large.
5. What do you most look forward to with this book and it's publication?
What excites me the most is the hope that with the success of this first translation, other scholars and translators would undertake similar projects, making many more literary specimens available to the larger reading public. Equally encouraging—thanks to Penguin Random House India's unflinching support for Phoolsunghi and the extensive media coverage the book has garnered—is the possibility that other publishers, too, hereafter, are likely to show interest in Bhojpuri books.  We are, in a nutshell, looking at quite an upbeat prospect for Bhojpuri literature. That, to me, is a wholesome objective, comprehensively set and partially achieved, through this book.
 **