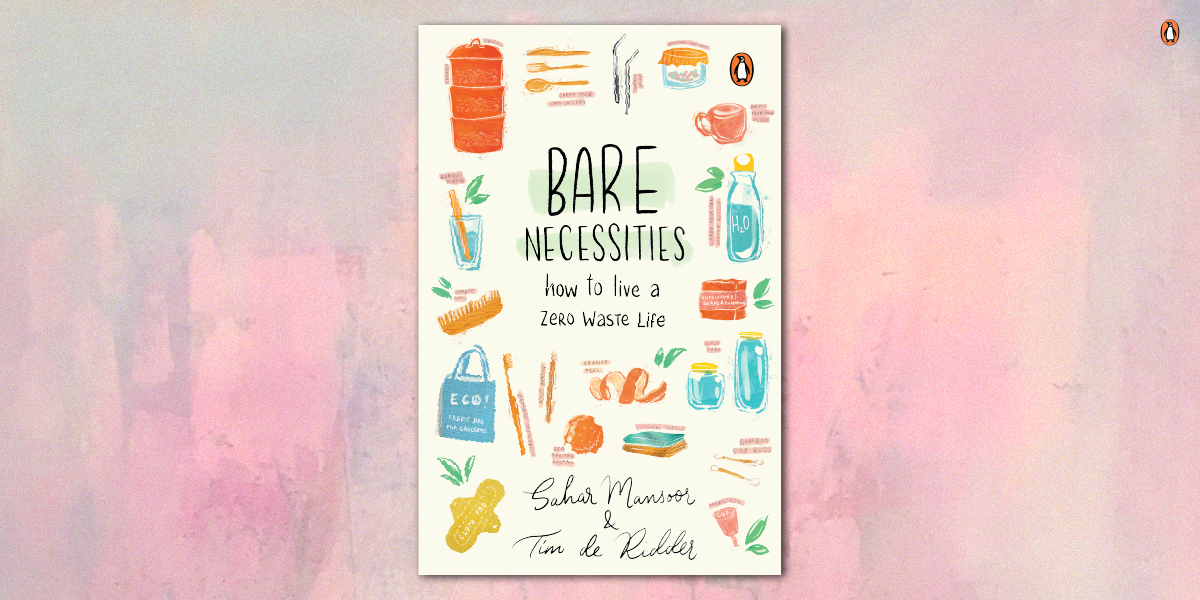 How do you think the Covid-19 pandemic has affected the way industries and individuals are looking at waste generation and sustainability?
-The pandemic created such a large amount of waste from the outset. However, it also rekindled intimacy with parts of our lives that we may have disconnected with. Examples include our kitchen, homes and nature. This reconnection found at an individual level is mirrored by many industries that have grown and/or launched during the pandemic. Specifically, food packaging and e-commerce businesses have developed new ways to operate in a changed world while reducing environmental footprints. In these ways, the pandemic has provided additional perspectives about the things that truly matter on an individual level and what can be innovated and developed at an industry level.
2. The zero-waste life is difficult but as your book has shown clearly doable especially for individuals?  Do you have some tips for larger families especially those with infants since infants do generate a lot of waste such as diapers etc.?
One thing that we have focused on in the book is to illustrate that choosing to make a change is the first big step and one that has been undertaken by individuals and organisations across the country. The examples we have used are there to highlight how doable these actions are and what resources are available. For families with infants for instance we have detailed some organisations that retail cloth diapers such as Bumpadum and Super Bottoms. Additionally, In the first two years of life, an average child needs 280 pieces of clothing, most of which are only worn for about two or three months. As a result, a vast amount of kids' clothing ends up in landfills, losing value and creating adverse environmental impacts. Sharing/circulating clothes among friends and family or at clothes exchanges are ways to reduce waste while making your own gifts for your children and/or involving them in the creation is a unique and memorable way to reduce waste.
3. Capitalism is to a large extent dependent on obsolescence and therefore, on waste.  What message can you send to large business concerns that could inspire them to adopt more sustainable practices?
There is no doubt these days that sustainability and reducing waste is the way forward, there is so much research on this now. For businesses wanting to know how to do this make sure to keep it simple by designing out waste from your current system, this could include creating/using high quality products that have a longer life and can be reused in other fashions in the long term. A prime example is e-waste where the core elements of computers, phones and other devices needs to be reused because there is a finite supply of the raw materials. By incorporating models of reuse and refill into business operations each company can make a positive difference for their people, the planet and profit too.
4. Both of you have travelled extensively. Can you describe one incident or anecdote from your travels that really shaped your ideas on sustainability and its impact?
Tim: I've been fortunate to visit a number of remote and beautiful locations such as the Himalayas. Yet, when I visited there was always waste that polluted rivers and mountain tops. This impact changes the way that people live and needs to be addressed at a systemic level so that the livelihoods of communities and the environment can improve. I've witnessed community-based initiatives recently that promote the sale of sustainable and traditional products rather than imported plastic items that was one of the causes of waste in the area. This type of example illustrates a number of benefits of sustainability.
Sahar : Throughout my narrative, in our book I speak about my time working in northern Karnataka. This opportunity provided me with the opportunity to spend time in rural India and learn from communities that were choosing sustainable practices, including hand sewing traditional clothes designed to last a lifetime not just to be worn a few times and replaced. This type of practice fills my heart with so much love, it is a perfect picture of how sustainable practices value the environment, rural communities and experiences of travelers who are truly fortunate to visit these locations. There are many lessons to be learnt from people across our diverse country.
5. Bare Necessities has some wonderful recipes and DIYs using easily available ingredients that replace many less environmentally-friendly products. Let's simplify these even further. Can you name 5 ingredients that you could survive with on a desert island?
This is a fascinating case study! I hope I never end up trapped on a desert island but if I did and wanted to create some of the DIY recipes I'd hope to find coconuts, bananas, yellow gram & green gam, along with honey and turmeric. Many of these ingredients form the backbone of the recipes we have shared and could provide sustenance too. For instance, coconut oil/water and the flesh of the coconut can be used for rehydration and if needed for personal care recipes for your skin, hair and teeth. Similarly, bananas, gram, honey and turmeric can be used for nutrition, cleaning and self-care. It's pretty cool to think about but let's hope we never get stuck on an island, I much prefer to make these products in Bangalore with my manufacturing team.
6. Have you noticed any positive impacts on your personal health since you switched to more sustainable personal care products?
There are many that I gained from the point where I made the shift to a zero-waste life. I would actually enjoy taking a deep dive into the benefits of the changes to my personal care routine through a longitudinal study now that I use organic face masks among other products. One area that doesn't need a long-term evaluation is on the impacts in the kitchen. Many of the benefits I gained in my life combined both the decisions in my personal care routines for the things I placed on my body with the items I consumed. Overall my health improved markedly due to this combination of not using products with harmful chemicals while eating more raw and whole foods instead of packaged.
7. Which sector of the economy do you think will experience the most change as more buyers shift to sustainable consumerism in the future?
An area that we mentioned a little above with innovations from businesses aiming to reduce their environmental impact. Specifically, the creation of sustainable packaging is an area that is likely to experience significant growth. The use of hemp, mycelium and seaweed for example is seeing the development of alternatives to packaging made out of plastic and styrofoam among other harmful materials. This is an area of exciting change for the future and one that may well revolutionise business and increase the uptake of people involved in the circular economy, thus enabling a transition to a more sustainable/earth-friendly lifestyle.