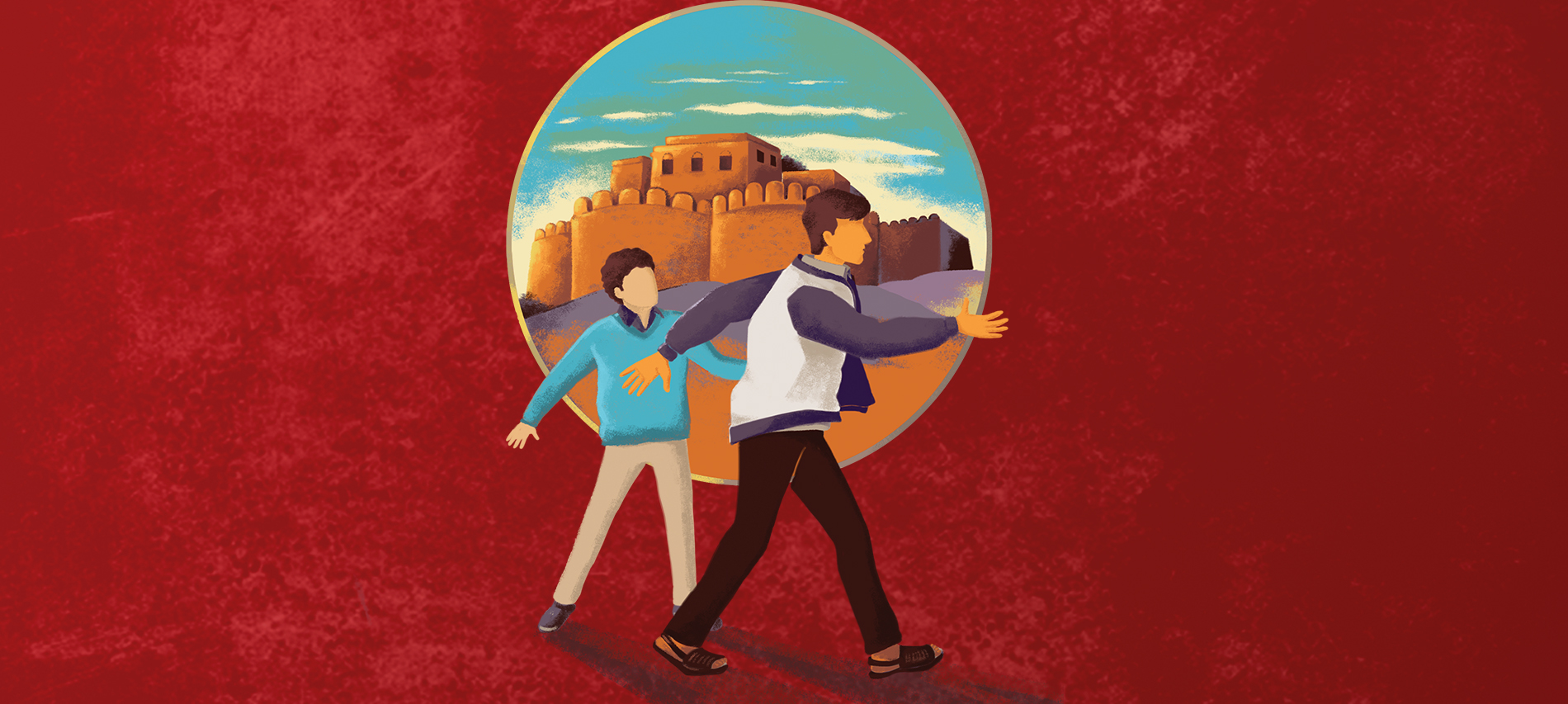 Satyajit Ray's much celebrated Bengali detective — Feluda, is now on a mission in the royal sands of Rajasthan!
In 'The Adventures of Feluda: The Golden Fortress', the detective dodges impostors, deadly scorpions and bullets to rescue young Mukul, a boy who can recall his past life.
Here's a peek into Feluda's spine-chilling chase to the end of the mystery.
The train started. Feluda took out the book on Rajasthan from his shoulder bag. I took out Newman's Bradshaw timetable and began looking up the stations we would stop at. Each place had a strange name: Galota, Tilonia, Makrera, Vesana, Sendra. Where had these names come from? Feluda had told me once that a lot of local history was always hidden in the name given to a place. But who was going to look for the history behind these names?
The train continued to chug on its way. Suddenly, I could feel someone tugging at my shirt. I turned to find that Lalmohan Babu had gone visibly pale. When he caught my eye, he swallowed and whispered, 'Blood!'
Blood? What was the man talking about?
Lalmohan Babu's eyes turned to the Rajasthani. The latter was fast asleep. His head was flung back, his mouth slightly open. My eyes fell on the foot on the bench. The skin around the big toe was badly grazed. It had obviously been bleeding, but now the blood had dried. Then I realized something else. The dark stains on his clothes, which appeared to be mud stains, were, in fact, patches of dried blood.
I looked quickly at Feluda. He was reading his book, quite unconcerned. Lalmohan Babu found his nonchalance too much to bear. He spoke again, in the same choked voice, 'Mr Mitter, suspicious blood marks on our new co-passenger!'
Feluda looked up, glanced once at the Rajasthani and said, 'Probably caused by bugs.'
The thought that the blood was simply the result of bites from bed bugs made Lalmohan Babu look like a pricked balloon. Even so, he could not relax. He continued to sit stiffly and frown and cast the Rajasthani sidelong glances from time to time.
The train reached Marwar Junction at half past two. We had lunch in the refreshment room, and spent almost an hour walking about on the platform. When we climbed into another train at half past three to go to Jodhpur, there was no sign of that Rajasthani wearing a red shirt.
Our journey to Jodhpur lasted for two-and-a-half hours. On the way, we saw several groups of camels. Each time that happened, Lalmohan Babu grew most excited. By the time we reached Jodhpur, it was ten past six. Our train was delayed by twenty minutes. If we were still in Calcutta, the sun would have set by now, but as we were in the western part of the country, it was still shining brightly.
We had booked rooms at the Circuit House. Lalmohan Babu said he would stay at the New Bombay Lodge. 'I'll join you early tomorrow morning, we can all go together to see the fort,' he said and went off towards the tongas that were standing in a row.
We found ourselves a taxi and left the station. The Circuit House wasn't far, we were told. As we drove through the streets, I noticed a huge wall—visible through the gaps between houses—that seemed as high as a two-storeyed house. There was a time, Feluda told me, when the whole of Jodhpur was surrounded by that wall. There were gates in seven different places. If they heard of anyone coming to attack Jodhpur, all seven gates were closed.
Our car went round a bend. Feluda said at once, 'Look, on your left!'
In the far distance, high above all the buildings in the city, stood a sprawling, sombre-looking fort—the famous fort of Jodhpur. Its rulers had once fought for the Mughals.
I was still wondering how soon I'd get to see the fort at close quarters, when we reached the Circuit House. Our taxi passed through the gate, drove up the driveway, past a garden, and stopped under a portico. We got out, collected our luggage and paid the driver.
A gentleman emerged from the building and asked us if we were from Calcutta, and whether Feluda was called Pradosh Mitter.
'Yes, that's right,' Feluda acknowledged.
'There is a double room booked in your name on the ground floor,' the man replied.
We were handed the Visitors' Book to sign. Only a few lines above our own names, we saw two entries: Dr H.B. Hajra and Master M. Dhar.
The Circuit House was built on a simple plan. There was a large open space as one entered. To its left were the reception and the manager's room. In front of it was a staircase going up to the first floor, and on both sides, there were wide corridors along which stood rows of rooms. There were wicker chairs in the corridors.
A bearer came and picked up our luggage, and we followed him down the right-hand corridor to find room number 3. A middle-aged man, sporting an impressive moustache, was seated on one of the wicker chairs, chatting with a man in a Rajasthani cap. As we walked past them, the first man said, 'Are you Bengalis?' Feluda smiled and said, 'Yes.' We were then shown into our room.
We bet you can't wait to find out what happens next! Grab your copy of 'The Adventures of Feluda: The Golden Fortress' today!