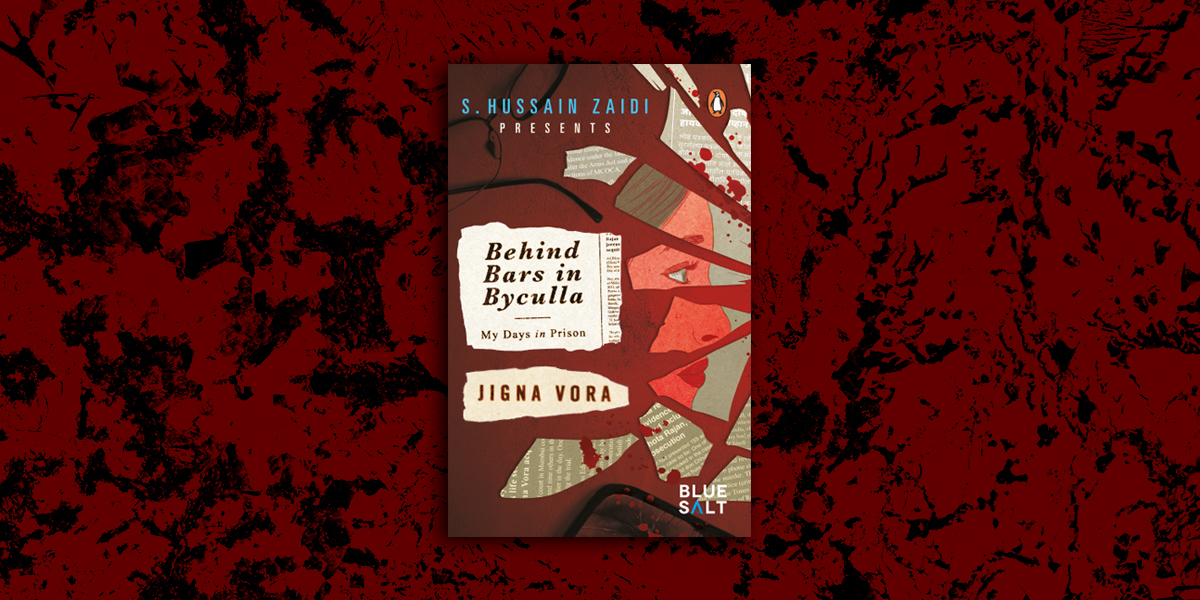 Renowned journalist Jyotirmoy Dey – fondly known as J, Dey – was murdered by members of the Chhota Rajan gang in 2011. A few months later, a fellow journalist and crime reporter Jigna Vora was arrested in connection with the murder. Seven years later, some of which were spent in prison, Jigna was acquitted of all charges.
In the barracks of Byculla, occupying the top rung of a disturbingly hierarchal system are women like the saffron-clad sadhvi Pragya Thakur, accused in the 2008 Malegaon Blasts, and the unforgiving Jaya Chheda- revered by the inmates for her demigod status as Jaya Maa- accused for orchestrating the murder of her millionaire ex-husband. From the cramped corners of her cell, Jigna Vora observes the women she wrote about emerge from the creased folds of old newspapers to wield their power in the uniquely complex world of the prison.
---
Sadhvi Pragya told me that the article was about a witness recording a statement under Section 164 of the Cr.PC (Criminal Procedure Code) against me. Such a statement recorded in the presence of a magistrate holds weight even if the witness turns hostile at a later stage of the trial, unlike a statement recorded under Section 161, which is recorded in the presence of only the police and is not admissible as evidence in the court. The article claimed that the case against me was now watertight. But I feigned indifference even as my heart beat faster due to what Pragya had told me.

'People write a lot of things,' I said. 'Not all of it may be true.'

'Exactly,' she said. 'You wrote articles about me too. But do you really know what the truth is?'

I stood still, at a loss for words. All this time, I had written about her based on what I had heard, read or investigated. Now, I was on the receiving end from the media, and the most absurd reports were being written about me. I had begun to believe in the innocence of anyone in the jail who claimed to have been framed in the crimes they were accused of. Pragya seemed to sense the unease on my face.

'I know you haven't committed the crime,' she said. 'These bad times will pass.'

I just nodded and looked through the gaps into her room. It was remarkably clean and well maintained. Some of her clothes had been hung to dry over the clothes line in the passage. Her belongings were neatly organized. The bathrooms inside the cell had no doors. There was a tubelight in the room, and an earthen pot for storing drinking water. She also had a bed to sleep in, because she was suffering from severe back pain. There was also a murti of Lord Krishna, in his childhood avatar. She told me she did puja every day. Looking at the idol, I remembered how my grandmother too used to pray to Lord Krishna.

'All of this has been allowed by the court,' she said, referring to the concessions that were made available to her. 'And don't worry. Lord Krishna will guide you out of these troubled waters.'

The woman whom I had written against extensively was praying for my safety. I had reported every minute detail on her case, because I had a source in the team that was investigating the Malegaon blasts. Yet, she hadn't taken it personally. I thanked her for the prayers. In many ways, this interaction planted the first seeds of spirituality in my heart, which I have pursued even after my release from jail. I felt a kind of solidarity towards Pragya.

*

When I approached her, Jaya showed no upfront signs of hostility and offered me a bowl of aam ras laced with saffron. I had grown up in a Gujarati household where mango pulp was a staple for breakfast during the mango season. Tempted, I reached for the pulp, but realized my mistake and pulled back. Jaya coaxed me with a smile, and I gave in. I scooped up a spoonful, and it was the finest Alphonso pulp I had tasted in my life—in Byculla Jail of all places. Jaya smiled with the calmness of a god, as if she had bestowed a favour and turned a sceptic into a believer.

'Mahale arrested you?' she asked, in her Kutch dialect.

'Yes.'

'I can get you out in no time.'

'Really?'

'Yes,' she said. 'First, we'll get them to drop the MCOCA charges.'

I tried to appear impressed, answering in Gujarati and humouring her brouhaha. Senior Inspector Ramesh Mahale was also responsible for Jaya's arrest, and all her talk of being able to get me out was nothing but a cock and bull story. If that were true, why was she still in jail? But ticking off Jaya would be the wrong move inside the walls of Byculla Jail. I tactfully displayed my acceptance of her superiority by making her feel she ruled the place, and she appeared pleased by the end of our conversation.
---
Raw moments from a seven-year long battle for freedom make Behind Bars in Byculla pulsate with the undercurrents of prison life. Listen to Jigna Vora's story, in her own words, of her life behind bars.