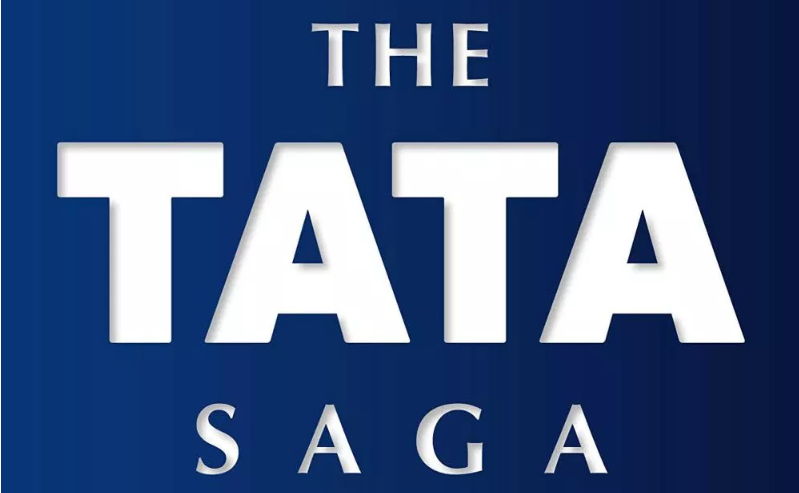 The Tata Saga is a collection of handpicked stories published on India's most iconic business group. The anthology features snippets from the lives of various business leaders of the company: Ratan Tata, J.R.D. Tata, Jamsetji Tata, Xerxes Desai, Sumant Moolgaokar, F.C. Kohli, among others. There are tales of outstanding successes, crushing failures and extraordinary challenges that faced the Tata Group.
Here is an excerpt from the foreword of the book, titled Men of Steel, Heart of Gold.
---
One legendary story that has constantly inspired me is the tale of how the founder and first chairman, Jamsetji Tata, sought to establish India's first integrated steel plant in Jamshedpur. Historian R.M. Lala has beautifully narrated the story in his excellent book The Creation of Wealth.
Way back in the 1880s, Jamsetji Tata developed a belief that steel would be essential for the nation's development. He studied the industry thoroughly, visited locations in India which had iron ore deposits, and eventually went to Pittsburgh, the heart of the steel industry in the US, to meet the world's best metallurgical experts. There, he was warned that exploring steel manufacturing in India would cost a fortune and there was no guarantee that the endeavour would succeed. He faced scepticism from many quarters. When the then British chief commissioner of the Indian Railways, Sir Frederick Upcott, heard about this venture a few years later, he famously said: 'Do you mean to say that the Tatas propose to make steel rails to British specifications? Why, I will undertake to eat every pound of steel rail they succeed in making.'
Jamsetji Tata, like all great pioneers, was a determined man, with immense faith in the enterprise he had embarked
upon. So he forged ahead, choosing to ignore the doomsayers and the cynics. With the help of an American expert, he undertook a scientific survey of the project in densely forested areas where raw material was likely to be available. The first round of exploration was abandoned because the iron ore and coal required was not available in that area. Jamsetji persisted. Eventually, his team located the required iron ore reserves in the jungles near the village of Sakchi in Eastern India, and, with the best available technology and expertise of the times, the steel plant was created there.
The plant did not produce steel during Jamsetji Tata's lifetime. Production commenced in 1912, eight years after his demise. By then, his son Dorabji Tata had succeeded Jamsetji Tata as the chairman. Steel rails from this plant were also used in the British war effort in Mesopotamia, during World War I. Around that time, Dorabji Tata is reported to have said that if Sir Frederick Upcott had lived up to his word, he would have had 'some slight indigestion'.
This inspiring story does not end here. Jamsetji Tata's vision was not merely to make steel in India, but to also create a modern township around the steel plant that served the needs of employees and residents in an exemplary manner. It is fascinating to note how he articulated this dream, in a letter that he wrote to his son in 1902—'Be sure to lay wide streets planted with shady trees, every other of a quick growing variety. Be sure that there is plenty of space for lawns and gardens. Reserve large areas for football, hockey and parks. Earmark areas for Hindu temples, Mohammedan mosques and Christian churches.' Thus, Sakchi, a small village in the wilderness, became the first planned smart, industrial city of India. Later, in 1919, the British rulers of the country named this town Jamshedpur, as a tribute to its founder.
There is an interesting postscript to this story of the creation of Tata Steel and Jamshedpur, which puts a spotlight on the role played by the second chairman of the Tata Group, Dorabji Tata. After an initial period of great success, the steel plant ran into significant difficulties and misfortunes in the post-World War I period. In 1924, driven by large debt and a fall in demand, the company was on the verge of bankruptcy and closure. At one point, there was no money to pay wages to the workers in Jamshedpur. To rescue the company, funds were urgently needed, and Dorabji Tata pledged his entire personal fortune of Rs 10 million to obtain a loan from the Imperial Bank of India. The fortune that he pledged included his wife Meherbai Tata's jewellery—including the flawless Jubilee Diamond, which, at 245 carats, was twice as big as the fabled Kohinoor. This is a tale of nerves of steel, a fabulous diamond and a heart of gold.
The epic saga of Tata Steel has continued for many decades thereafter, with many interesting new tales of bold and pioneering moves which deserve an entire book to themselves. Consider these stories of recent years: In 2012, Tata Steel was the first integrated steel company outside Japan to win the coveted Deming Grand Prize, the highest honour in quality awarded to companies for excellence in total quality management. In 2008, Tata Steel acquired Corus, a major European steel company and in a subsequent joint venture with Thyssenkrupp, announced in 2017, created Europe's second largest steel company. The massive new steel plant at Kalinganagar in Orissa, which commenced production in 2015, is one of India's largest greenfield ventures in modern times. And, most recently in 2018, the successful acquisition of Bhushan Steel is an initiative that marks the very first successful case of resolution of a large bank loan defaulter, under the country's new Insolvency and Bankruptcy Code (IBC). The 'Make in India' steel plant that Jamsetji Tata conceptualized over 130 years ago continues to flourish today. Indeed, it stands tall as one of the finest corporate institutions of our times.
---
These riveting business stories in The Tata Saga, by some of India's top writers on the subject, bear testament to the ruthless persistence and grit of the Tata Group and make for an incredible collector's edition.