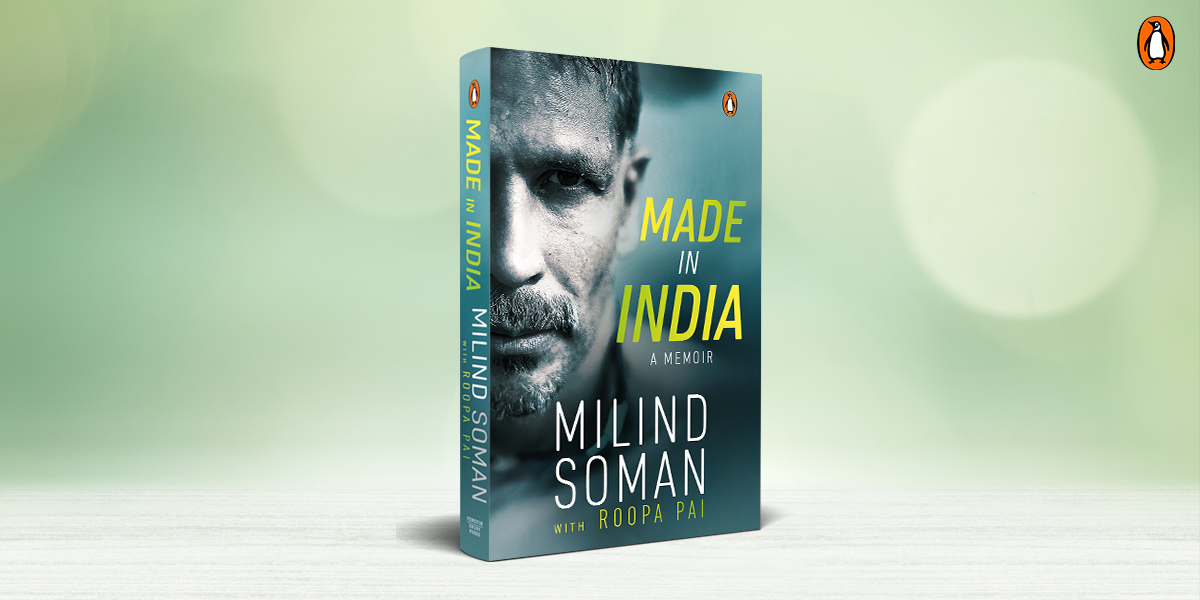 On the twenty-fifth anniversary of 'Made in India', the breakout pop music video of the 1990s that made him the nation's darling across genders and generations, Milind Soman talks about his fascinating life-controversies, relationships, the breaking of vicious habits like smoking, alcohol, rage, and more-in a freewheeling, bare-all memoir titled Made In India.
Looking through the prism of hope and positivity, Milind Soman shares his perspective on life, 'All we can do is stay curious and treat each new day as a great new adventure, packed with the promise of new experiences that may not always be pleasant but are certainly not to be feared.'
Here is a glimpse of his time with another supermodel who conquered the world of fashion:
—
But her podium finish at Miss Universe wasn't the only reason Madhu Sapre made such a huge ripple in the popular consciousness or left such a lasting impression on it. In fact, it was her conscious and unconscious flouting of all kinds of norms, both societal and institutional, that made her a hero. Her unconventional looks—Madhu was too tall, too dark-skinned, too slim and too angular to fit the traditional Indian ideal of feminine beauty— did not deter her, for instance, from participating in a beauty contest (the Femina Miss India pageant). When she won it, she changed the country's perception—and the perception of legions of dark-skinned girls like herself—of beauty itself.
When she scored an almost-perfect 9.9 out of 10 in the swimsuit round at Miss Universe, the highest ever by an Indian contestant, organizers of the Miss India pageant took note, and included a swimsuit round (horror of horrors— Indian girls baring so much skin!) in the Indian edition. Two years later, this addition, along with several other suggestions made by Madhu after her Miss Universe experience, would see two better-prepared Indian contestants—Sushmita Sen and Aishwarya Rai—clinch both the Miss Universe and Miss World crowns in a landmark outing.
And then, of course, there was her (in)famous response to the final question at the Miss Universe pageant. Unlike most other female models of the time, Madhu had built her statuesque, perfectly toned body on the sports field— she had been a national-level volleyball player before she began to model. And therefore, when she was asked, in the pageant's title-decider round, 'What would you do for your country if you were prime minister?', she answered, unhesitatingly and truthfully, that she would build a world-class sports complex, so that other girls would not have to suffer like she had from having to use inferior sporting facilities. That politically incorrect 'gaffe' (the 'correct' answer would have been something far more noble-sounding—and completely infeasible—like 'I will do my best to eradicate poverty') not only cost her the crown but also brought the whole country's disdain upon her for being such a clueless hick. But Madhu was unfazed; today, her conviction about what the country really needed is borne out by an entire generation of world-beating Indian sportswomen who have had access to precisely such first-class facilities. Right.
All this elaborate scene-setting was simply to establish that Madhu was already a national celebrity by the time I met her later the same year. People think that we were drawn to each other because of our backgrounds—we were both from Bombay, both Maharashtrian, both sportspeople. The truth is that I fell in love with Madhu Sapre simply because she was such a sweet, unspoilt person, so comfortable in her own skin. Within the fashion fraternity, she was even more of an outlier than I was, in one key aspect—English was not her strong suit; when she did speak it, it was with a thick Marathi accent. In India, and within a certain set, that kind of handicap can be severely debilitating to one's selfesteem. But even that did not come in the way of the goals Madhu set for herself and, with her strong work ethic and unwavering focus, achieved.
By the time we met, the media had already followed, tracked and love-hated the two of us as individuals. When we became a couple, we were pitched into a whole new orbit of media gaga. Madhu–Milind, in short, spelt Magic.
---
'Keep your body in top condition as a matter of course, and you free your mind up to go after what it really wants.' writes avid sportsman and fitness enthusiast Milind Soman who has lived life on his own terms. Co-authored with bestselling author Roopa Pai, Made In India is an unapologetic recollection of the people and incidents that shaped his life.