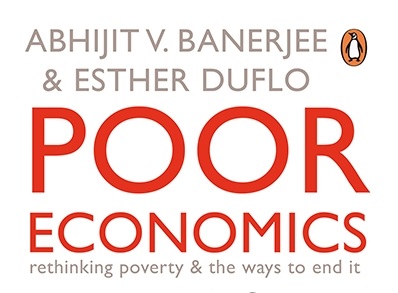 The authors of the highly acclaimed 2011 book, Poor Economics: A Radical Rethinking of the Way to Fight Global Poverty, now have another reason to celebrate! On 14th October 2019, authors Abhijit Banerjee and Esther Duflo were named as two of the three groundbreaking recipients for the 2019 Nobel Prize in Economics! Of course, that is as strong a reason as any, but we have a few more words to add to the many reasons you should read their book:
"Poor Economics stands out in the literature on development economics in that it stays away from the 'big questions' to investigate the incredibly multi-faceted and complex lives of the poor, and imagines the policies that could have a real impact."
Arnaud Vaganay, The London School of Economics and Political Science
"Abhijit Banerjee and Esther Duflo want to reduce poverty. That goal is common—what distinguishes the work of these young economists, both at MIT, is their methods. They aim to inject scientific evidence into policy deliberation, and advance the debate with conclusions that can be widely agreed on while not being truisms."
Prospect magazine
"A marvelously insightful book by two outstanding researchers on the real nature of poverty."
Amartya Sen, Lamont University Professor and Professor of Economics and Philosophy at Harvard University and winner of the Nobel Prize for Economics
"With regard to institutions and governance, Poor Economics suggests that there is more to improved outcomes than the veneer of participation. The authors' findings affirm over and over again that knowledge really can be a powerful tool for change."
Democracy, A Journal of Ideas
"This book is a must-read for anyone who cares about world poverty. It has been years since I read a book that taught me so much. Poor Economics represents the best that economics has to offer."
Steven D. Levitt, William B. Ogden Distinguished Service Professor of Economics at the University of Chicago and author of Freakonomics
"Abhijit Banerjee and Esther Duflo are allergic to grand generalizations about the secret of economic development. Instead they appeal to many local observations and experiments to explore how poor people in poor countries actually cope with their poverty: what they know, what they seem (or don't seem) to want, what they expect of themselves and others, and how they make the choices that they can make. […] I was fascinated and convinced."
Robert Solow, Institute Professor of Economics, Massachusetts Institute of Technology, and winner of the Nobel Prize for Economics
"Abhijit Banerjee and Esther Duflo have written an engrossing, deeply readable book, one that moves beyond simple analyses of poverty. It examines, in powerful detail, the challenges poor households face in escaping their condition. It takes on existing poverty mitigation efforts  and puts them to test using real, empirical data."
Nandan Nilekani, Chairman of the Unique Identification Authority of India
"It is [the] exploration into understanding the poor, rather than rendering a formula to end poverty that makes it a compelling and important read."
Elmira Bayrasli, Forbes
"Books that make grandiose claims for themselves often disappoint – but this truly is a "radical rethinking" about global poverty. […] The result is a remarkable work: incisive, scientific, compelling and very accessible, a must-read for advocates and opponents of international aid alike, for interested laymen and dedicated academics."
Keyur Patel, Financial World
"Highly decorated economists Banerjee and Duflo (Economics/Massachusetts Institute of Technology) relay 15 years of research into a smart, engaging investigation of global poverty—and why we're failing to eliminate it. Aiming to change the stigma that revolves around poverty, the authors explore not just how many find themselves in economic quicksand, but why."
Kirkus Reviews
---
Poor Economics: Rethinking Poverty and The Ways to End It will offer you pathbreaking insights into the causes of global poverty and the ways in which we can alleviate it.