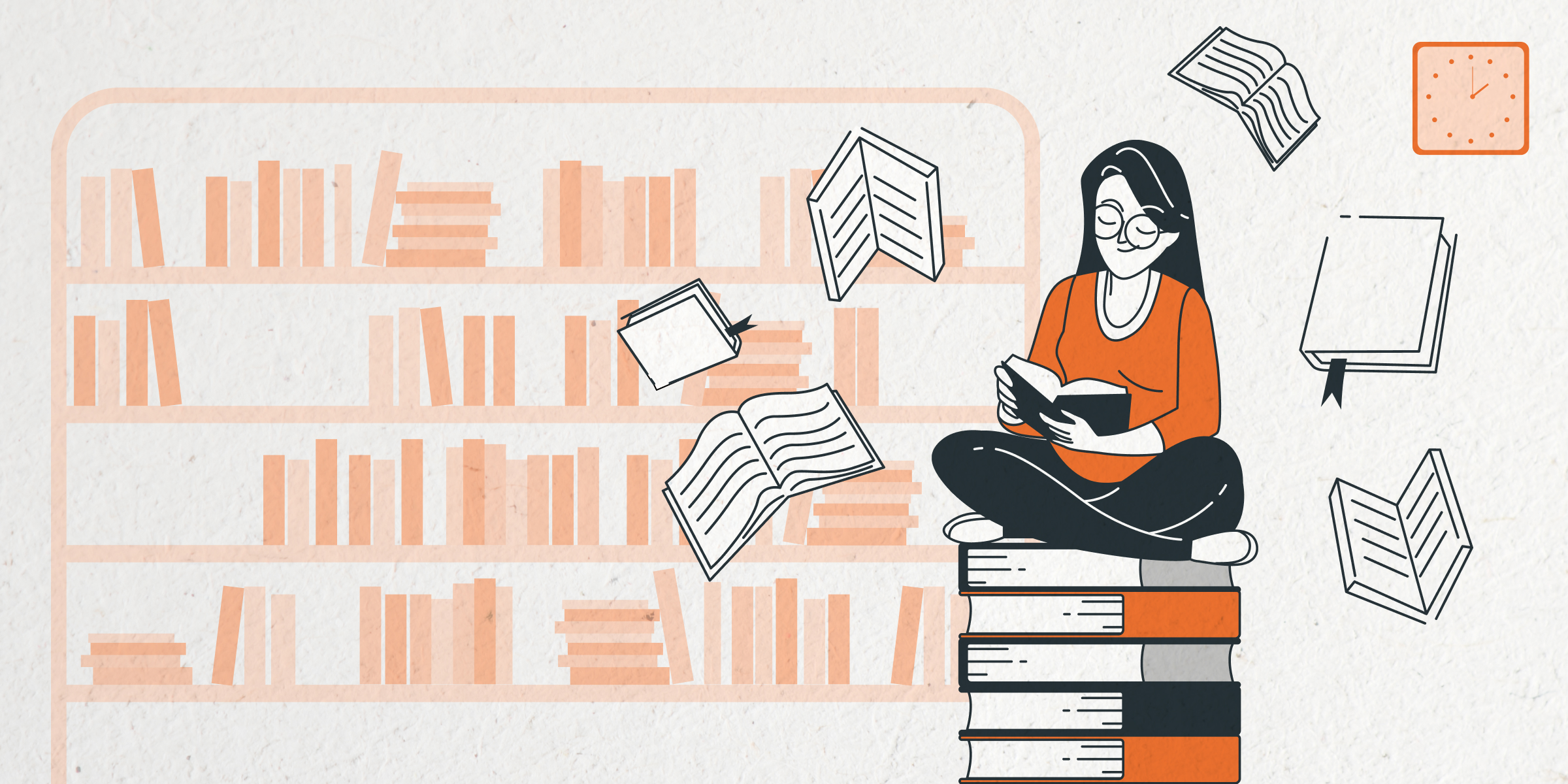 With a slight drop in temperatures peeking around the corner, take it easy with the seasonal change by going through our new releases for August. From a ghost hotel to a quirky love story, there's something for every kind of mood wave you're riding.
*
The Bellboy by Anees Salim
Latif's life changes when he is appointed bellboy at the Paradise Lodge – a hotel where people come to die.
After his father's death, drowned in the waters surrounding their small Island, it is 17-year-old Latif's turn to become the man of the house and provide for his ailing mother and sisters. Despite discovering a dead body on his first day of duty, Latif finds entertainment spying on guests and regaling the hotel's janitor, Stella, with made-up stories. However, when Latif finds the corpse of a small-time actor in Room 555 and becomes a mute witness to a crime that happens there, the course of Latif's life is irretrievably altered. The Bellboy is as much a commentary on how society treats and victimizes the intellectually vulnerable as it is about the quiet resentment against religious minorities in India today.
The Last White Man by Mohsin Hamid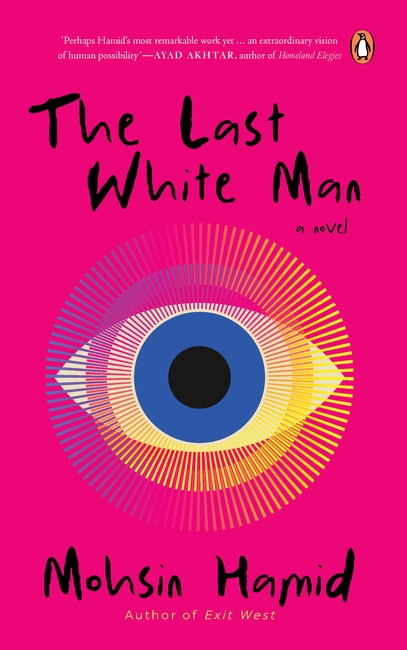 One morning, Anders wakes to find that his skin has turned dark, his reflection a stranger to him. At first, he tells only Oona, an old friend, newly a lover. Soon, reports of similar occurrences surface across the land. Some see in the transformations the long-dreaded overturning of the established order, to be resisted to a bitter end. In many, like Anders's father and Oona's mother, a sense of profound loss wars with profound love. As the bond between Anders and Oona deepens, change takes on a different shading: a chance to see one another, face to face, anew.
Challenges To A Liberal Polity by M Hamid Ansari
From Nehru's vision for India as a major world power to the issues of citizenship, religion, democracy, the idea of plurality and Muslim identity in Indian society, inclusion/exclusion of Indian Muslims, the 'mainstream' decision-making process in India, the role of women in order to build a compassionate society, the implication for dissent, Muslims' role and contribution to Indian culture, civilization and nation-building in the post-Independent India, among others, the book thrashes some of the burning issues of Indian polity and society.
Comprehensive, argumentative and evocative, this title will interest not only a broad spectrum of readers but also politicians, policymakers and students and scholars of Indian politics, history and sociology.
Chorashastra by V.J. James
Hoping to break out of his coconut-robbing father's petty legacy and strike it big, a small-time thief breaks into the house of an eccentric professor. A strong believer in the theory that early Indian civilisations were scientifically advanced, the professor spends his days salvaging ancient texts, long forgotten or overlooked by scholars of present times. On the night of the break-in, he is immersed in Chorashastra, a manuscript rendered brittle and yellow by centuries, that holds within its pages mindboggling tips and tricks for thieves- most incredibly, the ability to open a lock by just looking at it. He hails the arrival of the thief as a sign and decides to test its theories on him.
Known for his subversive plots and narrative devices that mark a clear departure from contemporary Malayalam storytelling, V.J. James's Chorashastra tells a gripping story of untethered ambition and the inevitable chase between crime and justice.
When I Am With You by Durjoy Datta
You can plan everything, but you can't plan with whom and when you'll fall in love, isn't it?
Aishwarya, at twenty-eight years, would rather be a single mother than trust the 'normal' family structure. On her mind is the ambitious and good-looking Akshay, perfect genetic material, but he's not ready to be part of her plans. Yet.
In comes Dhiren, who has made and lost his money in cryptocurrency. He takes up the first floor of Aishwarya's nursery building and, by a queer coincidence, begins to work for her. Her friends Smriti and Vinny, as protective as mother hens, warn her against Dhiren. There is something that he's hiding along with his friend Neeraj—they just don't know what.
Crazy, quirky and so utterly romantic, this book is the ultimate relationship roller coaster!
India's Most Fearless 3 by Shiv Aroor & Rahul Singh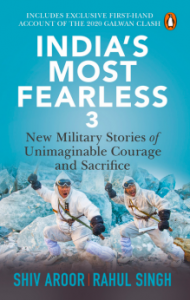 An army medic who went beyond the call of duty amid a frenzy of treacherous bloodletting in Ladakh's Galwan while his fellow soldiers fought the Chinese to death; the crew of an Indian Navy destroyer that put everything on the line to rescue hundreds from Cyclone Tauktae in the Arabian Sea; an Indian Air Force pilot who ejected from his doomed fighter less than two seconds before it hit the ground, only to find he was missing a leg. This book presents their accounts, or of those who were with them in their final moments. India's Most Fearless 3 features ten true stories of extraordinary courage and fearlessness, providing glimpses of the heroism Indian soldiers have displayed in unthinkably hostile conditions and under grave provocation.
The Hidden Hindu Book 2 by Akshat Gupta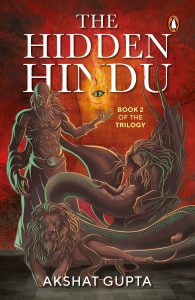 The first battle is lost. The book of Mritsanjeevani is in the wrong hands but Nagendra's plans are not limited only to immortality. What seemed to be the end of all wars was just the beginning of an incredible journey in search of a hidden verse. Om is still incomplete without the knowledge of his past, but he is not alone anymore. Two of the mightiest warriors of all time stand by his side. Two mysterious warriors stand unconditionally with Nagendra too or is there a hidden agendas behind all the allies? Who are LSD and Parimal in real and who is Om? Tighten your seat belts for an adventure in search of words that hold a bigger purpose than even immortality for Divinities and Demons.
Reading Sri Aurobindo by Gautam Chikermane & Devdip Ganguli
Sri Aurobindo dedicated his life to the transformation of humanity. His journey saw him traverse many paths, including that of poet, journalist, jailed revolutionary, philosopher, and radical mystic. Essays, translations, literary criticism, political articles, philosophical treatises, poetry, epics, plays and short stories-his writings encompass the depth and range of his extraordinary life. The modern sage commented on spiritual texts such as the Vedas, the Upanishads and the Bhagwad Gita, authored an epic poem, Savitri, presented his integral vision in The Life Divine, wrote on contemporary issues, all the while writing thousands of letters to guide his disciples, and even documenting his inner life in meticulous detail.
Stories and Sutras by Virat Chirania
India is the birthplace of legends, the mother of culture and tradition, and as Indians, we love our stories. This book contains ten powerful stories of the original superheroes-stories that will leave a permanent impression on your consciousness and spill over in your conversations, stories of passion and patriotism, of valour and wit, of devotion and sacrifice, and of intelligence and faith.
When decoded, the accounts in this book are not merely stories-they are a treasure trove of wisdom, life hacks, leadership and management sutras. Did you know that Lord Hanuman can teach us communication skills, that Chhatrapati Shivaji Maharaj can teach us how to run a startup and that Chanakya shows us how to use emotional intelligence in business strategy? Have you ever imagined Arjuna, Narada Muni, Kabir and Adi Shankaracharya as leaders and influencers and do you know about Rani Abbakka, one of the unsung battle queens of India? Stories and Sutras is a journey of these incredible tales and priceless sutras-an edutainment experience that is uniquely Indian and utterly global.
Heavens And Earth by Garima Garg
The ancient astrologer turned the impulse to answer this question into something meaningful by mapping the night skies and attempting to see in the movement of planets and stars an impact on human lives. But did all astrologers see the same night sky? Did the observations of the Hindu astrologer match those of the Greek? How did the Egyptians and the Chinese understand the influence of the Sun and the Moon on our lives?
Heavens and Earth examines the history of astrology, its many different systems and its development as a modern cultural phenomenon. Deeply researched and expertly narrated, the book contextualises the role of astrology in the ever-evolving human perspective of the cosmos and in understanding our place in it.
Temple Lamp by Mirza Ghalib
The poem 'Chirag-e-Dair' or Temple Lamp is an eloquent and vibrant Persian masnavi by Mirza Ghalib. While we quote liberally from his Urdu poetry, we know little of his writings in Persian, and while we read of his love for the city of Delhi, we discover in temple Lamp, his rapture over the spiritual and sensual city of Banaras.
Chiragh-e-dair is being translated directly from Persian into English in its entirety for the first time, with a critical Introduction by Maaz Bin Bilal. It is Mirza Ghalib's pean to Kashi, which he calls Kaaba-e-Hindostan or the Mecca of India.
The Many Lives Of Mangalampalli Balamuralikrishna: An Authorized Biography by Veejay Sai
This is a story of the many lives of Dr Mangalampalli Balamuralikrishna.
Veejay Sai's in-depth research into his life and work led him deep into unseen archival material and across the Carnatic musical landscape of erstwhile Andhra Pradesh, Karnataka and Tamil Nadu. Fortified by interviews with his family members, disciples and peers, The Many Lives of Mangalampalli Balamuralikrishna, a definitive biography of the musical genius, is not only a revealing account of the personal traits and facets of an unparallelled genius, but is also a portrait of India's classical music world, a place as much of beauty as of untrammelled egos.
Essential Reader: Sarojini Naidu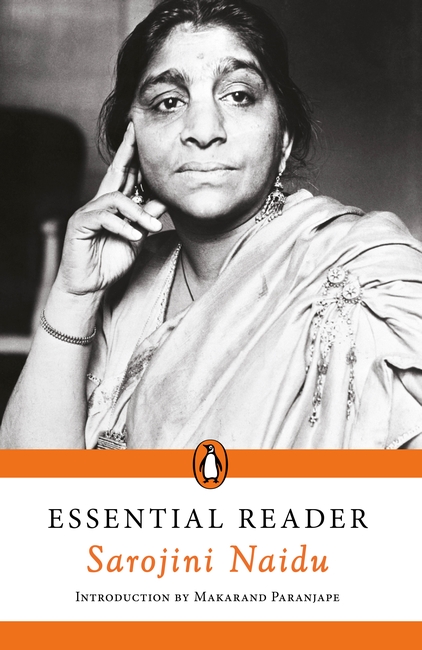 Sarojini Naidu was a prolific writer and speaker, publishing three collections of poetry during her life and delivered many rousing speeches throughout the freedom struggle and after India gained Independence. This book compiles her best-known work, as well as letters she wrote throughout her life to Mahatma Gandhi, Jawaharlal Nehru, Rabindranath Tagore and others, to provide a glimpse into the kind of person she was and the ideas she believed in.
Through these pages, we can witness her innermost thoughts and feelings, and the important role she played in shaping the country's freedom struggle and its ideas as a young nation, particularly through rousing speeches on the Education of Indian Women and the Battle of Freedom is Over, which were broadcast over the All India Radio on 15 August 1947.
How To Raise A Plant Baby by Vinayak Garg
Written for all plant parents trying to raise their plant babies in an urban setting, this book is built on basic principles that keep plants healthy and covers all topics that any plant parent need to know-how to prepare their space, how to choose the right plants for their home, how to care for the plants and keep them happy and how to get family and friends started with plants of their own.
With stories from the Lazy Gardener community, supplemented with chapter-end summaries, explanatory illustrations and plant lists, the book will equip the reader to ask the right questions as they continue to garden and cultivate their knowledge of gardening. Useful for both new and experienced plant parents, Vinayak Garg's How to Raise a Plant Baby guides them and explains everything they need to know.
Sojourn by Amit Chaudhuri
An unnamed man arrives in Berlin as a visiting professor. It is a place fused with Western history and cultural fracture lines. He moves along its streets and pavements; through its department stores, museums and restaurants. He befriends Faqrul, an enigmatic exiled poet, and Birgit, a woman with whom he shares the vagaries of attraction. He tries to understand his white-haired cleaner. Berlin is a riddle-he becomes lost not only in the city but in its legacy. Sealed off in his own solitude, and as his visiting professorship passes, the narrator awaits transformation and meaning. Ultimately, he starts to understand that the less sure he becomes of his place in the moment, the more he knows his way.
The Dolphin And The Shark by Namita Thapar
The Dolphin and the Shark is born out of Namita Thapar's experiences of being a judge on Shark Tank India and running the India business of the pharma company Emcure as well as her own entrepreneurship academy. The book emphasizes how leaders of today need to strike a balance between being a shark (aggressive leader) and a dolphin (empathetic leader).
Divided into fifteen chapters, the book focuses on various business mantras. The author shares personal stories, anecdotes about Emcure's evolution over the years as well as learnings from entrepreneurs who have inspired her. The Dolphin and the Shark also include references to pitches from Shark Tank India's Season 1. Straight from the heart, candid and authentic, this book will inspire and motivate every reader to push their limits.
Leaders In The Making by Arvind N Agrawal & T V Rao
Leaders in the Making provides in-depth interviews of thirty HR leaders (drawn from public as well as private sectors), including stalwarts like Santrupt Misra, Rajeev Dubey, Aquil Busrai, Anil Sachdev, N.S. Rajan and Anil Khandelwal. These life stories provide highlights of early childhood, education and career over the years. They include the points of inflexion, major influencers and lessons learnt to become who they became. The authors provide an analysis of these thirty stories to establish a pattern of the life journeys, competencies and values these leaders displayed.
The DREAM Founder by Dhruv Nath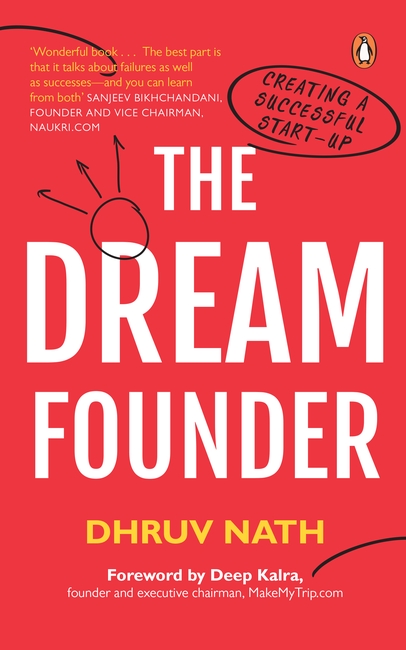 The DREAM Founder is an essential entrepreneurship guide for early-stage Indian start-ups. It also has interviews with some of the most successful entrepreneurs in the world of start-ups, such as Sanjeev Bikhchandani of Naukri.com, Deepinder Goyal of Zomato, Meena Ganesh of Portea Medical and Dr Annurag Batra of Businessworld.
Including start-ups that have succeeded and also those who have failed, Dhruv Nath shares how you can become a DREAM Founder with these simple steps:
· Dream big
· Right team
· Execution
· Attitude
· Make opportunities out of crises
The IT Story Of India by S. 'Kris' Gopalakrishnan, N. Dayasindhu & Krishnan Narayanan
The story of Indian IT is the story of trials and triumphs, persistence and resilience, and luck, foresight and planning. This book chronicles the history of Indian IT over the past six decades. It includes interviews with over fifty pioneers who built and shaped the Indian IT sector. Conceived as a book on business history, this book analyses the evolution of India's IT sector and helps readers understand the importance of collective efforts in building world-class sustainable institutions.
The Cave: An Internet Entrepreneur's Spiritual Journey by Alok Kejriwal
By the time he was thirteen, Alok Kejriwal had begun to have profound spiritual experiences. Separated from his parents at birth, he was raised under the loving care of his Nana and Nani. During the course of these life-altering events, Alok realized that his life was not going to be a usual one. Over the next few years, Alok met unusual and blessed holy men who uplifted him. He visited temples and sacred places where he had transformative experiences. In November 2011, Alok visited a remote cave near Ranikhet in Uttarakhand that changed him forever. The Cave is an insightful, honest and deeply personal account of Alok's spiritual journey. With characteristic candour, he shares intimate aspects of his life that bring meaning and balance to his journey as a successful digital entrepreneur.
Your Complete Guide To Wellness Box Set
In the ten-year anniversary edition of the classic that revolutionized the way Indians think about food and their eating habits, Don't Lose Your Mind, Lose Your Weight teaches you simple steps you can take towards maintaining a healthy and proper diet and understanding your body and its nutritional requirements.
In FROM XL TO XS, Bollywood's celebrated yoga instructor Payal Gidwani Tewari teaches you simple and easy to follow principles and exercise routines to lose (or gain) weight, stay fit, and transform your body structure. With photographs, celeb workouts, and useful tips by stars, From XL to XS is the best gift you can give yourself.
In Skin Rules, Dr Jaishree Sharad, one of India's top cosmetic dermatologists, gives you a revolutionary six-week plan to healthy, blemish-free skin. From the basics-identifying your skin type, acquainting yourself with the fine print on labels-to home remedies, choosing the right make-up and the latest advancements in skincare treatments, this book has the answers to all your skin woes.
Wealth Creation Made Easy Boxset by Saurabh Mukherjea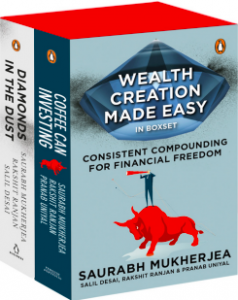 Written by India's most loved fund manager, this box set is the ultimate toolkit for being financially free.
Diamonds in the Dust offers Indian savers a simple, yet highly effective, investment technique to identify clean, well-managed Indian companies that have consistently generated outsized returns for investors. Based on in-depth research conducted by the award-winning team at Marcellus Investment Managers, it uses case studies and charts to help readers learn the art and science of investing in the US$3 trillion Indian stock market. The book also debunks many notions of investing that have emerged from the misguided application of Western investment theories in the Indian context. Vital and indispensable, this book will serve as the ultimate manual on investing and provide practical counsel to readers to achieve their financial goals.
Coffee Can Investing offers a simple strategy to make not 10 not 15 but 20 per cent compound annual growth rate (CAGR) on your investments. Using this strategy one can easily grow their money four to five times whilst taking half the risk compared to the overall market. The book decodes the secret to identifying low-risk investments that generate great returns.