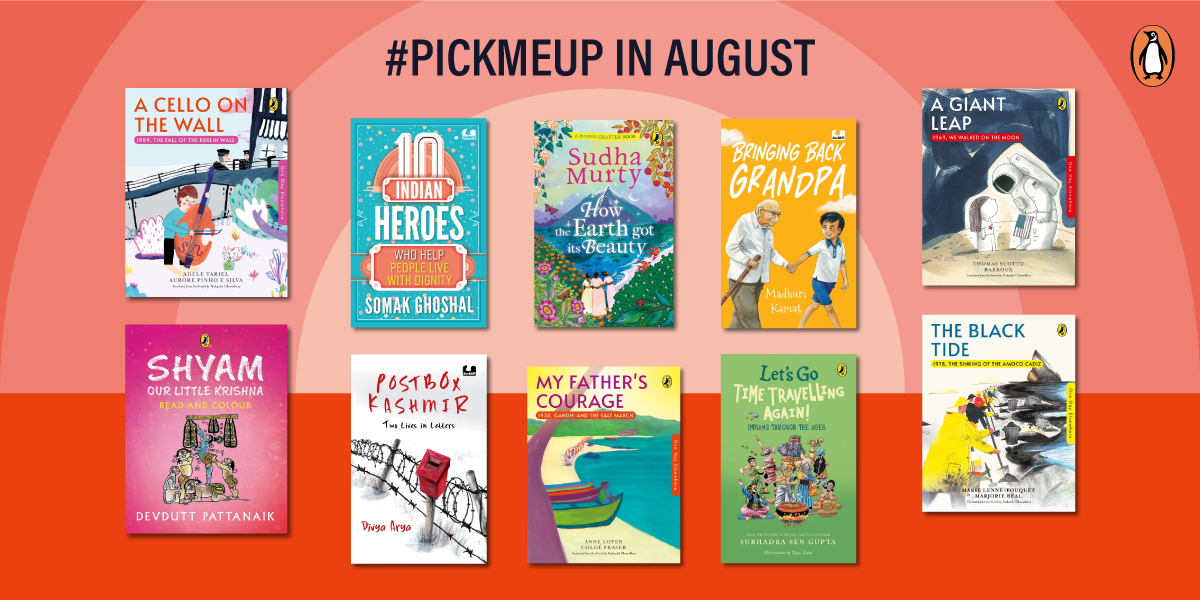 We know that the little ones are busy adoring the blue sky these days turning into purple-pink and are wondering whether to mutter 'Oh! August is finally here!' or 'Aww! It's only August'. So, taking care of their visual palette, we intend to captivate their attention with our vibrant and colourful covers of our latest releases in August and promise to keep them entertained, engrossed, and ecstatic. The curated list ranges from care to courage, mantra to nostalgia, and struggle to success. It's time for you to make some space in your bookshelves for these amazing titles.
Here is a list of our recommendations for August.
A Giant Leap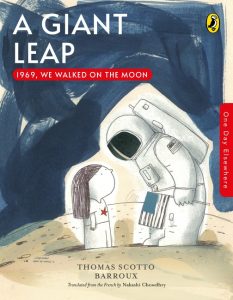 This is one of the books in the One Day Elsewhere series. It's 20 July 1969. At home, June is waiting for a big event, the biggest of her life: the birth of the baby that's in her mother's belly. But in the hospital, on the streets, everyone else is waiting for another big event: a man is about to walk on the Moon.
My Father's Courage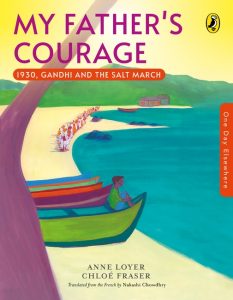 Aslam helplessly witnesses his father's arrest: he disobeyed the British authorities by harvesting salt-a heavily taxed item. The boy is assailed with doubt. Why did his father break the law? Why doesn't sea salt belong to everyone? When he learns that Gandhiji is going to be marching through his village of Jalalpore, Aslam feels hopeful. He is the only one who can oppose the authorities and, maybe, free his father.
The Black Tide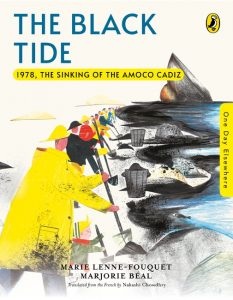 Yann, the son of a fisherman in Portsall, loves selling fish at the port with his father. He lays out the ice, puts the fish on it and plays shop. But one day, the sea is very rough. The storm and the wind bring a terrible smell and devastating news: there has been a shipwreck and an oil spill!
Shyam, Our Little Krishna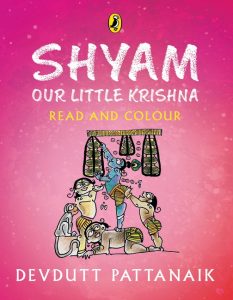 In this all-in-one storybook, picture book and colouring book, India's most-loved mythologist Devdutt Pattanaik introduces the story of Krishna, fondly known as Shyam, to a new generation of readers. Told simply in his inimitable style, Shyam, Our Little Krishna is perfect as a read-aloud to acquaint young readers with the beauty, wisdom and love that Krishna embodied. The book is curated with fascinating bite-sized stories, myths and trivia about the young god, and it features over forty playful artworks accompanied by pages dedicated for colouring.
How the Earth Got Its Beauty
Have you ever stopped to marvel at the earth's beauty: at snow-capped mountains and oceans so deep; at colourful flowers and extraordinary animals? The tale of how such beauty came into existence is a curious one indeed. India's favourite storyteller brings alive this timeless tale with her inimitable wit and simplicity. Tricked out with enchanting illustrations, this gorgeous chapter book is the ideal introduction for beginners to the world of Sudha Murty.
10 Indian Heroes Who Help People Live With Dignity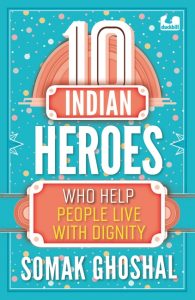 This book tells the stories of ten Indian heroes who have been working in diverse fields to help society's most vulnerable live a better life–from securing mobility rights for people with disability to abolishing the practice of manual scavenging. While their challenges are different, what they have in common is the desire to see all human beings live a life of dignity. Journalist Somak Ghoshal writes about the below-mentioned women and men who are trying to make the world a more just and equitable place for everyone.
Irom Sharmila Chanu
Aruna Roy
Bezwada Wilson
Medha Patkar
Dr Devi Shetty
Bhanwari Devi
Menaka Guruswamy
Anup Surendranath
Satinath Sarangi
Mahantesh GK
Bringing Back Grandpa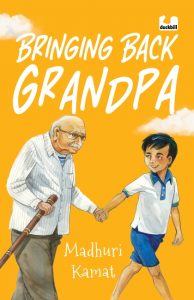 As his Grandpa gets ill and more confused, Xerxes' life becomes correspondingly difficult. There are boys at school playing all kinds of mean tricks on him and his mother wants him to excel, as usual-but it is hard when his main ally Grandpa is not himself. How is Xerxes going to cope with the different things people expect of him? Will he make peace in school? And most importantly, can he help Grandpa become better?
Let's Go Time Travelling Again!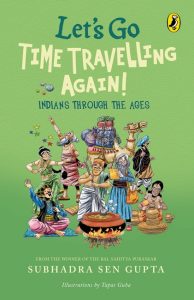 How did Indian mulmuls make it into Cleopatra's wardrobe? Who popularized the Mahabharata in households across the country? Did our ancestors really identify Jupiter and Saturn without even a telescope?
Find the answers to these and many other unusual questions about the India of yesterday. Go time travelling through the alleys of history and explore the many occupations that have existed through time-from dancers and playwrights to farmers and doctors. Sift through snapshots of the rich life led by ordinary Indians and discover unexpected titbits about language, food and culture.
Told through portraits of children growing up in the villages, towns and courts of our country, this sequel to the award-winning Let's Go Time Travelling is a vivid glimpse into our past.
A Cello on the Wall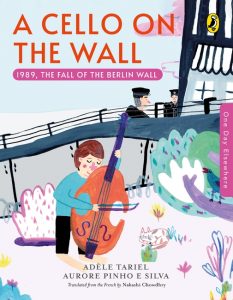 On an ordinary afternoon in West Berlin, Charlie discovers a cello that once belonged to his grandmother. His parents had fled East Berlin with this cello many years ago, while Charlie,s grandparents still live on the other side of the wall. But the year is 1989 and revolt rumbles in the streets of Berlin to tear down the wall. This book is another one in the One Day Elsewhere series.
Postbox Kashmir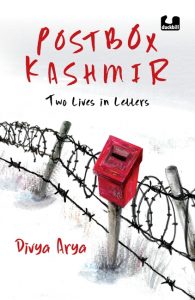 Do only Muslims live in Kashmir?
Why do girls in Kashmir do stone pelting?
Whom do they want freedom from?
Can you imagine being confined to the four walls of your home with no internet, no social media?
Are Kashmiris really invisible to the rest of the country?
These are some of the questions two teenagers–Saumya in Delhi and Duaa in Kashmir–asked through letters they exchanged over almost three years.
Framing these letters is the detailed history and commentary provided by Divya Arya, a BBC journalist who asked them to be pen pals, which places their conversations against the backdrop of the political history and turbulent present of Kashmir and India. Postbox Kashmir takes on the challenging task of attempting to portray life in Kashmir from the perspective of the young minds growing inside it and providing a context of understanding for the young generation watching it from the outside.