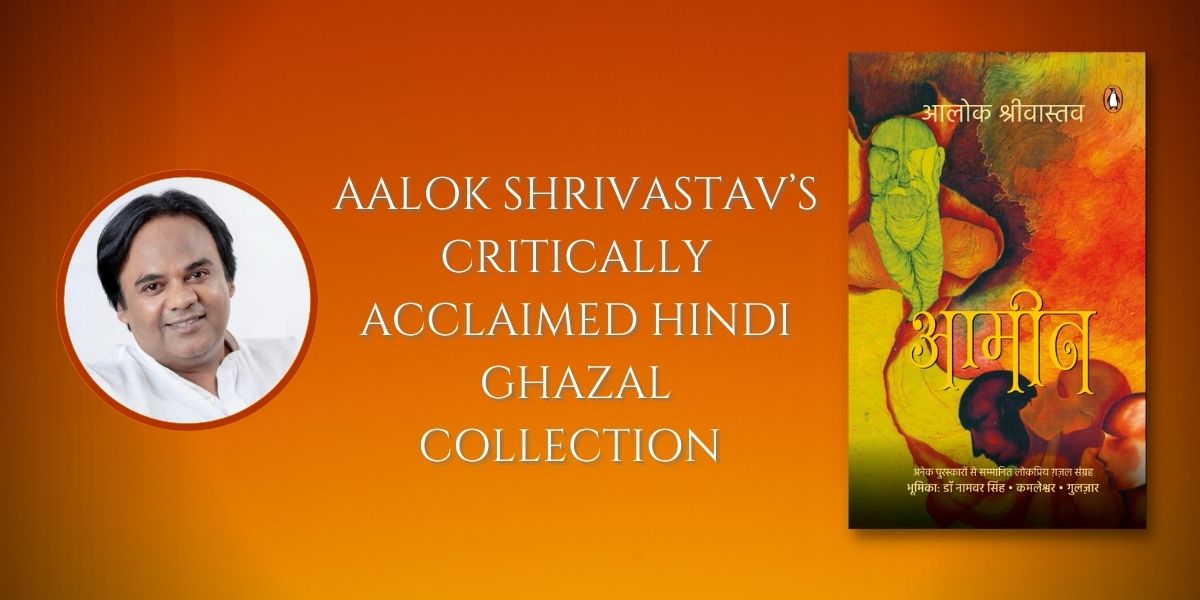 Penguin Random House India is excited to announce the acquisition and publication of lyricist and journalist, Aalok Shrivastav's well-known Hindi ghazal collection  Ameen. Published by the Indian Languages Publishing division of Penguin, the book is being presented in a new avatar with a foreword written by Dr Namwar Singh, Kamleshwar and Gulzar and is scheduled to release in early March. It is currently available for pre-order on e-commerce websites.
Aalok Shrivastav is an eminent poet who has significantly contributed to Indian poetry with his exceptional craft. From presenting a Sufiyana idea in just one couplet to giving a new lens to complex familial relationships, Aalok has brought many readers a different kind of joy with his work. Dr Namvar Singh, the paradigm of criticism of our time, called him 'the light of Dushyant Kumar's tradition'. Gulzar comments on his ghazals that Aalok has surprised him in many places. 'When one listens to his simple words, one doesn't realise that there is such deep movement beneath the surface.'
Commenting on this upcoming book with Penguin, Aalok Shrivastav says, 'Penguin has embraced Ameen and this is the beginning of a new relationship. Ameen is coming out to a brand new audience in a brand new way. For a writer, the expansion of his readers is his biggest reward.'
Speaking on Ameen, Vaishali Mathur, Publisher, Indian Languages, Penguin Random House India, says, 'Aalok ji's words are not just words, they have sound, a certain rhythm and create images in your "inward eye". When you read his book, you feel the impact of his writing in a 3-dimensional sense. We are delighted that he is joining the Penguin family. We are sure that Ameen will touch new heights in this new avatar.'
About the poet
Alok Srivastava is a renowned poet, film lyricist and TV journalist. His book, Ameen (a collection of poems) is one of the best seller books in Hindi. Aalok's works have been translated into Gujarati, Marathi and Punjabi as well as Russian languages.
He is the only young ghazalist whose compositions have been given voice by almost every big singer in the film industry including ghazal singers Jagjit Singh and Pankaj Udhas, classical singers Ustad Rashid Khan and Shubha Mudgal. Aalok's works read by megastar Amitabh Bachchan and actor Ashutosh Ashutosh Rana often go viral on social media. The simple Hindi translation of Shiv Tandav Stotra by Aalok also went viral, when it was recited by Ashutosh Rana.
Aalok also collaborated with noted sitarist Anoushka Shankar in the album Traveller, which was nominated for a Grammy Award in 2012. Recently, Aalok has also written songs for the film Atkan Chatkan produced by music composer AR Rahman and the film Vodka Diaries.
Awarded with the honour of MP Sahitya Akademi in the year 2007, Aalok is the youngest poet to receive the International Pushkin Award from Moscow, Russia. He has also been awarded the International Poetry Prize in Washington DC and has been honoured by Katha UK in the House of Commons, the Parliament of Britain.