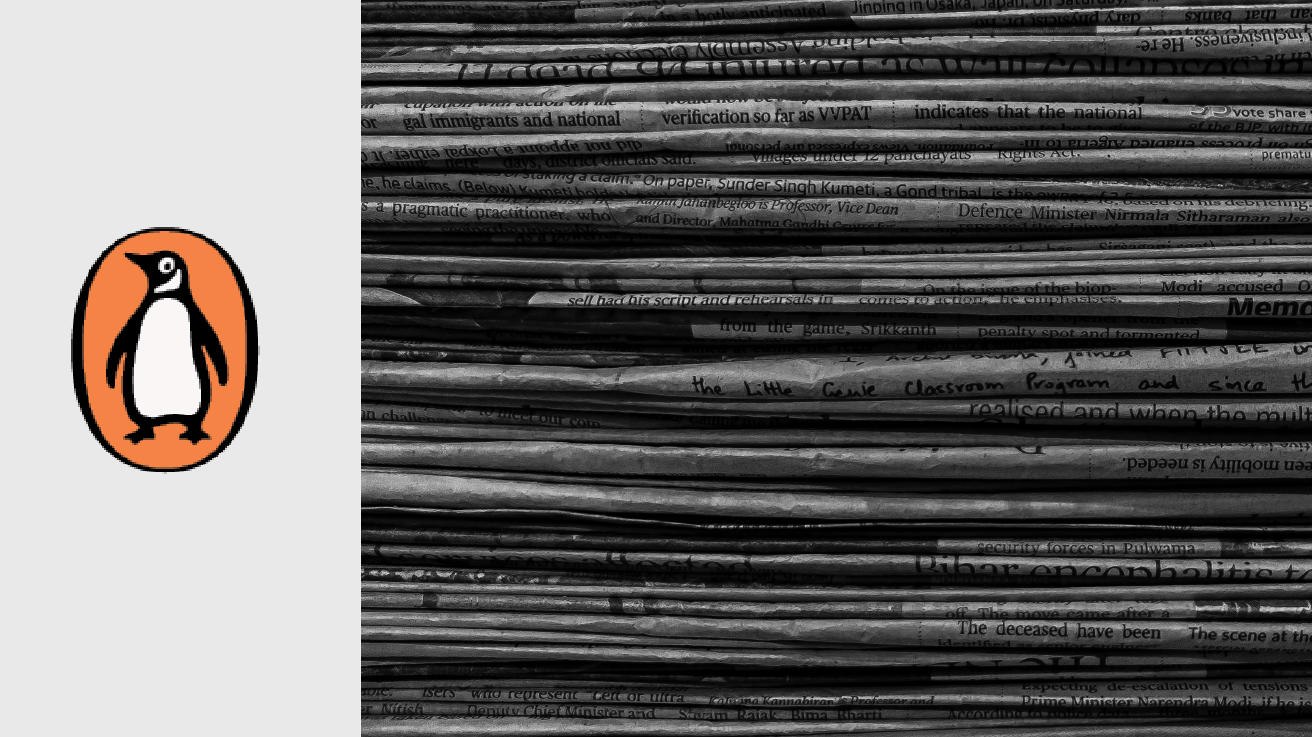 Terms & Conditions
For Doglapan Date with Ashneer Contest
By participating in the "Doglapan Date with Ashneer Contest" contest (hereinafter referred to as the ('Contest') starting on 01 November 2019 you agree to have read, understood and accepted the following terms: –
These terms, conditions and guidelines ('Terms') are applicable to and govern the Contest organized and conducted by Penguin Random House India Private Limited ('PRHI'/We) on Instagram, participating in the Contest you ('You'/ 'Participant') agree to abide by and be bound by these Terms. PRHI reserves the right to modify these Terms without any prior notification. You are advised to regularly review these Terms. If you do not agree with any of the Terms and any amendments thereto, you must not participate in this Contest. Participation is voluntary and optional.
This is a call for entries, asking individuals to submit copies of their valid invoices for pre-order copies of the book Doglapan: The Hard Truth about Life and Start-Ups by Ashneer Grover as ordered from in (https://www.amazon.in/Doglapan-Hard-Truth-about-Start-Ups/dp/067009711X25). 25 winning entries will be randomly selected from all the valid entries received by PRHI during the Contest Period and the corresponding winning participants ("Winners") will be eligible to be issued invitations to attend an event to meet the author, Ashneer Grover to be held on 19 December 2022 at New Delhi ("Author Meet").
Your entry, i.e. copy of the above mentioned invoice must be sent in jpeg/ jpg format to PRHI via a direct message to it on its Instagram handle @penguinindia. Incorrect or incomplete entries will be disqualified. Entries once submitted cannot be withdrawn.
You are invited to submit your entry between 19 November 2022 and 14 December 2022 (both days inclusive) ("Contest Period"). PRHI will announce the 25 lucky winners on 15 December 2022 via the @penguinindia Instagram handle. Please note multiple submissions are not allowed.
The Contest is open only to Indian Citizens residing in India, who are at least 18 years of age or older on the date of participating in the contest. If the entry is received from a person below 18 years of age, the same will be disqualified.
Before being issued an invitation for the Author Event ("Invitation"), each of the 25 Winners must further submit full details of the following: name, permanent address, copy of Aadhar Card phone number, age and such other details as may be prescribed by PRHI. These prescribed details and documents must be submitted on Instagram handle @penguinindia.. It is to be understood that the Invitation will be granted only upon furnishing of the prescribed details and documents. Any information found to be incomplete, false or misleading shall result in automatic disqualification of the Participant. The personal information provided by the Participant/s will be saved/ stored with PRHI for the purpose of completion of the Contest.
It is understood that no Participant/ Winner will be provided any travel and lodging and Winners shall attend the Author Event at their own expense.
We take no responsibility for entries or Invitations that are lost, delayed, misdirected or incomplete or cannot be delivered or entered for any technical or other reason. Sending an email/ direct message on social media handle is not proof that we have received your entry. Also, entries sent in any mode except for the modes specifically provided for, shall be deemed to be invalid/ not received.
Any dispute that may be existing/ arise in respect of an entry (selected or not selected) or invoice relating to pre-order of the book shall be the responsibility of the participant. PRHI shall in no manner be responsible for any legal/other disputes that may existing/may exist in future in respect of the entries or invoices.
Employees, directors, and/or officers (including immediate family members or members of the household) of PRHI, its subsidiaries, film partners, affiliated companies, distributors, advertising, fulfillment and promotion agencies and all other companies or entities associated with the Contest are not eligible to participate in the same.
Winner(s) will be randomly selected by PRHI, by a procedure at its sole discretion. All the entries will be stored in a backend system operated by PRHI and/or any person/agency appointed by PRHI.
PRHI's decision on selection of the Winners of the Contest, and on the eligibility of the Winners to be issued an Invitation shall be final and binding on all the Participants. PRHI shall not entertain any questions, enquiries on the manner of conduct of the selection of Winner, Winners' declaration, issuance of Invitation and on any aspect of the Contest from any party whatsoever.
The Invitations are non-transferable, non-assignable, non-changeable, non-extendable. PRHI shall provide the Invitation strictly as set out in these Terms.
By participating in this Contest, you grant PRHI permission to use your name, photographs and likeness for advertising and promotional purposes in connection with the Contest, without additional compensations across all means, media and technology known now or invented hereinafter. The Winner(s) agrees that the footage of any nature with regard to the Winner(s) shall vest with PRHI including but not limited to all intellectual property rights and any other rights for worldwide and in perpetuity. PRHI is permitted to share the database with its affiliates, partners and contractors for promotional purposes.
All and any taxes and/or levies, as may be applicable on the Invitation, that may be imposed by Central, State and/or local government authorities, from time to time, shall be borne and paid by the Winner(s).
The Winner(s) of the Contest agree(s) that he/she shall hold harmless and indemnify PRHI, its directors, employees, officers or representatives in connection with the Invitation won or any loss, claim, demands, costs, damages, judgments, expenses or liability (including reasonable legal costs) by him/her in the Contest and invitation and shall also not file in person/through any family member and/or any third party any applications, criminal and/or civil proceedings in any courts or forum in India to claim any damages or reliefs.
All participation is at the risk of the Participants and PRHI shall not be responsible for any loss of life, health, injury or damage to any person or Participant on account of participation in the Contest.
PRHI reserves the right to alter/change/modify the dates, venues, procedure and schedules of the Contest without prior notice and PRHI shall not be liable or responsible in any manner for any inconvenience/loss/hardship suffered by any Participant/ Winner(s) as a result of such change/alteration/modification.
In the event, any Participant is found to be violating the said Terms as set out herein, then PRHI reserves the right to disqualify the Participant from further participation and /or take appropriate legal action against the Participant including but not limited claims for compensation / damages for loss of reputation and/or breach of contract.
Decision of PRHI with respect to this Contest and the Terms thereto shall be final, binding and non-contestable and no communication shall be entertained in this regard.
All entries and all copyright and other rights in such entries become the property of PRHI.
PRHI assumes no responsibility for any error, omission, interruption, defect, delay in operation or transmission, communications line failure, theft or destruction or unauthorized access to, or alteration of, entries. PRHI also does not accept the responsibility for any delayed email or message or any entry that cannot be delivered or received due to connection issues (failed or partial transmission), malfunctions inaccessibility, unavailability, out of coverage area, traffic congestion, acts PRHI shall not be responsible for any problems or technical malfunction of any telephone network or lines, computer on-line systems, servers, or providers, computer equipment, software, failure of any e-mail or entry to be received by PRHI on account of technical problems or traffic congestion on the Internet or at any web site, or any combination of the above (as applicable), including any injury or damage to any Participant's or any other person's computer related to or resulting from participation or downloading any materials in or in connection with this or failure of any entry to be received by PRHI. CAUTION: any attempt to deliberately damage any website or the information on a website, or to otherwise undermine the legitimate operation of this may be a violation of criminal and civil laws and should such an attempt be made, whether successful or not, PRHI reserves the right to seek damages to the fullest extent permitted by law.
All disputes shall be subject to the laws of India and the Courts in Delhi shall have exclusive jurisdiction with respect to any dispute relating to the Contest.