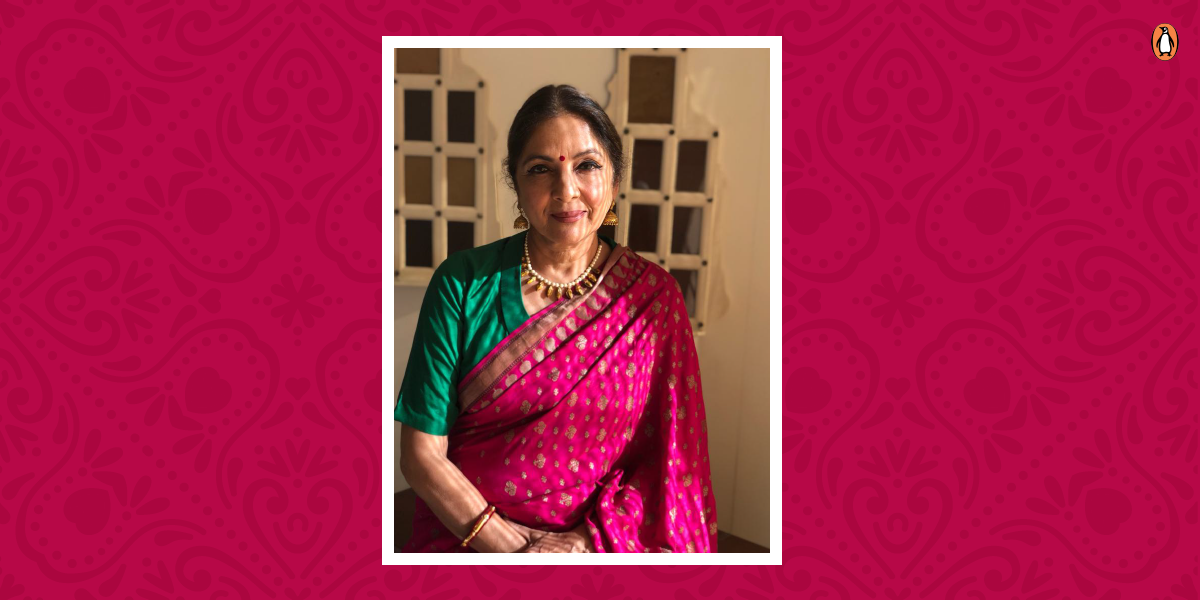 Penguin Random House India announces the acquisition of award-winning actor Neena Gupta's memoir, Sach Kahun Toh. This deeply intimate account of her extraordinary personal and professional journey will be published in the summer of 2021 under the Ebury Press imprint of Penguin Random House India.
This memoir will chronicle her childhood days in Delhi's Karol Bagh, through her time at the National School of Drama, moving to Bombay in the 1980s and dealing with the struggles to find work. It will detail the big milestones in her life, her unconventional pregnancy and single parenthood, and successful second innings in Bollywood. A candid, self-deprecating portrait of the person behind the persona, it will talk about her life's many choices, battling stereotypes, then and now, and how she may not be as unconventional as people think her to be.
Commenting on writing her first book, Neena Gupta says, 'In the first half of 2020, when the country went into lockdown to battle the Covid-19 crisis, I found myself in Mukteshwar, a beautiful, scenic village in Uttarakhand. It was here  I realized I had nothing to do other than battle my own thoughts. I started to reflect and relive my life's journey. Taking long, winding walks every day, appreciating the sounds of the birds and basking in the chill of the mountain air, I asked myself, "Why should I write a book? What do I have to say that could help and inspire someone?" And I realized two things, which made me immensely hopeful. My life has been festered with so many incidents that have made me and also broken me, and I needed to free myself by getting them out. Reflecting about my life, my journey and the things I've had to overcome will make me feel better and lighter. Secondly and more importantly, through the book I also want people to know that despite my flaws, my broken relationships and my circumstances in life, if I can get up, get going and look really good while doing so, so can you!'
Gurveen Chadha, senior commissioning editor, Penguin Random House India, says, 'Neena Gupta is a treasure and I've been a huge fan of her work, her wit and repartee over the years. On social media, she drops truth bombs with perfect poise—whether it be her views on motherhood, the norms of 'unladylike' behaviour, or an out-of-work actor seeking roles! The best memoirs are as unsparingly honest as this and I'm so happy that Penguin will be publishing it.'
Milee Ashwarya, publisher, Ebury Publishing and Vintage Publishing, Penguin Random House India, says, 'Neena Gupta is someone I deeply admire for her indomitable spirit, originality and immense talent. She has, during the course of her life and career, faced innumerable challenges with fortitude, and has overcome them with elan. Neena is an inspiration to women across generations, and I am delighted that she has chosen Penguin Random House India to share her incredible life story.'
About the author
Neena Gupta is a two-time National Award-winning actor, film-maker, producer and television personality. She started her career in Delhi's booming theatre scene in the 1980s but decided to switch to film and television after acting in the 1982 Academy award-winning Gandhi. She went on to star in several critically acclaimed television shows such as Khandaan and Mirza Ghalib. She also worked extensively in art-house and independent films such as Mandi, Trikal and Jaane Bhi Do Yaaron. Neena has directed, produced and acted in several television shows, including Saans, Siski and Son Pari. Her most recent works include award-winning performances in Badhai Ho, Shubh Mangal Zyaada Saavdhan, Panchayat and The Last Colour. She currently stars in Netflix's Masaba Masaba with her daughter Masaba Gupta where they play versions of themselves in a playful, fictional peek into their lives in fashion and film.