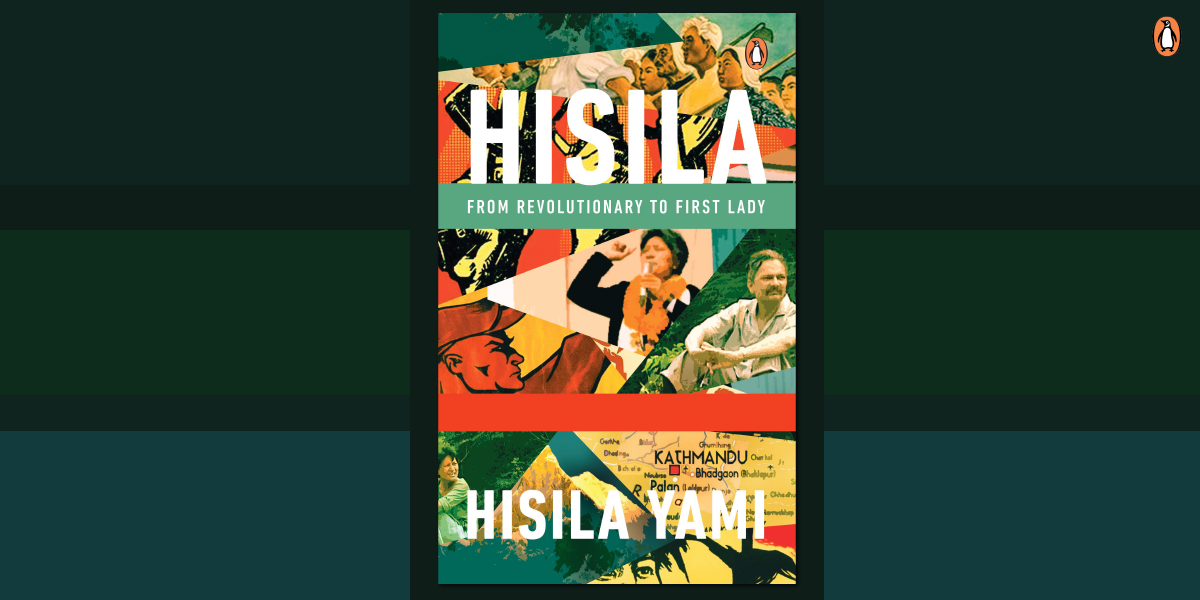 In this fascinating book, Hisila Yami traces her journey from being a young Nepali student of architecture in Delhi in the early eighties to becoming a Maoist revolutionary engaging in guerrilla warfare in Nepal. Yami was one of the two women leaders who were a part of the politburo of the Communist Party of Nepal (Maoist), which led the People's War in the country that changed the course of its history forever.
Read on to take a glimpse into the remarkable life of a this incredible woman when she was just beginning to form her political opinions.
~
I was eighteen years old when my future husband, BRB, asked me this question: 'What is your aim in life?' I had just finished a game of tennis and was standing in front of the tennis court at New Delhi's School of Planning and Architecture (SPA) hostel. BRB, then twenty-three, had come to SPA for a master's degree in architecture. He had completed a BArch (bachelor of architecture) degree from Chandigarh. I was then a second-year student of BArch at SPA. Apart from studies, I was enjoying several other pursuits: I was learning classical music at Mandi House, the centre of art and culture in Delhi, and transcendental meditation in Defence Colony. I remember having replied spontaneously: 'Why have an aim in life? Let life flow freely.' This was the level of my apolitical thinking.
Being in the heart of Delhi during the Emergency (1975–77) imposed by Indira Gandhi, we hardly felt its pangs as our elite college kept its distance from politics. We used to entertain ourselves with dances and special dinners on weekends. I was blissfully unaware that, under the Maintenance of Internal Security Act (MISA), many political activists were being hunted down. I had vaguely heard about the forceful sterilizations ordered by Sanjay Gandhi during that period. My peers and I were concerned, but only to a certain degree, when there was a drive to evict squatter settlements in an attempt to beautify Delhi.
During that time, I recollect the launch of a new fizzy drink called Double Seven (77), meant to commemorate the end of the Emergency in 1977. It was an Indian soft drink launched by the Janata Party in place of Coca-Cola, which we missed a lot. The Janata Party had come to power after the Congress, under the leadership of Indira Gandhi, lost the election. I remember my friends making fun of Prime Minister Morarji Desai for drinking his own urine as a form of medical therapy. They used to call it 'Morarji Cola!'
Although my parents, Dharma Ratna Yami and Heera Devi Yami, were politically active in Nepal, I had little knowledge of politics. Being the youngest of seven children, I had had a pampered upbringing. Even when I lost my mother at the age of ten, I was never made to feel her absence because my sisters and brother took good care of me. Amongst them, Timila Yami, my second-eldest sister, stood out as she was the one who got me admitted to Central School (Kendriya Vidyalaya) on the Indian Institute of Technology (IIT) campus in Kanpur, which is where she was studying electrical engineering. At that time, I was twelve years old and joined the seventh grade. The year was 1971. Since I was a minor, it was with great difficulty that she got permission to put me up in the IIT girls' hostel. All the girls there treated me like their little sister, possessively telling me to eat this and not that. They taught me the art of simple living. Indeed, I saw established scientists and engineers clad in simple kurta-suruwal and slippers. This was in great contrast to what I had seen in Kathmandu, where most of the people were overdressed. Alongside studies, I participated in sports, cultural activities and debates in school. During those days, I was bubbling with energy—a jack of all trades and a master of none.
I remember stumbling upon a magazine called Manushi while pursuing BArch in Delhi around 1979. It was an English feminist magazine edited by Madhu Kishwar and Ruth Vanita. Soon, I started attending their meetings. I think gender awareness seeped into my being at the IIT Kanpur girls' hostel, where I saw many strong, intelligent women compete with men. Girls were allowed to visit the boys' hostel and vice versa. The atmosphere on the campus was quite egalitarian. This was in contrast to the rest of Uttar Pradesh, which had a predominantly patriarchal setting. Maybe this was why I was drawn to Manushi. I wrote my first feminist article and letter for this magazine.
Influenced by Manushi, I wrote my first English poem:
Inside the Four Walls
Inside the four walls you will hear
Cracking of fire splinters
Scrubbing of utensils, floors
Crying, wailing of hungry babies
Followed by hushing.
Inside the four walls you will hear
Thuds, jerks, beatings
And growling of male voice
A faint voice pleading
Moaning, sighing and dying.
Who knows what goes on inside the four walls!
Inside the wall of a 'secure home' she is to fall.
. . . except those martyrs unheard and unsung.
Pleading from societal graves their daughters to waken!
Even though the politics of gender began to make sense to me, I was not yet politically sensitive. I was not even aware of the reason behind the India–Pakistan war of 1971. All I knew was that when the siren sounded, we had to make sure all lights were switched off and the entire area was pitch-black. This was to prevent Pakistani warplanes from spotting us.
I remember listening to a speech by Indira Gandhi in 1975. Her helicopter had landed on the grounds of IIT Kanpur amid great anticipation. Around the same time, I had overheard some students in the IIT hostel whispering about the presence of laal bhaiyas which, I later learnt, meant Naxalites. I had heard them talking about Mao Zedong and the Naxalite movement. The lower clerical staff and radical students fondly remembered the leftist professor A.P. Shukla who used to fight for their rights on campus. He used to say that IIT was a white elephant, where students from all over India came to study for a government-subsidized fee but after graduation went off to serve the cause of American imperialism. I was told that Professor Shukla had been imprisoned and tortured during the Emergency.
Every summer, we used to go back home to Kathmandu. I remember asking my father one day in 1972, when I was thirteen years old: 'Father, who do you like, Indira Gandhi or Mao Zedong?' Instead of answering my question, he said, 'Do not ask such questions.' That put an end to my political inquiry for the time being. Looking back, I realized that none of us was introduced to politics during his lifetime. At that time, King Birendra ruled Nepal with absolute power but under the disguise of a party-less Panchayat system. Perhaps my father's loyalties towards the monarch prevented him from answering my question.