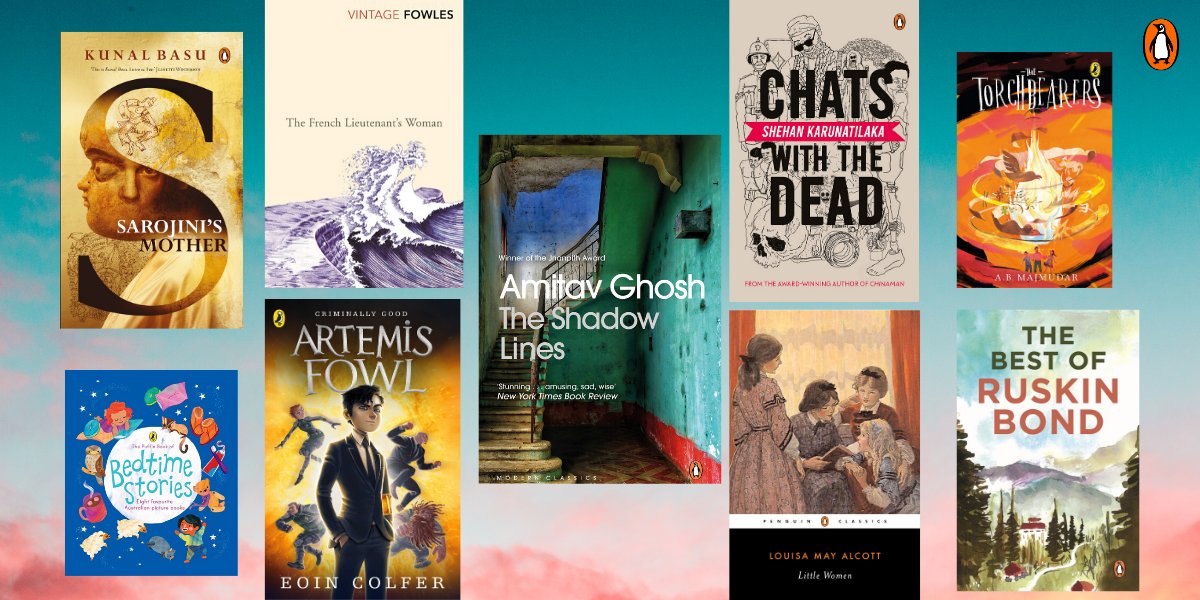 'Reading gives us someplace to go when we have to stay where we are.' – Mason Cooley
If you are a reader like us – we're sure you'd agree that we have never needed to step out to have our own adventures and travels. Times are uncertain and quarantining is not always easy. But one perk of being a book lover is that we always have an escape within reach!
We have piled up some (e)books that you can dive into if you are craving a bit of retreat from the real world!
The Best of Ruskin Bond
What better to transport you than Ruskin Bond?
This one brings together the best stories and poetry from one of our favourite storytellers. This literary landscape is worth disappearing into for its rich web of emotions and unforgettable characters.
*
The Torchbearers
We suggest bringing some exciting adventure into your homes with Prem, Kushal and Samhita – three endearing kids whose designated roles as 'The Torchbearers' set them on the path to fight demons and find the Nectar of Immortality to bring the gods back in power.
Also – there is a very punny fish in there!
Puffin Book of Bedtime Stories
Here's one for the restless young ones! From a wandering elephant to a helpful yeti, from flying houses and faraway galaxies; delight the kids with a range of imaginative stories that would make their bedtime more exciting and active.
*
Artemis Fowl Series
Impossible to recommend just one – so we advise diving into this whole series of misadventures!
Join twelve-year-old Artemis in discovering a whole new a world of armed and dangerous – and extremely high-tech – fairies.
This is a major Disney film now, so we think it's high time to prepare on the page before the onscreen adventure!
*
Little Women
Timeless tales are perfect to transport yourself into different times and memories. Meg, Jo, Amy and Beth are always a delight to revisit in the rural neighbourhood of Marmee in Masuchusetts.
*
The French Lieutenant's Woman
A classic, delightful, and often irreverent postmodernist novel, this one takes you to back to the Victorian age in the most metafictional way possible. AND you get to choose from three endings!
*
The Shadow Lines
Another celebrated classic – Amitav Ghosh's story a must-read in these times for its themes of memory and its stream-of-conscious narrative. This is a perfect read to tie in with the reflective and nostalgic headspace we are in these days.
*
Chats with the Dead
Whodunnits are so brilliant at sucking you in – and Shehan Karunatilaka's novel puts a delightful spin on the genre! This one takes you to a lot of places: the aftermath of the Sri Lankan civil war, life, afterlife, and everything in-between.
*
Sarojini's Mother
This literary masterpiece is in our list mostly because of Kunal Basu's cinematic prose that would take you right into the sights and scenes of Calcutta. This is a perfect window to the city to transport you while sitting on your beds and chairs.
As eclectic as we have tried to keep this, there are ALWAYS more worlds out there to step into. If you know about them, hit us up!