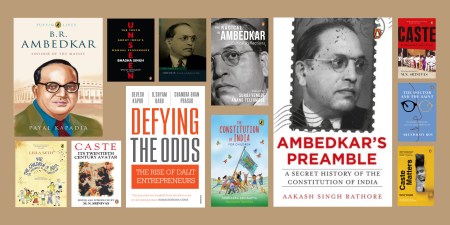 Dr. Bhimrao Ambedkar has done various contributions to the nation and imbibed the sense of equality among all Indian citizens. On his birth anniversary, we are looking back at books celebrating his life and footprints that inspire us even today.
Ambedkar's Preamble
A Secret History of the Constitution of India
On 26 January 1950, the Constitution of India was adopted formally and came into effect. Its preamble set out in brief the enlightened values it enshrined and hoped to engender. In a radical shift from mainstream constitutional history, this book establishes Dr B.R. Ambedkar's irrefutable authorship of the preamble by uncovering the intellectual origins of its six most central concepts-justice, liberty, equality, fraternity, dignity, and nation.
Although Dr Ambedkar is universally regarded as the chief architect of the Constitution, the specifics of his role as chairman of the Drafting Committee are not widely discussed. Totally neglected is his almost single-handed authorship of the Constitution's Preamble, which is frequently and mistakenly attributed to B.N. Rau rather than to Ambedkar.
This book establishes how and why the Preamble to the Constitution of India is essentially an Ambedkarite preamble. It is clear that its central concepts have their provenance in Ambedkar's writings and speeches. Through six eponymous chapters, this book unfolds the story of the six constitutional concepts. In doing so, it spotlights fundamental facts about modern Indian history, as well as Ambedkar's revolutionary political thought, hitherto ignored in conventional accounts.
The Radical in Ambedkar 
Critical Reflections
This landmark volume, edited and introduced by Anand Teltumbde and Suraj Yengde, establishes B.R. Ambedkar as the most powerful advocate of equality and fraternity in modern India. While the vibrant Dalit movement recognizes Ambedkar as an agent for social change, the intellectual class has celebrated him as the key architect of the Indian Constitution and the political establishment has sought to limit his concerns to the question of reservations. This remarkable volume seeks to unpack the radical in Ambedkar's legacy by examining his life work from hitherto unexplored perspectives.
Although revered by millions today primarily as a Dalit icon, Ambedkar was a serious scholar of India's history, society and foreign policy. He was also among the first dedicated human rights lawyers, as well as a journalist and a statesman. Critically evaluating his thought and work, the essays in this book-by Jean Drèze, Partha Chatterjee, Sukhadeo Thorat, Manu Bhagavan, Anupama Rao and other internationally renowned names-discuss Ambedkar's theory on minority rights, the consequences of the mass conversion of Dalits to Buddhism, Dalit oppression in the context of racism and anti-Semitism, and the value of his thought for Marxism and feminism, among other global concerns.
An extraordinary collection of immense breadth and scholarship that challenges the popular understanding of Ambedkar, The Radical in Ambedkar is essential reading for all those who wish to imagine a new future.
Ambedkar
Towards an Enlightened India
If Gandhi Was Bapu, The Father Of A Society In Which He Tried To Inject Equality While Maintaining The Hindu Framework, Ambedkar Was Baba To His People And The Great Liberator From That Framework. Born In 1891 Into An Untouchable Family, Dr Bhimrao Ramji Ambedkar Was Witness To All The Decisive Phases Of India'S Freedom Movement. While The Well-Known Elite Nationalists Like Gandhi And Nehru Led The Struggle For Political Freedom From British Colonial Rule, Ambedkar Fought A Correlated But Different Struggle, One For The Liberation Of The Most Oppressed Sections Of Indian Society. Ambedkar'S Nationalism Focussed On The Building Of A Nation, On The Creation Of Social Equality And Cultural Integration In A Society Held Enslaved For Centuries By The Unique Tyrannies Of Caste And Varna Ideologies. His Would Be An Enlightened India Based On The Values Of Liberty, Equality And Fraternity. In This Concise Biography, Gail Omvedt, A Long-Time Researcher Of Dalit Politics And Culture, Presents With Empathy Ambedkar'S Struggle To Become Educated, Overcome The Stigma Of Untouchability And Pursue His Higher Studies Abroad. She Portrays How He Gradually Rose To Become A Lawyer Of International Repute, A Founder Of A New Order Of Buddhism And A Framer Of India'S Constitution. Ambedkar: Towards An Enlightened India Puts The Man And His Times In Context And Explains To A New Generation Of Readers How He Became A National And Dalit Leader And An Icon Of The Dispossessed.
Caste
Its 20Th Century Avatar
As India attempts to modernize and ready itself for the twenty-first century, the issue of caste takes on an overwhelming importance. What form does caste take today? How can its debilitating aspects be countered? This book, edited and introduced by one of India's most eminent sociologists, attempts to answer these and other crucial questions. The essays in this volume, each authored by an expert on the subject, include a stimulating assessment of the role of women in perpetuating caste; incisive analyses of the relationship between caste and the economy, and between caste and Hinduism; a review of the backward class movements in Tamil Nadu; a commentary on the power struggle in UP and Bihar amongst the backward castes; the relationship between efficiency and job reservation; observations on caste amongst Muslims and Christians in India and critiques of the Mandal Commission Report and the Mandal judgement.
Unseen
The Truth about India's Manual Scavengers
In many parts of the country, the inhuman practice of manual scavenging continues to thrive in spite of a law banning it. Moreover, the people forced to carry out this degrading work remain invisible to the rest of us, pushed to the margins of society without any recourse to help or hope. Now, for the first time, award-winning journalist Bhasha Singh turns the spotlight on this ignored community. In Unseen, based on over a decade of research, she unveils the horrific plight of manual scavengers across eleven states in the country while also recording their ongoing struggle for self-empowerment. Previously published in Hindi to both critical and commercial success, this is an explosive work of reportage on a burning issue.
Dalit Millionaires
15 Inspiring Stories
"Dalit Millionaires is a collection of profiles of fifteen Dalit entrepreneurs who have braved both societal and business pressures to carve out highly profitable niches for themselves. The book is a vivid chronicle of how the battle has moved from the village well to the marketplace. There are tales describing how the multimillionaire Ashok Khade, at one time, did not have even four annas to replace the nib of a broken pen, how Kalpana Saroj, a child bride, worked her way to becoming a property magnate, and how Sanjay Kshirsagar moved on from a 120-foot tenement and now seems well on his way to become the emperor of a 500-crorerupee firm. The only common thread through these stories is the spirit that if you can imagine it, you can do it."
Defying the Odds
The Rise of Dalit Entrepreneurs
Defying the Odds is about the new Dalit identity. It profiles the phenomenal rise of twenty Dalit entrepreneurs, the few who through a combination of grit, ambition, drive and hustle—and some luck—have managed to break through social, economic and practical barriers. It illustrates instances where adversity compensated for disadvantage, where working their way up from the bottom instilled in Dalit entrepreneurs a much greater resilience as well as a willingness to seize opportunities in sectors and locations eschewed by more privileged business groups. Traditional Dalit narratives are marked by struggle for identity, rights, equality and for inclusion. These inspiring stories capture both the difficulty of their circumstances as well as their extraordinary steadfastness, while bringing light to the possibilities of entrepreneurship as a tool of social empowerment.
Caste Matters
In this explosive book, Suraj Yengde, a first-generation Dalit scholar educated across continents, challenges deep-seated beliefs about caste and unpacks its many layers. He describes his gut-wrenching experiences of growing up in a Dalit basti, the multiple humiliations suffered by Dalits on a daily basis, and their incredible resilience enabled by love and humour. As he brings to light the immovable glass ceiling that exists for Dalits even in politics, bureaucracy and judiciary, Yengde provides an unflinchingly honest account of divisions within the Dalit community itself-from their internal caste divisions to the conduct of elite Dalits and their tokenized forms of modern-day untouchability-all operating under the inescapable influences of Brahminical doctrines.
This path-breaking book reveals how caste crushes human creativity and is disturbingly similar to other forms of oppression, such as race, class and gender. At once a reflection on inequality and a call to arms, Caste Matters argues that until Dalits lay claim to power and Brahmins join hands against Brahminism to effect real transformation, caste will continue to matter.
The Doctor and the Saint
The Ambedkar–Gandhi Debate: Caste, Race, and Annihilation of Caste
To best understand and address the inequality in India today, Arundhati Roy insists we must examine both the political development and influence of M.K. Gandhi and why B.R. Ambedkar's brilliant challenge to his near-divine status was suppressed by India's elite. In Roy's analysis, we see that Ambedkar's fight for justice was systematically sidelined in favor of policies that reinforced caste, resulting in the current nation of India: independent of British rule, globally powerful, and marked to this day by the caste system.
This book situates Ambedkar's arguments in their vital historical context-namely, as an extended public political debate with Mohandas Gandhi. 'For more than half a century-throughout his adult life-[Gandhi's] pronouncements on the inherent qualities of black Africans, untouchables and the laboring classes remained consistently insulting,' writes Roy. 'His refusal to allow working-class people and untouchables to create their own political organizations and elect their own representatives remained consistent too.'
In The Doctor and the Saint, Roy exposes some uncomfortable, controversial, and even surprising truths about the political thought and career of India's most famous and most revered figure. In doing so she makes the case for why Ambedkar's revolutionary intellectual achievements must be resurrected, not only in India but throughout the world.
B.R. Ambedkar
Saviour Of The Masses
The story of the father of the Indian Constitution Born in April 1891into a poor Mahar family, Bhimrao Ramji Ambedkar was a victim of caste discrimination for most of his early life. And while India struggled against the oppressions of British Raj, Bhimrao Ramji Ambedkar, popularly known as Babasaheb, continued his struggle against the oppressions of the Indian caste system, the social discriminations against Dalits in India. He struggled so the underprivileged sections of Indian society could enjoy equal political rights and be treated with equal respect. An Indian jurist, politician, philosopher, anthropologist, historian and economist, Babasaheb was one of the earliest Dalit's to earn a college degree. He grew to be the principal architect of Indian constitution. He published journals, periodicals, and launched active movements for social and political freedom for India's Dalit community. Ambedkar, in the later years of his life, turned to Buddhism, preached it and finally made a formal conversion. This book explores the life and times of the independent India's first law minister who fought against the discriminations inflicted by his own countrymen, who lived his life acting only in the interest of people.Payal Kapadia is the author of the very popular Wisha Wozzawriter published by Puffin in 2012. She lives in Bombay
We, The Children Of India
Former Chief Justice Leila Seth makes the words of the Preamble to the Constitution understandable to even the youngest reader. What is a democratic republic, why are we secular, what is sovereignty? Believing that it is never too early for young people to learn about the Constitution, she tackles these concepts and explains them in a manner everyone can grasp and enjoy. Accompanied by numerous photographs, captivating and inspiring illustrations by acclaimed illustrator Bindia Thapar, and delightful bits of trivia, We, the Children of India is essential reading for every young citizen.
The Constitution of India for Children
Every 26th January, people gather on New Delhi's Rajpath amidst a colourful jamboree of fluttering flags, marching soldiers and dancing children. What is celebrated on this day is at the heart of our democracy-the magnificent Constitution of India.
The document didn't only lay down the law but united India with a vision that took two years, eleven months and seventeen days to realise. Subhadra Sen Gupta captures the many momentous occasions in Indian history that led to its making in The Constitution of India for Children. Populated with facts and dotted with cheerful illustrations, this book provides answers to innumerable questions asked over the years.
Which language is our Constitution written in?
Were women a part of the team that drafted the Constitution?
Why do political parties have symbols next to their names?
What is the official language of India?
An essential handbook for every student and denizen of India, here is a compendium of knowledge that serves as an insightful introduction to the most important document of Independent India.
____________________________________________________________________________________________________________________________________________________
All books are available as e-books at the Penguin E-books store.