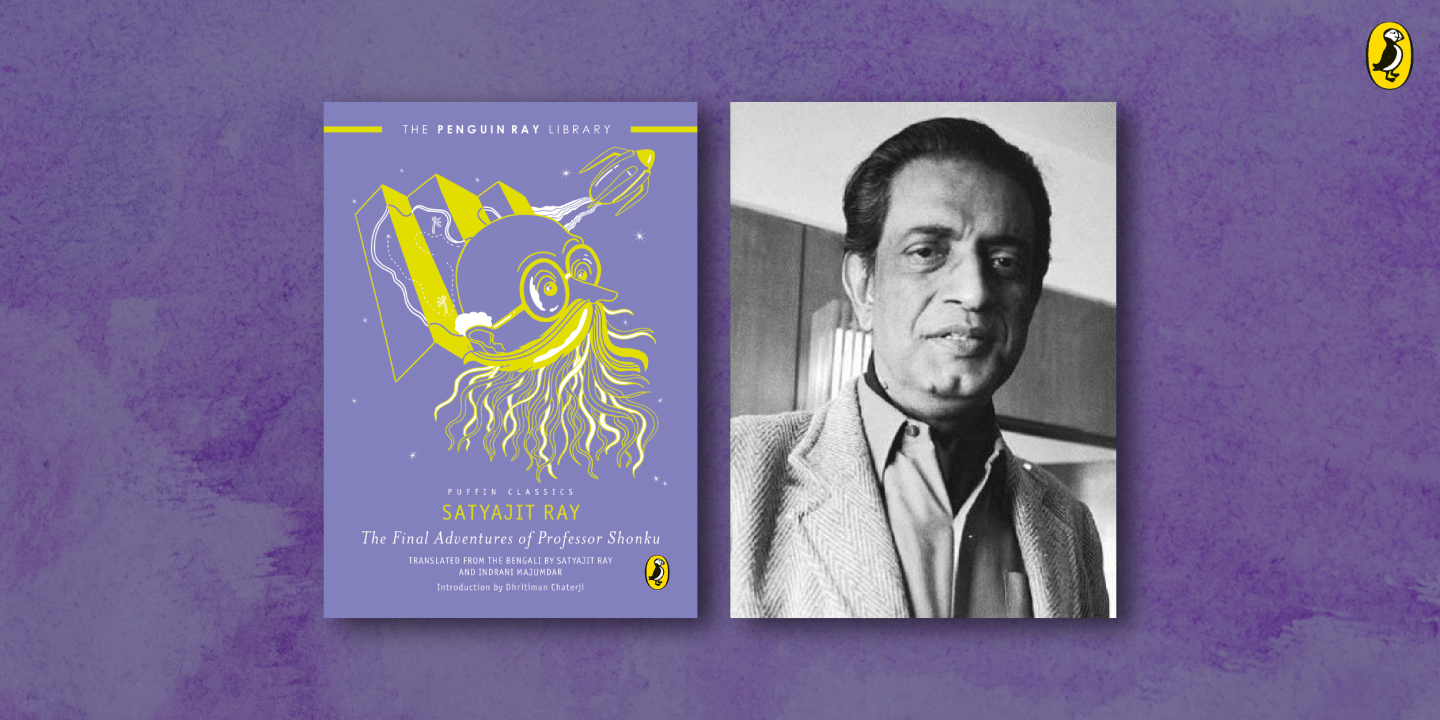 We're delighted to be marking the 99th birthday of the legendary author and film maker Satyajit Ray with launch of The Final Adventures of Professor Shonku. This is the last volume in the children's series on Professor Shonku's escapades and once again brings alive the wildly imaginative world of the weird and wonderful protagonist.

Who is Professor Shonku?
FULL NAME: Trilokeshwar Shonku.
In Bengali, Shonku means a cone. Trilokeshwar means the 'lord of heaven, earth and hell'. It is also a play on the name Trishanku, a mythical figure who tried to reach the heavens but was punished by the gods to forever remain stranded somewhere between heaven and earth.
BIRTHDAY: 16 June. Birth year estimated to be 1912
QUALIFICATIONS: BSc in physics and chemistry. A child prodigy, he graduated from college when he was sixteen. Honorary doctorate from the Swedish Academy of Sciences
HOMETOWN: Giridih
PET: Cat called Newton
MANSERVANT: Prahlad
NEIGHBOUR: Avinash Babu
FRIENDS: William Crole Jeremy Saunders, John Summerville
How did Professor Shonku come to be?
The first book in which Prof. Shonku appeared was simply called Professor Shonku. Published in 1965, it was Ray's first book, though the stories had been written between 1961 and Professor Shonku was dedicated to Ray's son, Sandip, who was eleven years old then. The inscription in the original book read 'To Sandip Babu'. (Sandip's pet name is Babu.) This was the only time Ray dedicated any of his books. One of the earliest examples of science-fiction writing in any Indian language, this book won the Government of India's prize for Best Book for the Young.
Apart from this new volume which brings alive the wildly imaginative world of Professor Shonku, there are various books by Satyajit Ray that you can read with your young ones:

Join Professor Trilokeshwar Shonku, eccentric genius and scientist, on an incredible world tour as he confronts a daring doppelganger,undertakes an experiment to create pure gold, unravels the mystery of a scientist's loss of memory and visits an unknown island to look for an amazing fruit, amongst other escapades.
Featuring the indomitable Professor Shonku and a bunch of madcap characters is presented here in a brilliant new translation that brings alive the magic and charm of Satyajit Ray's imaginative world.
Professor Shonku cannot dismiss without proof the possibility that unicorns do exist somewhere on earth. In fact, Charles Willard, a fellow scientist, claimed to have actually seen them in Tibet, but, unfortunately, died shortly afterwards. So, when Shonku learns that another expedition is starting off for Tibet, he jumps at the opportunity to trace Willard's route and find the unicorns. Tibet is just one of the exotic places Professor Shonku's exploits take him in this volume of stories.
A stolen ring. A private menagerie. A mysterious 'spy' . . .
The first novel to feature master sleuth Feluda and his teenage assistant Topshe, The Emperor's Ring is full of adventure, mystery and intrigue.
Feluda and Topshe are on holiday in Lucknow when a priceless Mughal ring is stolen. Feluda begins to investigate the case and finds himself hot on the trail of a devious criminal.
The murder of a stranger in a Calcutta hotel leads Feluda and his friends to Kathmandu, straight into the den of Maganlal Meghraj, their old adversary. With an incident at Swayambhunath, an ambush in a prayer wheel factory, a thrilling night at the casino, and a prolonged LSD-induced delusion for Jatayu, the case soon turns into a memorable adventure. In a sensational climax, the master sleuth uncovers an international racket in spurious drugs and emerges victorious yet again.
An eleven-year-old boy; Bablu; gets kidnapped by four goons. As they make their escape in a stolen car; they meet with an accident and two of the goons die on the spot while the boy loses consciousness. The two surviving kidnappers; presuming the boy to be dead; leave him stranded. When Bablu regains consciousness; he realizes he has lost his memory. In his wanderings; he befriends a street juggler; Harun; who gives him shelter and introduces him to a new way of life. Bablu; now called Fotik; spends his days working in a tea shop; while his evenings are spent assisting Harun on his street shows.
On the Run with Fotikchand is a thrilling story of everlasting friendship. Riveting and racy; it'll have you turning the pages till the end.
A murder in an elevator. A trail of heady perfume. The nanasaheb's priceless naulakha necklace.
Feluda, Topshe and Jatayu are in Bombay where Jatayu's latest book is being filmed under the title Jet Bahadur. Soon after Jatayu hands over a package to a man in a red shirt, a murder takes place in the high-rise where the producer lives. Feluda and his companions find themselves in the midst of one of their most thrilling adventures ever, with a hair-raising climax aboard a train during location shooting.
---
All titles mentioned here are available as e-books. So you can start reading them today!