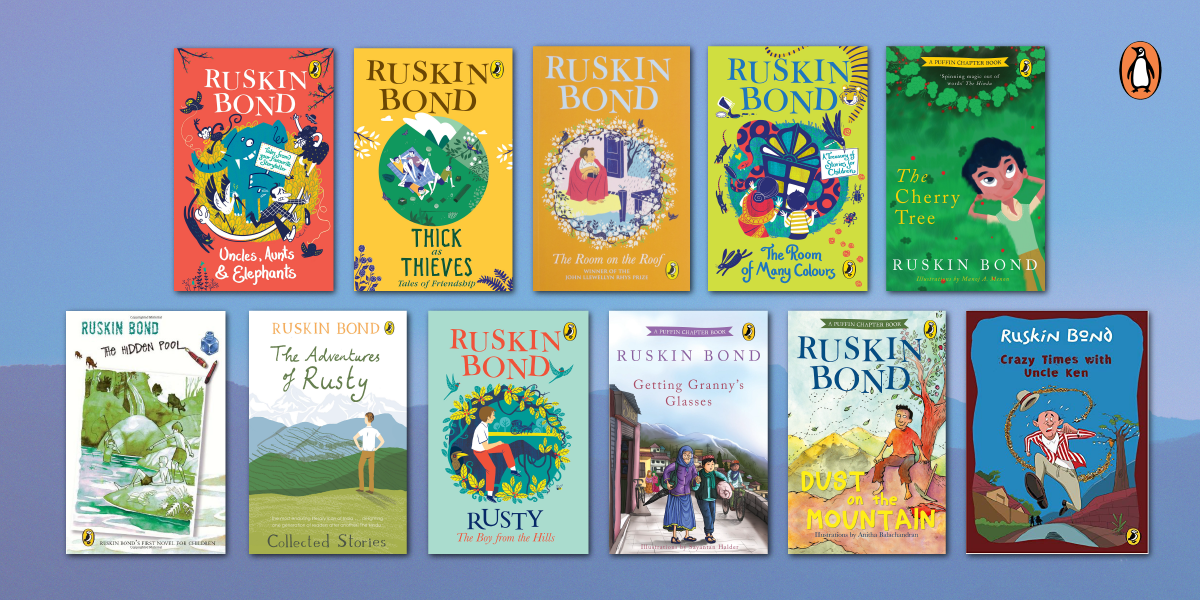 Ruskin Bond – what a warm feeling it is to simply hear the man's name! If you grew up loving Ruskin Bond, we bet you're looking for the perfect books to inculcate the love within your little ones.
Ruskin Bond's writing is influenced by his own life and is admired worldwide for its simplicity and absolute joy to read.
Celebrating his birthday today, here is a list of books to get your child started on Ruskin Bond's most loved work!
The Room on the Roof
Rusty, a sixteen-year-old Anglo-Indian boy, is orphaned, and has to live with his English guardian in the claustrophobic European part in Dehra Dun. Unhappy with the strict ways of his guardian, Rusty runs away from home to live with his Indian friends. Plunging for the first time into the dream-bright world of the bazaar, Hindu festivals and other aspects of Indian life, Rusty is enchanted . . . and is lost forever to the prim proprieties of the European community.
Mani's Granny is seventy and can barely see through her old, scratched glasses. With only a hundred and fifty rupees in their pockets and a thirst for adventure, Mani and Granny set off to buy a new pair. On the way, they get drenched in the rain, run into mules and encounter a terrible landslide. Will Granny ever be able to reach the town and get herself a new pair of glasses?
The Room of Many Colours
For over five decades, Ruskin Bond has written charming tales that have mesmerized readers of all ages. This collection brings together his finest stories for children in one volume. Published previously as A Treasury of Stories for Children, this attractive rejacketed edition includes two new stories The Big Race and Remember This Day. Filled with superb illustrations and a rich cast of characters, The Room of Many Colours: A Treasury of Stories for Children is the definitive book for all Ruskin Bond fans truly a collector's item.
The Cherry Tree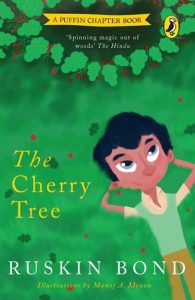 Rakesh plants a cherry seedling in his garden and watches it grow. As seasons go by, the small tree survives heavy monsoon showers, a hungry goat that eats most of the leaves and a grass cutter who splits it into two with one sweep. At last, on his ninth birthday, Rakesh is rewarded with a miraculous sight-the first pink blossoms of his precious cherry tree!
The Adventures of Rusty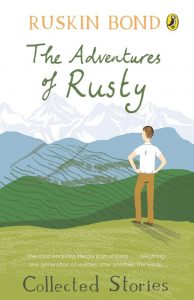 The Adventures Of Rusty: Collected Stories features stories from the time when Rusty studies at a residential school located in Dehra. It also features stories where Rusty is surrounded by the vastness of nature and its infinitely beautiful creations. This book also features Uncle Ken as a character who has trouble finding a well-paying, steady job. Also included is a story where Rusty plans to travel 800 miles in order to meet his Uncle Jim, who is a sailor.
Rusty: The Boy from the Hills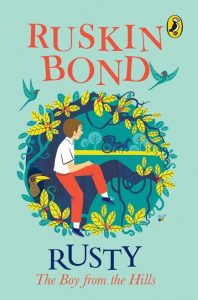 Rusty is a quiet, imaginative and sensitive boy who lives with his grandparents in pre-Independence Dehra Dun. Though he is not the adventurous himself, the strangest and most extraordinary things keep happening around him.
The Hidden Pool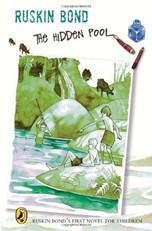 Laurie is an English boy who moves to a hill town with his parents when his father is posted to India on work for two years. Laurie makes two new friends: Anil, the son of a local cloth merchant, and Kamal, who lost his parents during Partition and now sells buttons and shoelaces but dreams of going to college. Anil and Kamal introduce Laurie to an enchanted world of beetle races, ghosts, cheat and Holi, and he shares with them the secret pool he finds on the mountainside.
Thick as Thieves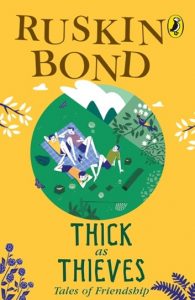 Somewhere in life there must be someone to take your hand and share the torrid day
Some stories will make you smile, some will bring tears to your eyes and some may even make your heart skip a beat—but all of them will renew your faith in the power of friendship.
Uncles, Aunts and Elephants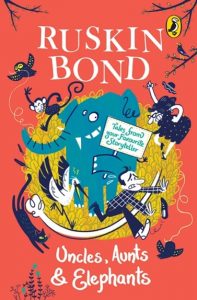 India's favorite storyteller, Ruskin Bond has regaled generations of readers for decades. This delightful collection of poetry, prose and selected non-fiction brings together some of his best work in a single volume. Sumptuously illustrated, Uncles, Aunts and Elephants is a book to treasure for all times.
Dust on the Mountain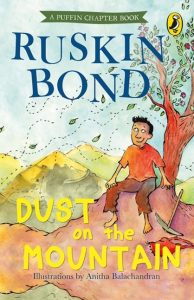 Ruskin Bond wrote his first short story; Untouchable; at the age of sixteen and since then, over hundred stories; including the classics A Face in Dark; The Kitemaker; The Tunnel; The Room if many Colours; Dust on the Mountain; and Times Stops at Shamli. This volume brings together the best of all the short fiction Ruskin Bond has ever written.
Crazy Times with Uncle Ken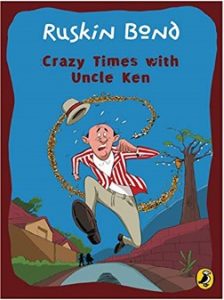 Who doesn't like an eccentric uncle? Ruskin Bond certainly does. Read all the stories about bumbling and endearing Uncle Ken in this collection. Whenever Uncle Ken arrives at Grandma's house, and he does frequently, there is trouble afoot Uncle Ken drives his car into a wall, is mistaken for a famous cricketer, troubled by a mischievous ghost, chased by a swarm of bees and attacked by flying foxes. Be it the numerous bicycle rides with the author or his futile attempts at finding a job, Uncle Ken's misadventures provide huge doses of laughter. Crazy Times with Uncle Ken includes old classics as well as new stories, and will be enjoyed by all Ruskin Bond fans.
Go ahead and read them all!