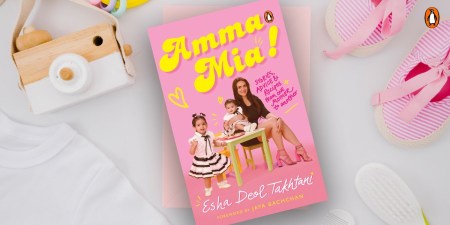 Is my baby not well?
When can I introduce my baby to solid foods?
Becoming a new mother can be an exciting yet overwhelming time. No matter how prepared you are, there will always be many confusing moments, opinions and a whole lot of drama! And just like any other new mom, Esha Deol Takhtani was faced with many such questions soon after the birth of her two daughters-Radhya and Miraya.
Packed with advice, tips, stories and easy and delicious recipes for toddlers, Amma Mia reflects the personal journey of one woman's transformation into a mother. Informative and easy to follow, this book will help new mothers navigate the ups and downs of raising a healthy toddler and make their child fall in love with food.
Read an excerpt from the book below:
When she[Hema Malini] was five months pregnant, my mother was shooting for two films—Satte Pe Satta and Razia Sultan. In the song, 'Dukki Pe Dukki Ho', you can clearly see her bump. That's me in there! And for Razia Sultan, she had to ride a horse while pregnant. She tells me that I'm restless and energetic because she was physically active during her nine months. She also danced onstage during her pregnancy. You must remember that she was doing this during the 1980s, when it was radical for a woman to be so active while pregnant.

My mother is a superwoman like that, who has always broken the rules and stereotypes of what women should be like. She has always inspired me to push the limits. In fact, I will never forget what she told me when I was pregnant. She said, 'You're not sick that you need to rest all the time. You're simply pregnant. After delivery, your body is at its most elastic and flexible. You can mould it into any shape you want.'

And so I followed her advice unconditionally. I performed the dance ballet, Ramayana, on stage; I worked on a short film called Cakewalk; I wrote this book during my second pregnancy; and I had many other projects in the pipeline.

Channelling your inner creativity is a great way to enrich your nine months because the energy and positivity will most certainly be transferred to your child. That being said, no two pregnancies are alike. If you have complications or have been advised rest by your gynaecologist, do so. Be cautious. Don't be silly or impulsive. From the day you know you're pregnant, you must be careful. There will be many people with all sorts of advice during this time but pay heed to only one person: your gynaecologist.
---
For more tips and tricks, check out Amma Mia by Esha Deol Takhtani.