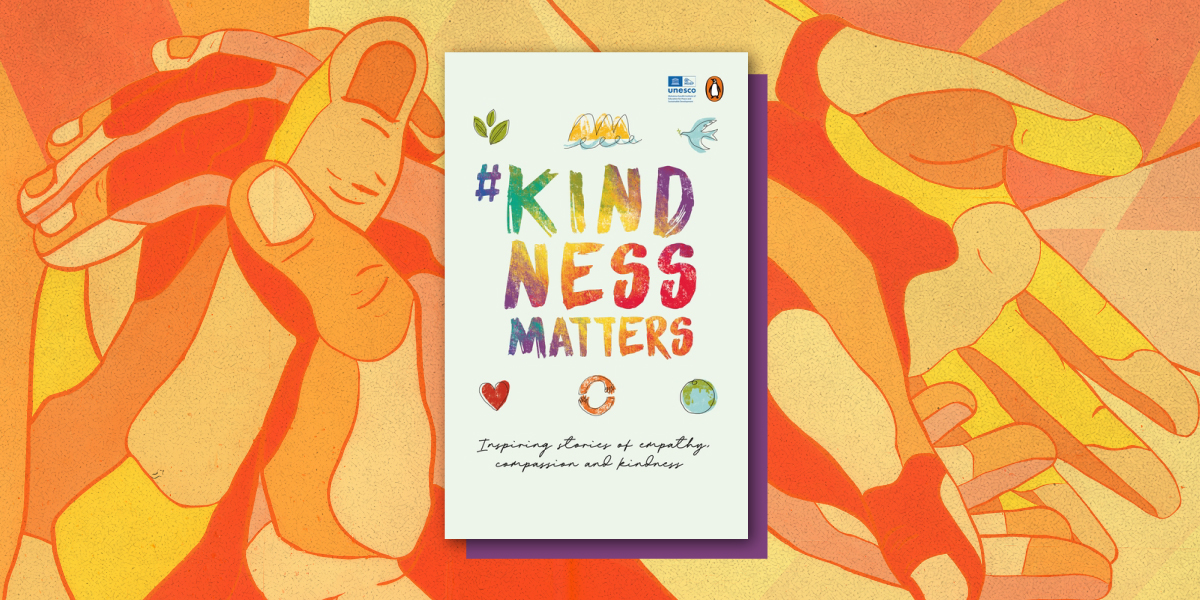 A few days ago, we asked our readers why #KindnessMatters to them.
Inspired by the sincere words, here is a kaleidoscope collating the responses and a few stories from #KindnessMatters.
*
'Kindness matters because this is the only way to live and let other live in peace.'
Lisa's act of kindness was inspired by the personal experience of unwavering hospitality. Being an international student in Morocco, it wasn't enough to simply know the textbook language. The locals teaching her the nuance in local dialects made a huge difference in bringing her closer to the community.  
Returning to Switzerland, Lisa saw the refugees going through a similar plight. She then created the 'voCHabular' book and app, which succeeded not only in teaching the local language to refugees but also in creating a hybrid community of offline-online volunteers. Their work has now expanded to refugee awareness campaigns, food banks, and more around the borders of Europe.  
Kindness, as proven by Lisa's story in the chapter No Language Barrier, is what helps build trust with strangers.  
'Inner peace.'
It began with one family. Now when there's a death in La Guajira, Sonia Bermúdez is the only one people can call.  
Sixty-five-year-old Bermúdez's story begins in 1996 when authorities informed her that there were no more spaces for unidentified victims of Colombia's fifty-year-long conflict and drug-related violence. With neighbouring Venezuela's political and economic crisis, Bermúdez's focus has shifted to refugees who ran away from home but did not make it. Since municipal cemeteries are not free, the daily wage of a migrant labourer does not allow them to bury their dead with dignity.  
To date, more than 300 Venezuelan refugees have been laid to rest in her cemetery, a 5.5-hectare land in Riohacha.  
Sonia Bermúdez's story in A Resting Place is a living example of how peace, if not found, can be built with one's own hands.  
'So that the world is a better place for our kids.'
Not able to find the love and community they need, it's not uncommon to find queer youths in Manipur, fall victim to addiction. 
Sadam Hanjabam was one of them until a tragedy changed his life and set him on his current path. A core member of Ya-All, which means 'revolution' in Manipuri, Hanjabam is part of the collective creating queer-focused spaces, something he needed while closeted. Known as Meitram, the co-working, social space is more than just a location. Hanjabam and others are using his experience as a reference to integrate recovery and sex education programs for the youth.  
Hanjabam wants the kids to have the support system he never had. Of Rainbows and Revolution shows how kindness, for the queer youth of Manipur, comes to the simple desire for a better future.  
'Kindness heals oneself and the world.'
In 2001, Bucharest's mayor Traian Băsescu ordered all stray dogs to be killed. This was the moment that created Adăpostul Speranța. That night, the foundation rescued 300 dogs who would have otherwise been euthanized under the new orders. In 2020, twenty among those rescued dogs continue to live in, and because of, the shelter.  
The shelter's motto of Leave no dog behind inspires them to take care of every dog. Paraplegic and injured dogs, usually treated with despair, are taken care of by providing them with wheels and safe homes.  
The kindness that the Speranța Foundation give their canine friends fuels more gifts of kindness from donations and volunteers. A New Lease of Life teaches us how one act of kindness can start a beautiful cycle of compassion, and save the lives of those who join it.  
'Our kindness towards others inspires them to be kind to everyone else.'
With COVID-19 enforcing lockdowns and restricting indoor dining in Barcelona, Faouzia Chati, the president of the Catalan Association of Moroccan Women, had to find alternative spaces for Ramadan prayers. It was then Father Peio Sanchez, Santa Ana's rector, offered the Church's open-air cloisters. This gesture of empathy encouraged many volunteers to come forward and cook the iftar (fast-breaking) meals for no less than Muslims, who were mostly homeless. 
What started as a single act of kindness became the foundation for an inclusive community in the stone passages of Santa Ana. United by Religion echoes the tenet that is taught in all religions, across all languages: treat others as you want to be treated.  
'It makes me feel like a fellow human.'
At seventeen, Joséphine Yameogo did the unthinkable by refusing to marry the sixty-year-old groom chosen for her. Instead, she married a man of her own choice, facing banishment from her community. After becoming a mother of three, she picked up on the skills needed to become a mechanic and opened her own shop on the outskirts of the capital city.  
Today, the Center Féminin d'Initiation et d'Enseignement aux Métiers (CFIAM) runs an organization helping girls and young women from disadvantaged backgrounds train in automotive electronics, bodywork, mechanics and more. For these women, technical education is a much-needed escape from coerced paths like forced marriage. They find it easier to be confident while seeking employment with such skills in hand and learn to establish financial security for themselves.  
For young girls and women mentioned in Fixing Stereotypes, what the CFIAM did was not just about empowerment, but about emancipation. An act of kindness is the most important way to remind someone of their value as a human being.