Far out in the Arabian Sea, where the waters plunge many thousands of metres to the ocean floor, lies a chain of bewitching coral atolls – the Lakshadweep Islands. Vikram and Aditya dive into lagoons with crystal-clear water and reefs that are deep and shrouded in mystery. But when they stumble upon a devious kidnapping plot, their idyllic holiday turns into a desperate struggle for survival.
Here is an excerpt from Deepak Dalal's new book, Lakshadweep Adventure where Faisal – the boy who's care Vikram and Aditya are left in – makes a disturbing discovery.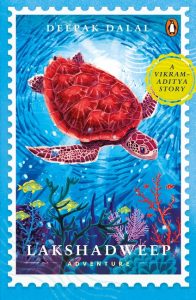 Faisal was in a bad mood. His uncle's impending arrival hovered like a dark cloud above him. And his friends' decision to abandon him for the day only made things worse.
Faisal had noticed the wind the moment he had strolled out on to the beach, and his mood had soured even further when he saw his friends enjoying themselves. He wished he had accepted Aditya's offer as he watched them speed their boards across the lagoon. But it was too late now. His uncle would be arriving shortly.
Faisal sat under a palm tree. He passed time drawing figures in the sand. Above him, palm fronds shook and fluttered as the wind whistled through them. The sun shone brightly. The sand intensified its glare, forcing Faisal to shut his eyes. It was pleasant under the tree and the wind was crisp and enjoyable. The rustling of the palms overhead soothed him and he soon fell asleep.
The tide slowly crept up the beach and finally washed over Faisal's feet, waking him with a start. He looked at his watch, muttering softly to himself. It was past midday.
Basheer uncle would have arrived by now. He dusted sand from his clothes and rose hurriedly to his feet.
Faisal heard raised voices from the living room window when he entered the yard. He crept forward till he was below the window and peeped in.
His uncle was standing in the centre of the room, facing a group of men.
Basheer Koya was a copy of Faisal's father, except that he was fatter and there was hardly any hair on his head. But unlike his brother, whose manner was calm and collected, Basheer Koya's face was contorted with rage. His cheeks were dark and red and he was shouting like a man possessed.
'Fools!' thundered Basheer Koya in Malayalam. 'Monkeys have more brains than you lot. Idiots. I thought you had ears. But obviously you don't. You weren't to set foot in Kalpeni. How many times did I tell you not to come here? Yet, not only do you come to the island, but even more brainlessly, you visit my home.'
A bearded man with big, wide shoulders spoke. 'Sir,' he began. 'Sir—'
Basheer Koya ranted on, cutting off the man. 'I travelled all the way to Kochi to make certain that no suspicion fell on me and I returned only after the operation was over. And you? I come home and see you fools sitting in my house. I take all these precautions and now everyone on this island can link me to you and from there to the operation.'
'But, sir—'
'You were under orders to head to Tinakara Island. What are you doing here?'
'Sir. I was trying to explain just that, sir. We were headed for Tinakara. But we had engine trouble, sir. A terrible rattling noise came from the engine and we were forced to head for the nearest island. You can speak to the mechanic, sir. He looked at our boat and said we were lucky to make it here to Kalpeni.'
The explanation diminished Basheer Koya's rage, yet he continued to glare at the bearded man. 'Kumar. Where is Kumar?' he barked.
'Kumar is safely on board, sir. There's no need to worry about him. He is in the lower cabin and one of our men is with him all the time. He can't make a sound or do anything. He won't be able to alert the mechanics.'
Faisal froze. This was not for his ears. It was wrong of him to eavesdrop. He wondered if he should leave, but who was Kumar and what was his uncle up to?
'No one is to know that we have a prisoner on board,' growled Basheer Koya. 'Even Allah will not be able to help you if he is discovered. I make no allowances for mistakes.' Basheer Koya stared at his men, shifting his gaze from one to the other. 'Do you understand?'
There was silence in the room.
Faisal understood full well what his uncle meant. He shuddered.
***
Journey through these breath-taking islands with a tale of scuba diving and sabotage, set in one of India's most splendid destinations.