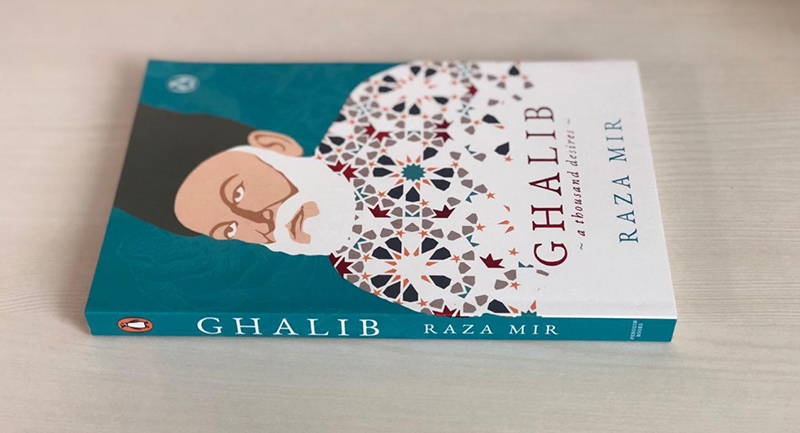 Emerging from the narrow lanes of Old Delhi, Mirza Ghalib's couplets took wing on the hallowed reverence of millions of dreamers and became entrenched in public imagination. His words breathed fervour into many ardent professions of love and added depth to sombre musings on life.
Hidden behind the dazzling effulgence of his poetry was a man burnished by adversity. Reflecting the ironic duality that marked his life, Ghalib luxuriated in poetic verse and yet languished in material indigence.
'Ghalib's self-presentation was of one who lived a life of affluence and leisure, where he was respected as a thinker and honoured by the powerful. In reality, his poetic prowess was relatively unacknowledged in his own time, and his existence was marked by deep and constant financial insecurity exacerbated by the fact that he all too often backed the wrong horse in the context of a constantly shifting field of power.' writes Raza Mir.
In Ghalib- A Thousand Desires, Raza Mir presents an illuminating account of Mirza Mohammad Asadullah Khan 'Ghalib's life and work. Read on for a glimpse-
Born in 1797 in Agra to Mirza Abdullah Baig, Mirza Asadullah Khan belonged to a family of soldiers of Turkish ancestry. Losing his father in the early years of life left the young Khan and the Baig family in dire financial straits. Riling up contemporaries and benefactors with his sharp wit and cantankerous temper, the comfort of companionship and material rewards eluded Mirza for most of his life.
At the young age of 9, Asadullah Khan began writing poetry in Persian with the pen name 'Asad' (lion). He later adopted the name 'Ghalib' (dominant) which went on to become synonymous with poetic genius. Lauded for his talent by the incomparable poet Mir, one of the few whom Ghalib admired, he went on to become the poet laureate of the court of Mughal emperor Bahadur Shah Zafar.
Asadullah Khan- a young thirteen year old- married Umrao Begum who was eleven at the time. Setting course in an orbit of separation, the couple experienced the loss of their seven beloved children even as Ghalib gravitated towards the pinnacle of poetic fame. In Delhi, the couple shared their life with Umrao Begum's family before moving into a house, gifted by Umrao's cousin, in the charmingly chaotic Gali Qasim Jan of the Ballimaran neighbourhood.
Divaan-e Ghalib, a collection of Ghalib's poetry, was first published by Syed-ul Akhbar Press in Delhi and saw more re-prints than perhaps any other book of Urdu literature. He went on to write an account of the rebellion of 1857 in Ghalib's Urdu letters are published in a book titled Ud-e Hindi (Indian Perfume)
After his death in 1869, Altaf Husain Hali published Yaadgaar-e Ghalib (In the Memory of Ghalib), the first definitive biography of Mirza Ghalib. Such was the stature of the great poet that the Indian government issued a 'Mirza Ghalib' stamp in his honour while Ghalib's grave was turned into a memorial and is still a place of reverence in the lanes of Ballimaran.
---
Mirza Ghalib, the most illustrious Urdu poet in English, continues to delight and inspire as the magic of his poetic genius lifts his words out of the yellowed pages of history to shine like a beam of luminous moonlight onto the harried hordes of our generation.
Read Raza Mir's Ghalib: A Thousand Desires to capture the essence of Mirza Ghalib!