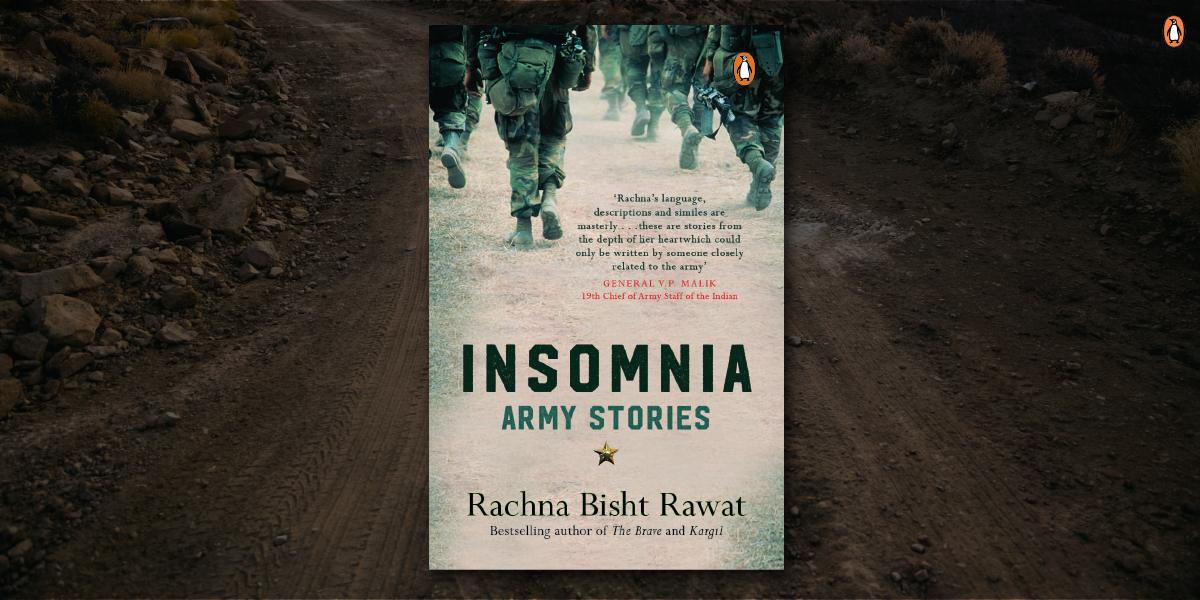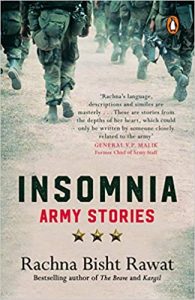 A retired General is haunted by voices of dead men.
Soldiers from two enemy nations manning posts in freezing Siachen form a strange connection.
A young Lieutenant dying in the jungles of Arunachal is watched over by three men, one of whom would have his destiny changed forever.
What is the dark secret held by a Major and his men operating incognito in Kashmir?
What surprise is a train bound for Agra bringing to the all-male bastion of 13 Para?
Who are the invisible people a little girl awaiting brain surgery in the Lansdowne Military Hospital talks to?
From the bestselling author of The Brave, 1965 and Kargil comes a book that will take you into the olive-green world of army cantonments, through stories that will delight and disturb in equal measure.
Here's an excerpt from this perceptive collection of army stories.
**
One morning, Satyapal told Javed that he would not be on guard duty the next day. He and Rifleman Ramesh had been detailed for a routine check of communication lines. Every ten days, three soldiers were sent to check the wires that kept the telephone connection, between the post and the company headquarters about two kilometres away, running. The post and the HQ each had the responsibility to maintain 1 km of the communication line—to ensure the wires were intact and working, not broken or buried in the snow. Since their very lives depended on it, the soldiers carried out the task with complete sincerity.
The empty jerry cans that had been used to cart kerosene to the post were put to good use here. They were filled with snow, which would quickly freeze into hard ice. The heavy jerry cans were then used as support for the telephone lines, which were tied on top of them, so that the wires would not get buried after heavy snowfall.
'We plan to leave by 8 a.m. and return before noon,' Satyapal told Javed, who nodded. Every soldier on Siachen knew that the weather usually turned late afternoon, so all activities were planned in such a way that the soldiers would be back in their bunkers by lunchtime.
Javed had received a letter, brought by a new soldier reporting on duty from leave. His daughter was unwell, he told Satyapal. 'I can't do anything for them from here. I feel so helpless,' he said. He sounded sad that morning.
'Don't worry, saathi, she will be fine. Children keep falling sick all the time,' Satyapal consoled him. Soon after, Satyapal told Javed he would now see him after a day.
'Khuda hafiz, saathi,' Javed called out to him. 'Apna khayal rakhna.'
'You too, Javed Bhai. And don't worry so much about your daughter. I am sure she is absolutely fine by now,' Satyapal reassured him and, with a casual wave of his hand, stepped inside his bunker.
**
The next afternoon, a sudden avalanche took the soldiers by surprise. Icy winds screamed outside their huts, as they huddled together inside their bunkers, drawing comfort from each other's presence and from the warmth of the kerosene stove.
Around 2 p.m., Javed was in his sleeping bag, rereading his wife's letter. Omar, the designated cook for the week, was cooking rice to go with the meat tins they planned to open for lunch. Their four other soldier comrades were playing cards, and radio operator Rifleman Faizal Sharief, quiet and withdrawn by temperament, was, as always, sitting in a corner by himself, listening to Skardu Radio. 'Do Hindustani sipahi Siachen Glacier ki Rana Post mein baraf ke neeche zinda dafan,' the newsreader was saying. None of the soldiers was paying attention to the news but the moment they heard Siachen mentioned they all started listening.
'Aawaaz unchi kar, Faizal,' Javed called out, placing the letter under his pillow.
The woman reading the news in her crisp Urdu was not giving many details, but she clearly stated that three Indian soldiers had been caught in an avalanche that afternoon. While one had been found, two were reported missing, presumed buried in the snowpack created by the avalanche.
For a moment there was abject silence in the bunker. Then, one of the card players spoke: 'So we have two less enemy soldiers to fight. The glacier got to the bastards before we did. Achhi khabar hai. Miyan, tum patte baanto.'
The four of them chuckled loudly and got back to their game. They did not notice the disquiet that shadowed Javed's face, but Faizal was watching him thoughtfully. 'Apne niche wali post ke bande lagte hain,' he said to Javed. 'Isn't that Rana Post? Javed bhai aap toh baat karte ho na unmein se ek se?' Faizal sounded concerned. Javed just nodded.
Javed remembered that Satyapal had to go and check the communication lines that day and desperately hoped that he was not among the men missing.
**