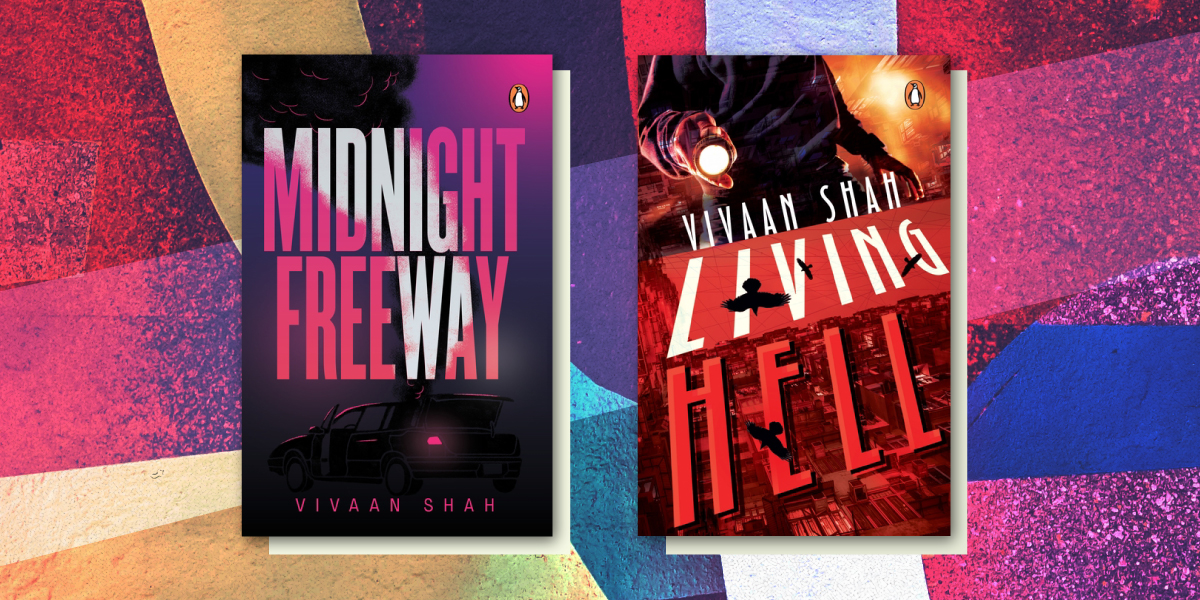 All of us have had awkward and uncanny encounters that almost always amount to nothing or make up for lukewarm, 'only to be told at a party' stories. Here's something out of the ordinary, penned down by Vivaan Shah, the author of Living Hell and Midnight Freeway, that is definitely a treat for mystery lovers!
***
I flipped my phone around to five missed calls from the office once I got off the Sea Link. A high-alert police check-post was set up on the Worli sea-face, which I thought irregular given their general preference of time and place. Whether they were wrapping up for the night or starting the day I couldn't rightly tell. Two armored cars stood tilted diagonally to the barricade, a squad of four RTO cops and two khaki-uniformed 2-star officers inspecting every vehicle that passed by, peering into the passenger seats and checking every number plate.
A navy blue police van, with its caged backdoor open, stood parked behind a hauled up-tempo and a scooterist without a helmet humoring one of the junior constables. From ahead, I saw this creature walk out of a bright red Honda city—thin, furtive, practically bent double with the way he was arching his shoulders. He sashayed right past the police 'Dabba' towards the barricade, his arms dangling from the pectoral girdle like strings of wire attached to an electricity pole—his head leftwards and right as he expanded his chest before the senior-most constable, clicking open his jeep door with one hand, and gently holding it out with the other.
He whistled out to a passing havaldar, one of those squeaky mawaali catcalls you'd hear out on Band Stand or in the Complex. He caught my eye not because he was particularly distinctive looking, but because he was the only one who stood a chance of distracting the officers while I crossed the check-post.
As I attempted delicately to steer on past the zig-zagging yellow barriers, one of the cops caught hold of my open window and stalled me before I could get the gear back into third. He had a sling-on sten gun hanging from his right shoulder, and a slight slouch defeating an otherwise pretty stiff posture. He looked first at my number plate and then at my fingers spread out over the wheel.
'License and identification please!' he asked, from behind a pair of the darkest aviators on the force. I keenly obliged, handing him the necessary particulars.
'So…Pranav…?' he asked, reading from my license. 'What do you do?'
'Lawyer.' I said.
Tallying the information on my PAN card with my license, he leaned forward on the half-open window and lowered his aviators to initiate eye contact. I looked away as his elbows squeaked on the polish.
'Come here.' he wagged one of his index fingers at me.
'What happened?'
'Come here! What's that smell?'
'What smell?'
'You been uhh….doing a bit of eh-eh?' he clenched his fingers into a fist and stuck his thumb out to demonstrate the neck of a bottle. 'Huh?' he inquired, shaking his fist to elaborate on his half-hearted pantomime.
'Ohh no-no! No! I don't drink sir!' I promised him.
He semi-circled the bonnet and got into the front seat displacing my briefcase to the back.
'Excuse me, sir!' I coughed.
He mumbled something out in Marathi on his walkie-talkie and placed his sub-machine gun under the seat by his feet.
'You know what the penalty for drinking and driving is?' he asked, turning towards me.
'As a matter of fact, I do.'
'Five to ten years!' he spat.
'For drinking? Since when?' I laughed.
'Yup! Those are regulations!'
Just then, a vague tapping at his window dulled his enthusiasm. It was the same creature from before beckoning assistance. The cop slouched in his seat on noticing him, raising up his collar to cover his face.
'Get in the back!' He swung his thumb around demandingly at him.
'Who is this guy?' I asked as the wastrel reached for the door just behind the cop.
'No one. He's a lizard.'
'A what?'
I slowly started the car, it seemed I was taking them both for a little spin.
'Pranav Paleja!' I tipped a half-hearted salute at him from the rearview mirror. 'Pleased to meet you.'
He nodded, looked aside and then out the window, neglecting to give me his name.
'That's Nadeem.' The cop took the trouble to introduce us.
The guy in the backseat still didn't acknowledge the name was his.
'Take a U-turn.' the cop instructed me. I did so at the approaching roundabout, without as much as flinching from the order.
'Okay, let's make this quick, how much we got?'
'I'm sorry sir?'
'How much cash you got?'
'Well, actually sir…' I said. 'Absolutely nothing! At present, I'm broke! I spent all my money on the petrol!'
'Hmmm…petrol huh?' he murmured, putting on the A.C and rotating its knob till he was satisfied.
'Sir…..' I mumbled. 'I'm sorry but I don't usually use that!
'Aaaaahhh!' he exhaled, enjoying the soft fragrant breeze of the A.C.
'Sirr….'
'Let's go for a ride!' he barked, turning the A.C all the way up.
We skimmed past a redlight without him as much as noticing.
'Take a left.' he asked me to pull into a one-way.
'It's a no-entry.'
'Doesn't matter.'
The tyres squealed when I turned left and nearly grazed a stationery vehicle at the curve whose driver was mercifully missing. Two ATMs stood facing each other in the empty lane, one an Axis Bank Branch and the other an outlet of HDFC.
'What about you Chipkali?' he asked the guy seated at the back.
The guy just nodded his head. 'I told you, I'm out!'
Turns out I had to pay his fine too, he had not a rupee to his name, not even the most rudimentary debit card of any sort. He promised he'd pay me back, but I had nothing more than his phone number to go on. I'd had only two pegs from the night before that were probably still swimming about in my system, but this Nadeem Chipkali had been on an all-night bender, emerging periodically out of every late-night dive this side of the Sea Link. We had to roam around Worli with the cop for around half an hour before we could collectively get him to settle on five thousand between us plus breakfast.
Once we paid him off, he took a ride with a passing patrol bike outside City Bakery, and that was the last we ever saw of him. Nadeem and I  just stared at each other from the rear view mirror.
I pushed the front seat back to broaden leg space for him, but he didn't budge from the backseat, half-expecting me perhaps to play driver to his esteemed rear-end. As I let go of the lever, something pointy and metallic cooled my hand from below the seat—a jagged touch of something entirely alien to my possessions—then came the ruffled cloth of a strap, and soon the rusty perforations constellated over a barrel.
Just as Nadeem finally creaked open the passenger seat door, which I in this revelation had disregarded to reach for, the muzzle of the stun gun stared me back in the face from below the folds of the floor mat.
We both looked at each other, our mouths agape, and our eyes bulging wide. I immediately reversed back to the signal and spun the steering wheel around furiously to cut across the three or four cars that swept by. From afar on Worli sea-face I could faintly perceive, some of the junior constables beginning to pick up the traffic cones and wheel out the metallic Mumbai Police barriers toward the pavement.
Scarcely had we made it to the second red light when, from a clearing in the traffic, we caught the remains of the barricade being speedily disbanded. By the time we were crossing the same spot we had been pulled over at, there wasn't a cop in sight. We were stuck with the policeman's submachine gun, which he had irretrievably forgotten, and had no means by which to return it, without of course being thought of as perhaps dangerously insane.
Written by Vivaan Shah