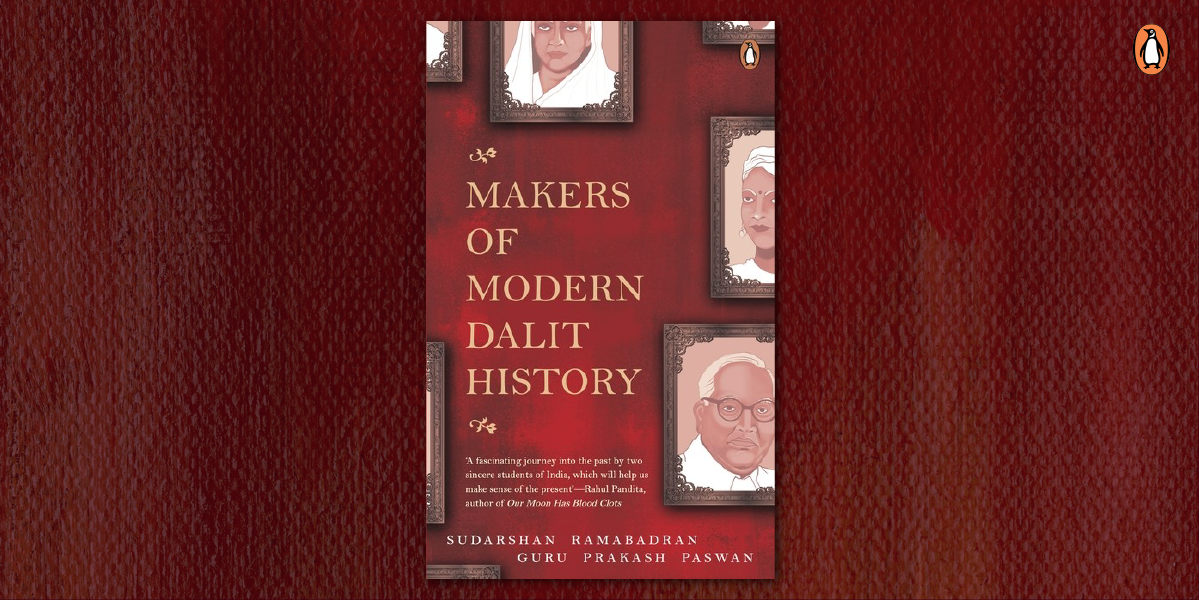 It all began in the late-nineteenth-century Kerala, with a Dalit man flamboyantly riding a bullock cart along a road. What might sound mundane was actually a defiant form of protest, as riding animal-pulled vehicles was a privilege reserved for the upper castes.
Featuring several such inspiring accounts from the lives of individuals who tirelessly battled divisive forces all their lives, Makers of Modern Dalit History seeks to enhance the present-day Indian's understanding of the Dalit community.
Backed with thorough research on historical and contemporary figures such as B.R. Ambedkar, Babu Jagjivan Ram, Gurram Jashuva, K.R. Narayanan, Ayyankali, Soyarabai and Rani Jhalkaribai, among many others, this book promises to be a significant addition to the Dalit discourse. It opens a path to initiating an overdue discussion centred around Dalit identity, history and politics.
~
Bhagwan Das, author of In Pursuit of Ambedkar, says:
The newspaper used to publish a lot of things about Gandhi, Jawaharlal Nehru, Azad, Subhas Chandra Bose and Jinnah but hardly a thing about the untouchable communities. I used to wonder, 'Who is our leader?' I asked Abba this, and he replied,
'Umeedkar, the one who brings hope,'
which is how Abba saw Babasaheb Ambedkar.1
Original thinker, scholar, jurist, legislator, economist, public policy leader, development practitioner and chief architect of the Indian Constitution, Bhimrao Ramji Ambedkar was all this and more.
His thoughts were crisp, his views precise and clear, and words unabashed and unapologetic on every platform he spoke from. The more one reads about Ambedkar, the more one admires his unique intellect and understands his significance, the circumstances under which he jolted the status quo and truly sought disruption in calling for complete annihilation of the caste system.
Ambedkar saw society like no one else from the prism of brute force and caste-based discrimination. Thus, he stood for the cause of all-round empowerment of the socially disadvantaged till his very last breath. Even when he was on his way to England for the first roundtable conference in 1930, it is recorded that he wrote in a letter to 'Dadasaheb' Bhaurao Gaikwad how the people there were sympathetic towards him and that he was happy to see them inclined to favour the demands of the untouchables.2
As a child, Ambedkar, a Mahar, was made to sit separately in primary school because of his caste.3 When someone served him water, it was from a height to avoid physical contact with him; he was even denied a haircut because he hailed from the Mahar community.4 All this is just a glimpse of the treacherous  discrimination that a six-year-old Dalit child had to go through.
Who would have thought then that this child, born on 14 April 1891 in the tiny military village of Mhow, would one day establish himself as one of the founding fathers of independent India? Ambedkar came from a financially stable family, which enabled him to have a primary school education. However, this access never could remove the 'untouchable' tag from his consciousness. The thought of being 'untouchable' plagued his mind, especially when he was denied the services of a barber or a
driver because of it.
During his primary-school days, he was treated differently and ridiculed solely because he was a Mahar. This left a huge impact on him. However, Babasaheb took the fight to the orthodoxy, and at no point did he give up. For it is these very incidents that made him realize that the fight for the dignity of Dalits had to begin and be a constant one, until his very last breath. He recorded the experiences of untouchability faced by him in the newspaper Janata, which he founded in 1929.5 Dhananjay Keer's biography, Dr Babasaheb Ambedkar: Life and Mission, published in 1954, also recounted all of Babasaheb's experiences.6
While his journey to educate himself was excruciating, he was determined to venture into the unknown. His secondary education was funded by the Maharaja Sayajirao Gaekwad III, the erstwhile ruler of Baroda (now Vadodara), and he studied at the Elphinstone High School in Bombay. Ambedkar's quest to arm himself with education never ceased, be it when he was in Columbia University, the London School of Economics or Gray's Inn, where he excelled in academics. The years spent in Europe and America made him feel the stark difference in the treatment he received there and the treatment meted out to him in India.
In 1942, when he founded the All India Scheduled Castes Federation (AISCF), which he later dissolved to found the Republican Party of India, he also initiated scholarships for Dalit
students to study abroad.7
Ambedkar was always a firm advocate of education. He believed that if this revolution for the marginalized was to be won, access to quality education was crucial. He was never violent in his methods. He knew that equipping oneself with education would ensure a battle of dignity for the Dalits that could be fought and won. It was only after education that he felt empowered, for he believed only power could defeat power. Ambedkar being elected to the Bombay Legislative Council in 1926 and him founding the Independent Labour Party in 1936 are testimony to how crucial political representation was for Dalits.8
This focus on education was inculcated in him by his teacher at Columbia University, Professor John Dewey. Ambedkar has often said that he owes his intellectual life to Dewey, who was an American philosopher and psychologist but, above all, a reformer of education. Dewey was also one of the central figures associated with functional psychology, philosophy and progressive education.9
Very few Indian leaders have been educated in America. Ambedkar studied with the best minds at Columbia University in the three years he spent there. When he enrolled, he took a number of courses, including railroad economics. He was keen to learn from the top-ranking professors at the university.
All his life, Ambedkar sought the complete eradication of caste, for only this, he believed, would lead to an honourable society. As Bhalchandra Mungekar writes in his introduction to The Essential Ambedkar, 'Ambedkar's basic arguments were against institutionalization of caste-based isolation and discrimination
prevalent in the Hindu mind.'10
~
Makers of Modern Dalit History is a essential read for anyone who wishes to understand the Indian experience in its totality.