Many people would understand the nostalgia of a first crush. For filmmaker Onir, this rush of pure emotions happened twice. 
Throughout I Am Onir and I Am Gay, the author seamlessly entwines his sexual identity with his life, especially his childhood days of moving around and being boundless. 
The following excerpt is the first chapter in its entirety.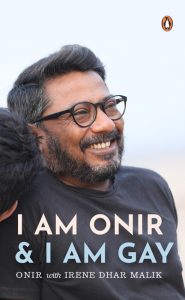 *
First Crush
I met him in 1984, when I came to Calcutta (now Kolkata) for my higher secondary studies. There's a lot about those two years that I try to forget—the disillusionment of the young boy coming from a Himalayan small town to a big city, whose excitement had quickly transformed to disappointment and anxiety—but I will always remember him. In this city that I used to visit every year during the winter vacation and that had seemed full of welcoming relatives, I now desperately searched for accommodation and ended up in many scary or awkward living arrangements.
We didn't even have television in Bhutan at the time a fifteen-year-old me moved to Calcutta. The protectionist policies of the Bhutanese government ensured that it was the last country in the world to allow television, which was as late as 1999. Calcutta was overwhelming and, in many ways, I was the proverbial smalltown boy experiencing big-city blues. I quickly realized that I wasn't going to get admission in any of the well-known schools as my ICSE marks were abysmally low by Calcutta standards. Anything above 60 per cent was considered first division and therefore something to celebrate back home in Thimphu, but my marks were woefully inadequate here. Those were not yet the days when students scored 99.9 per cent, but a 90 per cent didn't hurt anybody, as we found out the following year when my brother easily secured admission into La Martinière for Boys. As for me, I finally got admitted to St Augustine's in the rather dingy Ripon Street neighbourhood of Calcutta. It was a tiny and somewhat cramped school at the time. The stairs were grimy, the classrooms small and windowless.
I think we were about ten or twelve students. Though they must have, like me, not been academically brilliant, my classmates were all very kind and generous, and that made all the difference. Of the teachers I don't have many memories, except that I was so enamoured by my biology teacher Miss Mukherjee that biology quickly became my favourite subject. I still haven't forgotten her gentle voice and kind smile.
I also remember my Bangla teacher, even though his name escapes me. I remember him because I was terrified of him. My Bangla was atrocious, having started learning the alphabet only when I was in Class 9, and it was by some miracle that I passed my ICSE Bangla paper. At St. Augustine's, I used to hate my Bangla teacher and his classes. After I cleared my Class 12 Bangla paper, the man I had been so terrified of wore a broad grin as he patted me on the shoulder and said, 'I never thought a gadha (donkey) like you would pass, I'm so relieved.' I realized that he was perhaps actually fond of me and had been so severe with me only because he hadn't wanted me to fail.
It was during those years that I had what I can call my first crush. He was tall and dusky, with thoughtful eyes and sensuous lips, and he had somehow decided to take me under his protective wing. He not only made sure no one bullied me, but also helped me cross roads and board buses. I couldn't manage to cross the busy Calcutta streets on my own, nor board the crowded buses or trams before and after school. Very often, I used to walk long distances just to avoid getting into a crowded bus.
So yes, he was the one who would hold my hand or navigate me through the streets of Calcutta, his arm around my shoulder. I had no idea then what being gay meant. But unlike my Bhutan schooldays, I did not fall in love with any girl in my Calcutta school. There was an element of physical attraction with one of my classmates, but there was no emotional involvement at all with that boy. Stolen moments of touching and kissing in cinema halls, classrooms, deserted parks. There was no shame or sense of wrong in me, just the acknowledgement that sex was supposed to be something hush-hush; and we were discreet, like most boys and girls were those days.
I was aware that what I felt for my tall and dusky friend was different, but I didn't give much thought to that difference. Life went on, and we sat for our ISC exams. We knew that we would soon go our diverse ways, our paths dictated by education and career choices.
One afternoon, it was just the two of us in his flat. We sat on the floor in his room, next to each other, our backs resting against the bed, talking about many, many things, as teenagers tend to do during languid Calcutta afternoons. I don't really recall the exact flow of events, but I remember his white vest and the lungi he wore, and I can still remember his smell. At some point he put his arms around me, drawing me close to him, and asked me if I would like to touch him. This was not my first sexual experience, but I was nervous that afternoon, maybe because I had felt that unspoken and as yet unexplored feeling of love. This wasn't the first time I had kissed someone, but whenever the reference to the 'first kiss' happens, it's him that I think of. Of that sweaty afternoon and my limbs intertwined with his long limbs. When I walked back home that evening, everything had seemed pleasantly hazy. Yes, I know it sounds like a clich., but maybe that one time in my life, I did experience that cliché of being blissfully in love.
Much like in the falling-in-love sequences of the Hindi films that I'd grown up watching, his image was omnipresent for the rest of the day, superimposed over all details of my mundane existence.
At 7 a.m. the next morning, there was a knock on my door. When I opened the door, I was surprised to see him standing there. He didn't want to come in but asked me to step out so that we could talk for five minutes.
Standing in the narrow lane outside the tiny Calcutta flat I then shared with my siblings, surrounded by the din of morning chores being executed in the surrounding middle-class households, I heard what he had to say. 'Look, I thought about it, and whatever happened yesterday shouldn't have happened. It was wrong, and what we did is a sin. I want you to erase that memory and so will I. And since that alone is not enough, I think it's best that we don't meet for the next ten years.'
He walked away. I was so numb that I didn't utter a word as I watched him turn around and leave. No parting hug, not even a wave . . . he just walked away.
It was not then, but a couple of days later, when I was walking near Dhakuria Lake, that the truth suddenly hit me, and I could not stop the tears. The year was 1986, and I was seventeen. I realized for the first time that my love was not acceptable to the world I lived in and that something that was priceless to me was considered sinful by others. I didn't understand why, but I was filled with a sense of emptiness, a great sadness, because I knew that this was not fair.
A couple of years later, I happened to pass by the building where he lived. Perhaps it was by design, but I don't think so. After a lot of hesitation, I went up to the building watchman and asked about him. The entire family had emigrated to the US.
We never met again.
*
I Am Onir and I Am Gay is available for pre-order.