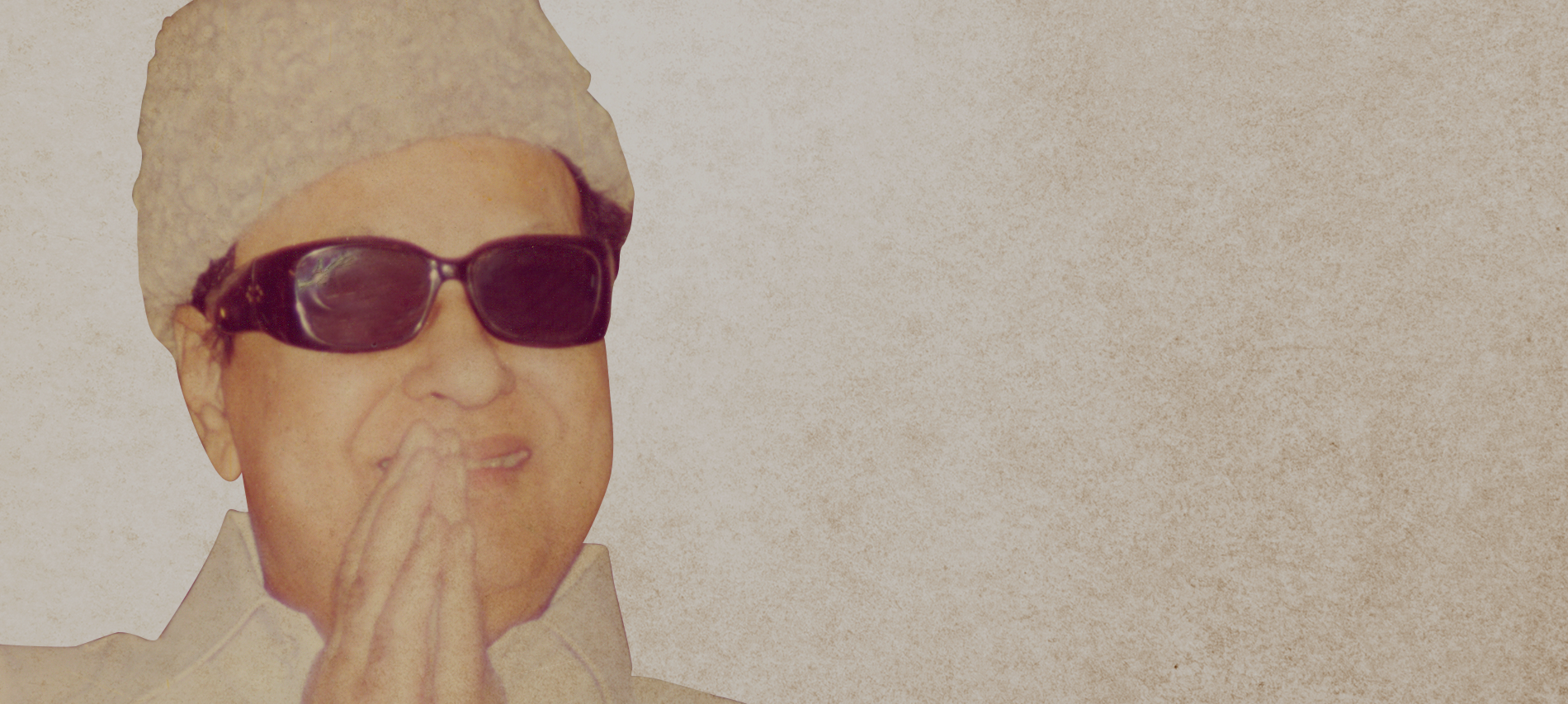 Marudur Gopalan Ramachandran, or MGR – founder of the AIADMK, three-time chief minister, and Bharat Ratna recipient – dominated Tamil Nadu's stratosphere for four decades. In MGR: A Life – a richly detailed biography of the man often called vathiyar or teacher – R. Kannan traces MGR's life from his early poverty-ridden years to his rise as a matinee idol, before becoming a politician of repute.
Here's an excerpt from the book.
"I am overcome with shock and melancholy on hearing that my dear friend Dr MGR has passed away. Our friendship blossomed in 1945 with Jupiter Pictures' Rajakumari, directed by A.S.A. Samy, in which he starred as the hero and I was the scriptwriter.
The memories of us staying in Coimbatore in the same house, exchanging views on politics and society, working together in the film world—our friendship maturing to the point of us serving in the same movement—cannot be forgotten and will forever remain green. Our comradeship in the film world would grow strong through our association in several films such as Abhimanyu, Marudhanaatu Ilavarasi, Mandhirikumari, Naam, Malaikallan, Kanchi Thalaivan, Engal Thangam, Pudhumaipithan and Arasilangkumari.
With that same sense of friendship, we were inseparable and as one in politics, up to 1972. We remained extremely friendly even in the aftermath of the changed political circumstances and through our differences.
[MGR] reigned as the unparalleled hero of Tamilagam's (Tamil Nadu) film world. He created a new era in the film arena. Few had made the film world theirs as he did and conquered it the way he did. He has the honour of making his party, the ADMK he founded in 1972, rise to power in a short span of time. There is none who would not praise his resolute will to serve tirelessly—even through his two–three years of illness—during the ten years he served as chief minister. By his ceaseless hard work and not giving up, he shone, winning people's affection."
This is how Muthuvel Karunanidhi, popularly called Kalaignar, once MGR's leader, and later bête noire and political antagonist, reacted to the death of Tamil Nadu's chief minister Marudur Gopalan Ramachandran, or MGR.
J. Jayalalithaa, MGR's protégé and political heir, said she wished to commit 'sati' now that MGR who 'was everything to [her]' was no more.
The matinee idol's fans had always considered their puratchi thalaivar, and the founder of the All-India Anna Dravida Munnetra Kazhagam, as immortal both on screen and in real life. They could not even stand their hero being killed in movies, to the point where an otherwise promising film like Pasam (Affection, 1962) died at the box office.
However, on the morning of 24 December 1987, his devoted fans woke up to a harsh reality when their leader succumbed to a cardiac arrest—like any other mortal. Overcome by grief, thirty-one people committed suicide. For three years, MGR had been living on a transplanted kidney and with a speech impairment. Yet, his fans' belief in his immortality is explicable. Twice, their god had cheated death: On 12 January 1969, screen villain Madras Rajagopal Radhakrishnan, aka M.R. Radha, shot MGR and then himself, and the second occasion, when MGR's vitals failed on 5 October 1984. Even a few minutes delay would have been fatal, and yet he survived.
Fans were rapturous when in September 1967, in the aftermath of his brush with death, their hero was fittingly welcomed by heroine Jayalalithaa in Kavalkaran (Guard, 1967) when she sang, 'Ninaithaen vandhaai, Nooru vayadhu (I thought of you and you showed up; you will live a hundred years)'—indicating the popular belief in MGR's longevity. In 1970, MGR himself triumphantly sang, 'Naan sethu pozhachavanda, Emaney paathu sirichavanda (I died and came back alive; I have mocked the god of death).' The movie, Engal Thangam (Our Gold, 1970), featuring this song, was produced by Kalaignar's nephew Murasoli Maran and featured Jayalalithaa opposite MGR.
In 1972, he broke away from his parent party, the Dravida Munnetra Kazhagam (DMK), accusing its leader and then chief minister, Kalaignar, of corruption. Named after his late mentor and the DMK's founder, Conjeevaram Natarajan Annadurai (Anna), MGR's AIADMK created history when it captured power in Tamil Nadu in 1977, only five years after its founding. To his followers, his rise meant that the meek had inherited the earth. Their leader's success was theirs.
No actor or individual had ever possessed such a sway over Tamils in recent memory. In October 1984, as MGR, by then chief minister for a second time, fought for his life, twenty-two of his fans immolated themselves, unable to bear their hero's suffering. Twenty more had unsuccessfully attempted suicide, only to escape with burn injuries.  On 5 November 1984, an air ambulance flew MGR to Downstate Medical Centre, Brooklyn, New York.
MGR returned to Madras to a hero's welcome on 4 February 1985. During all this time, not a day passed without radio and television stations airing the memorable song from Oli Vilakku (The Lit Lamp, 1968), his hundredth film.
Get R. Kannan's riveting biography of MGR here!