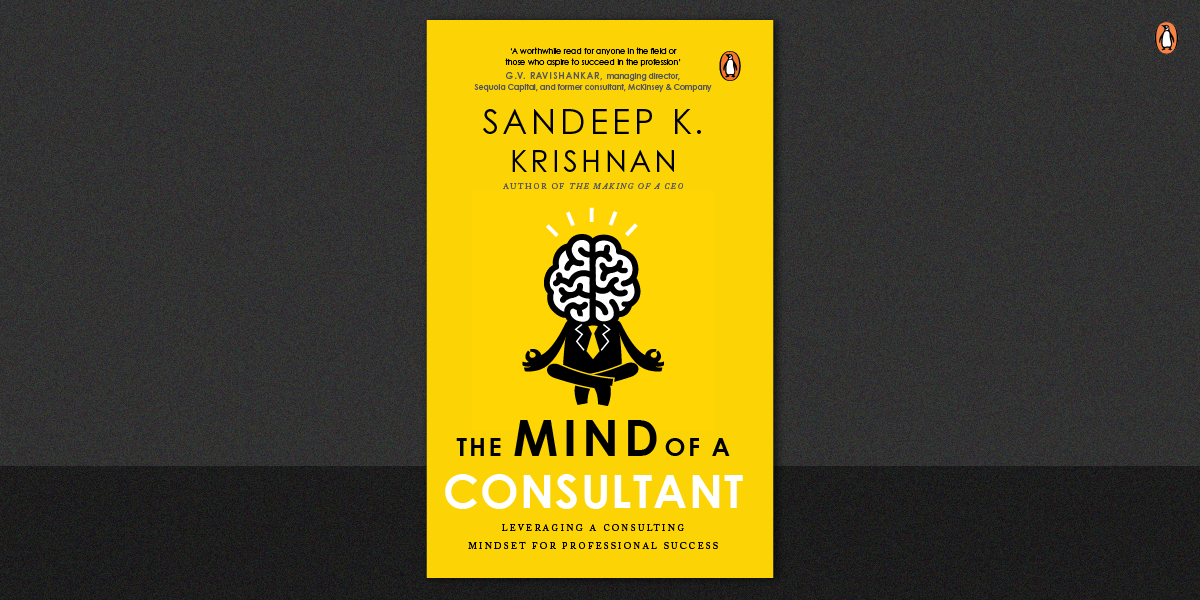 Management consulting is seen as a glamorous profession. But behind the mystique are the consultants who put in extraordinary effort, cultivate great problem-solving skills and display fine personal attributes to capture the attention and respect of their clients.
The Mind of a Consultant opens up that world to the readers through the story of Samantha Thomas, a character modelled on many excellent consultants, who gives us a glimpse of what goes on inside the mind of a consultant.
Here is an excerpt from when Samanta is an intern and learns the three critical rules of working as a consultant.
'Is the presentation ready?' Hamid was unapologetic in his question.
It was 2 a.m. Samanta had been working for more than eighteen hours straight on the presentation for the client leadership team that was to be presented the next day. She was expected to be part of the presenting team alongside Hamid, the project manager and partner who owned the account. Hamid was six years her senior and from the same institute she was attending. He was highly respected by his colleagues and the project team members looked to him for guidance.
She thought back over the past few weeks, remembering the first day she had arrived at Pinnacle for her internship. It was like a dream come true. Her first official day as an intern at Pinnacle. She, along with thirty-five fellow interns from some of the best management institutes in the world, had been participating in the internship orientation. Two of the senior partners and a few engagement managers who could make it were part of the two-day programme.
While partners spoke about the culture and the attributes of great consultants, the engagement managers were more operational. They spoke about the tools and the support that were available to interns. They shared Pinnacle's knowledge base, along with templates for ppts and Excel sheets, which were life-savers for the interns when they started out.
At the end of the second day, the interns were provided with laptops and their project assignments. Samanta was assigned to a large organization-transformation project in the retail industry. The organization was exploring strategies to enhance growth and increase efficiency amid changing industry dynamics. Her project manager for the assignment was Hamid. At the time, Hamid was participating in more than half a dozen similar assignments worldwide. He was always up to date on the latest happenings in the industry and often considered an expert in the field.
The first time Samanta and Raghav, a fellow intern, met Hamid to work on the project, he came across as passionate and knowledgeable. It was obvious that he was an accomplished consultant.
'I want you guys to challenge me,' he told them. 'it's important that you get a head start and not waste time doing things that don't matter to this project.'
He gave them presentations and materials to read, a brief on the client requirements and the names of some resources in the firm that he thought could be helpful.
'Get ready to fly out tomorrow to meet the client,' he said. 'We're having meetings with some of the key management team members before doing a few store visits to understand their set-up. You need to be up to speed on everything that we know about the client by then.'
One thing Samanta learnt from Day One was that consulting constantly needed one to learn and travel. That was the best part about being at Pinnacle. It treated its team members as star talent, and believed that its people could figure out a way to deliver on even the toughest assignments.
Samanta and Raghav spent their time leading up to their trip reading more on the retail industry in general and the company in particular. Pinnacle had some wonderful case studies and industry knowledge available that they found helpful. There were different terminology and business metrics that Samanta and Raghav had never encountered before, but Hamid encouraged them to learn all of it, and learn it well.
'You don't want to be seen as novices. You should be able to ask and understand questions in areas that are relevant even to the CEO.'
The following day, Samanta, Raghav and Hamid started on their trip to see the client. Samanta had been told that she was lucky to be doing her first project with Hamid, so she took advantage of the uninterrupted cab drive to ask him questions. there was one in particular she couldn't help asking.
'How did you earn so much respect from your peers?'
Hamid raised his eyebrow at her, a smile on his face. Samanta shifted uncomfortably in her seat. She was probably the first intern to ever ask him that.
Hamid gave a short laugh at her discomfort before answering. 'How do you think, Sammy? And you too, Raghav.' Samanta thought for a moment. There were several possible reasons, or, more likely, a combination of several of them.
Raghav chimed in first. 'Maybe hard work? or domain knowledge?'
Samanta nodded. She had been thinking along the same lines. She added her own thoughts. 'I would think project-management expertise would have something to do with it. Is that part of the reason?'
Hamid nodded and smiled. 'All of those are correct, but there are three main rules I live by in this firm.' he held up his fingers as he counted them off.
'Rule 1: strive for knowledge.
'Rule 2: build your best coalition.
'Rule 3: Always be ahead of the client.
'Each of these is critical when working as a consultant.'
—
The Mind of a Consultant hands you all the tools necessary to build a successful professional career in an easy-to-understand manner.