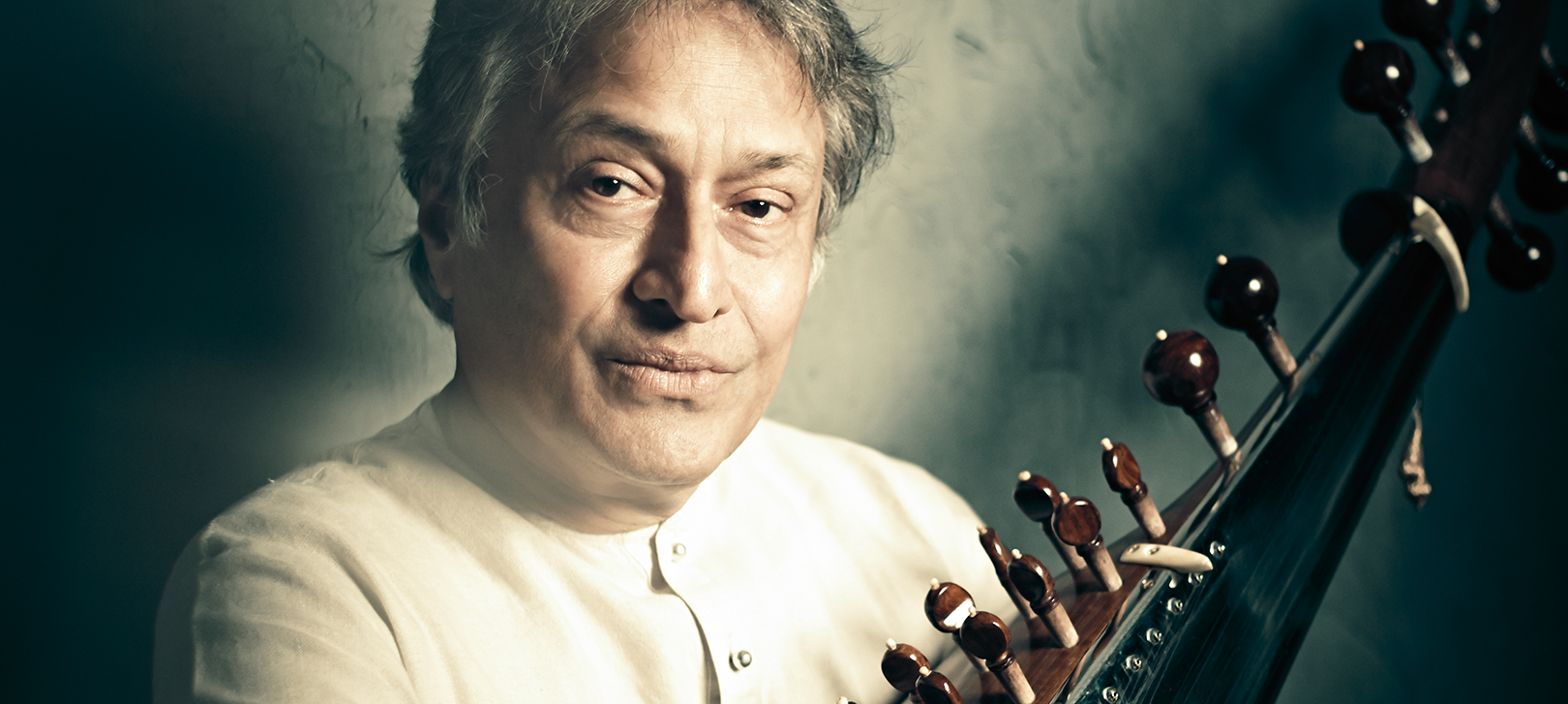 A distinguished maestro in the field of playing the sarod, Ustad Amjad Ali Khan is popularly known as the "Sarod Samrat". He is the sixth generation sarod player in his family. The credit of modifying the sarod as a classical instrument goes to his ancestors of the Bangash lineage originating from Senia Bangash School of Music.
Ustad Amjad Ali Khan was born on 9th October 1945 at Gwalior, Madhya Pradesh. His father Ustad Hafiz Ali Khan was a musician in the court of the royal family of Gwalior.  Hafiz Ali Khan received training from the descendants of Miyan Tansen, considered one of the greatest musicians produced by India. Amjad Ali Khan was the youngest son in his family. His first tutor was his father and he began playing at a very young age.
Amjad Ali Khan gave his first solo recital at the age of twelve. His love for the instrument and passion for music made him famous and   one of the greatest sarod players of all time. Amjad Ali Khan has a unique way of playing the sarod with his fingernails instead of his fingertips. This gives a clear ringing sound but  is  the most difficult technique to apply on the sarod. Khan has  composed many ragas of his own like Kiran Ranjani, Haripriya Kanada, Shivanjali, Shyam Shri, Suhag Bhairav, Lalit Dhwani, Amiri Todi, Jawahar Manjari and Bapukauns. He has acquired international acclaim by composing for the Hong Kong Philharmonic Orchestra, a piece titled Tribute to Hong Kong. The other musicians involved with this project were guitarist Charley Byrd, Violinist Igor Frolov, Suprano Glenda Simpson, Guitarist Barry Mason and UK Cellist Matthew Barley.
Ustad Amjad Ali Khan has given performances in Carnegie Hall, Royal Albert Hall, Royal Festival Hall, Kennedy Center, The House of Commons, Mozart Hall in Frankfurt, Chicago Symphony Center, St. James Palace and the Opera House in Australia. The maestro has received Honorary Citizenship in the states of Texas, Massachusetts, Tennessee and the city of Atlanta.
Amjad Ali Khan is the first north Indian artist to have performed in honour of Saint Thyagaraja at the Thiruvaiyur shrine. He has been a recipient of many awards like Padmashree Award, Sangeet Natak Academy Award, Tansen Award, UNESCO Award, UNICEF National Ambassadorship, Padma Bhushan, International Music Forum Award, etc.
Amjad Ali Khan has two sons who are promising sarod players, hinting that the legacy shall live on.