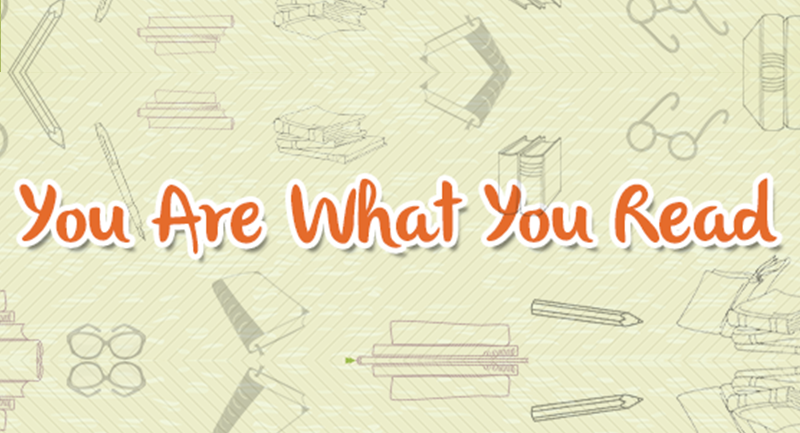 Every person who loves books has a special space in their home where they build a shrine for all the books they have ever bought. This shrine, in colloquial terms, is known as 'library' and commands great respect and devotion from acolytes. One of the universal truths is that you are what you read.
Sometimes when we read books, and in the process, fall in love with them and the people we meet in them, we become one of them. I remember when I first started reading Harry Potter, I couldn't stop faking a British accent whenever I spoke to my friends in English. I would also frequently use words like 'blimey', 'wicked', 'Expecto Patronum', 'dementor', etc when in conversation with 'muggles'.

source: tumblr.com
 When we read, we start constructing the character we like in our mind, we often tweak them further to suit our palette. At each step of construction, we try to emulate them and become more like them. So deep in the world of books are we that we scarcely care that we are becoming someone else. It is a fun experience to discover traces of our favourite characters within us. But it is also dangerous when inspired by crime novels; some members of our cult go a wee bit crazy. Books like The Collector and The Psychotic have inspired shameful crimes.
People who aren't really taken with books, undermine their power and their ability to be transformed into dangerous tools. For isn't that the whole reason why some books are banned? Because they are dangerous and can reveal more than what some people deem it to be acceptable.
Catcher in the Rye was a revelation. It was banned because the government was worried that it would influence teenagers to engage in questionable activities. But Salinger was just capturing what was already happening in the country. He was speaking the truth and he was censored for it. In fact, anybody who has read 1984 would also tell you how powerful literature can be and how its censorship proves it. In fact, in ancient Greece, there was a law which prohibited the utterance of certain select words. If that doesn't prove how powerful words can be and the obsession of those in power to regulate it, I don't know what will.

source:4.bp.blogspot.com
 Books hold more sway over minds than swords or bullets do. And it is for this reason why reading must be exercised with caution and the reader has to learn to be sceptical of the narratorial voice, learn where the narratorial voice ends and the author's voice seeps in.
Books say a lot about you. The books I have read find their way into me like weeds; I don't mind them growing on me. I have a little of Junot Diaz's Lola's sass in me, Oscar's otaku-ness; Rowling's Hermione's curiosity and Ron's appetite; Fitzgerald's Amory's silliness and so on. Point is, books make you. And you make them what you want them to be.
————————
Credits: Sindhoora Pemmaraju

 
An unabashed bibliophile, Sindhoora is Majoring in English Literature.  She loves literature and music.