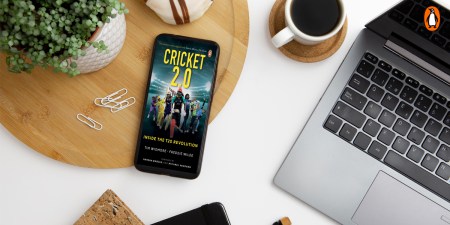 Why is Royal Challengers Bangalore one of the worst-performing teams in the Indian Premier League (IPL), despite having batsman like A.B. de Villiers and Chris Gayle, and being captained by Virat Kohli?
In Cricket 2.0: Inside the T20 Revolution, Tim Wigmore and Freddie Wilde take us on a whirlwind tour of the cricket format that has taken the world by storm. From its inception, when T20 was accepted by a narrow vote of the Marylebone Cricket Club, to its current global popularity, from its original superstar Chris Gayle to newcomers like Rashid Khan and Sandeep Lamichhane, T20 has become a phenomenon that has resurrected the game of cricket.
Here's an excerpt from the e-book below:
During the mid 1990s, regarded as the modern golden age for cricket fixers, virtually all betting in cricket was concentrated on matches involving the nine nations who were permitted to play Test cricket. The simple reason was that very few other matches were televised internationally – and, without broadcasting coverage, there was a lack of funds in the betting markets. Without enough liquidity in the betting markets, corruptors couldn't make enough cash for it to be worth their while getting players to fix.

T20 changed this equation. It meant that the number of games with enough money bet on them to be worth fixing went from in the region of 150 a year, the total number of top-tier international fixtures each year in the late 1990s, to five times as many. In 2018, there were 719 T20 fixtures played worldwide. And the potential pool of players of interest to corruptors – barely into three figures in the late 1990s – was now 2,119, the number of cricketers who played any official T20 games in 2018. So there were about 15 times more players worth corrupting than 20 years earlier.

Simple mathematics explained the burgeoning threat to cricket. 'The amount of cricket being played now is phenomenal,' the anti- corruption insider explained. 'It's the amount of opportunities that people have got.' While the surge in interest in domestic cricket begat by T20 was celebrated, criminal gangs recognised the trend as a new business opportunity.

The years ahead would show that domestic T20 matches did not merely share the same vulnerabilities that international games had long possessed. Instead, domestic T20 was even more susceptible to corruption. The historic lack of interest in domestic games meant that authorities were initially blasé to the threat of fixing – so matches were not policed as rigorously as the international game, which itself remained vulnerable. Player education about corruption was also less thorough at domestic level, with a solitary brief PowerPoint presentation at the start of seasons generally considered sufficient; players who arrived late often did not even have that.

As the matches included players who were paid far less than in international games, getting players in on a fix was less expensive. Low-paid and insecure players, unsure of whether they would even get another contract, appearing with or against international players earning millions a year could also foment jealousy. It was not uncommon for players earning only a couple of thousand for a league season to play alongside players earning hundreds as much for the same work.

And so for players who fix, taking money to underperform could be entirely rational, as the sports economist Stefan Szymanski wrote. 'On the "selling" side, the players must balance the reward from fixing against the potential cost of being caught. This cost is the probability of being caught multiplied by the penalty for fixing.'

The first great fixing scandal to be exposed that was caused by the new T20 ecosystem allegedly began in a hotel room. In 2008, the former New Zealand international cricketer Lou Vincent was playing in the Indian Cricket League, a T20 league in the country that was launched before the IPL, but was never approved by the Indian board. Vincent would later claim that he received a phone call from someone claiming to be a cricket equipment manufacturer, inviting him to a hotel room. He went to the room, but found no equipment. The man offered a prostitute as 'a gift' – along with a huge wad of American dollars.

This, Vincent would say, was the start of his involvement in match-fixing. In return for promises of US$50,000 per game, Vincent deliberately started underperforming. In the ICL, it was not uncommon for teams to move from odds of evens – suggesting a 50% chance of winning – to near 3/1 on (or 1/3) – suggesting a 75% chance – on betting exchanges for no apparent reason, suggesting a high degree of fixing.

'I probably had a chip on my shoulder over my career. I left New Zealand pretty heartbroken and a bit angry at the system,' Vincent later told New Zealand's TV3. 'And as the match-fixing world opened up to me . . . I thought, "Yeah, I'm going to make some big money now, so stuff the world."'

Until his career ended in 2013, Vincent was a fixer. The next year, he admitted to 18 charges of fixing and was banned for life. A teammate he claimed had encouraged him to fix – Chris Cairns, the captain of the Indian Cricket League franchise Vincent was playing for in 2008 – was acquitted after a bruising trial in London in 2015. Indeed, the lack of criminal convictions for fixing, partly explained by the difficulty of explaining the mechanics of fixing to a jury who do not understand the game, may heighten incentives to fix if players deduce that there is scant chance of being caught.

Vincent's claim that he initially thought that he was simply meeting a cricket equipment manufacturer was typical of how many corruption cases begin. Corruptors often approach players by befriending them in a manner that Ronnie Flanagan, the long- time chairman of the ICC's Anti-Corruption Unit, has likened to grooming. Players are approached by those claiming to be businessmen in bars or even over WhatsApp, and cultivated for several weeks.

This can be done in a subtle way: for instance, by pretending to offer a clothing contract. Mohammad Ashraful, the former Bangladesh captain who was subsequently found guilty of fixing in the Bangladesh Premier League in 2013, originally got gifts to celebrate his successes. Fixers can befriend players – then feigning personal financial debts, they will ask a player to underperform in a one-off way as a favour. If the player agrees, corruptors can threaten to reveal their corruption if they do not oblige in future. Sometimes, criminal gangs use honeytraps; a player can then be blackmailed – with the gang threatening, say, to release images to his family – to be persuaded to fix. 'They tend to hunt the bars for you,' Chris Gayle wrote in Six Machine. 'You've got to be careful out there.'

For corruptors, the beauty of the fix is that getting one player, once, is enough to get them forever. A player who has fixed once can then be blackmailed: should they refuse to be involved in fixes again, then the gang say they will leak details of the fix, or threaten the player more directly. 'Some of it starts very young . . . If I get you as a 19-year-old I've hooked you up,' said the anti-corruption insider. 'If I've recruited you I'm going to use you whenever I can.'

One-time fixers could effectively be trapped in perpetuity. Ruthless gangs moved to target players ever-younger, including in U-19 tournaments. A fix in one of these tournaments, which might have seemed relatively innocuous – a player could be enlisted to bowl a single no-ball, not for the fixers to make money off but simply as a way of blackmailing the player subsequently – could put the player on to the path of fixing for life.

Fixers using youth competitions as a way of recruiting players highlighted the importance of player education. But standards of education varied hugely around the world, meaning that gangs could pick off teams who offered the greatest likelihood of succumbing when their players were young. Such historic differences in player education are one reason for amnesties, such as for those in Sri Lankan cricket in 2019 – which allowed personnel to report their involvement in corruption without being reprimanded – could help protect the sport from future corruption.

Corruptors did not need to fix a match to enrich themselves; instead, they often merely needed to corrupt one player to make a profit. By knowing that one player was going to underperform in a certain way – either that a bowler would concede a large number of runs, or that a batsman would get out early or score much slower than required (preferably both) – corruptors could bet against this particular team before the period of deliberate underperformance. Then they could bet on the team after their period of deliberate underperformance, meaning that they traded themselves into a position when they could make money on the match market regardless of the actual final result. So players could be paid to fix, but their team would still be able to win without affecting corruptors' profits.
---
T20 signaled a shift in cricket in more than one way. To know more check out the e-book of Cricket 2.0!